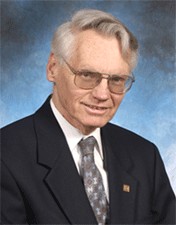 Earth Day Milestone: In Walking to Work, UC Engineer Totals 24,902 Miles
John Niehaus has been commuting to work at the University of Cincinnati from his Clifton home by foot since he moved from Mt. Airy in January 1999. He is approaching a personal milestone of 24,902 miles — the circumference of the Earth. He projects that he will reach his goal in June.
"I figured that with parking and everything, walking would be more cost effective. Transportation engineers are multimodal, you know — we don't just think of cars!" says the 74-year-old Niehaus, an adjunct professor in the Department of Civil and Environmental Engineering in the UC College of Engineering and Applied Science. "Then I started realizing the other values associated with walking: health, environmental, etc."
Niehaus points out that his Gaslight-district home is about one and a quarter miles away from UC. "I've often methodically kept track of things," he says. "So I started keeping a record over the years."
He tracks his distance by measuring his pace and counting his steps, a method quite common in the sciences and engineering.
He had to scale back this year because of problems with sidewalk maintenance along his route, which have been the cause of five injuries along the way.
"I lost 70 miles in a two-week period because of a twisted knee," he notes. Those miles were a loss not just from a personal standpoint but from an environmental one as well. The
U.S. Environmental Protection Agency
estimates that if people didn't use their cars just two days a week, they could reduce greenhouse gas emissions by an average of 1,600 pounds per year.
Niehaus admits that sometimes walking can be "kind of a bore unless you have a goal."
"That's when I decided to 'walk around the Earth,'" he says. Niehaus estimates that he will achieve his goal around June 2–4, 2010.
For more tips on how you can reduce your own carbon footprint, check out the U.S. EPA's "
."
1
UC Learning Lab inspires College of Medicine to SIT
November 29, 2023
In a convergence of academic integration, the University of Cincinnati's renowned colleges — Design, Architecture, Art, and Planning, Lindner College of Business, College of Engineering and Applied Sciences and College of Medicine — recently joined forces at the 1819 Innovation Hub for an ideation session that exemplifies the institution's commitment to interdisciplinary collaboration.
3
Engineering student aims to develop a more sustainable world
November 20, 2023
As an aspiring power engineer, University of Cincinnati student Matt Smeal hopes to contribute to a more sustainable world by working towards better energy solutions. Smeal is a fifth-year electrical engineering student at the College of Engineering and Applied Sciences (CEAS) specializing in electric energy systems with a minor in environmental studies. Currently, he serves as vice president for Clean Up Cincy, a volunteer litter clean-up organization, and is a member of Beta Theta Pi fraternity and Theta Tau engineering fraternity. He is also one of the first students to enroll in CEAS's new Master of Engineering in Sustainable Energy, through the ACCEND program. ACCEND enables undergraduate students to earn bachelor's and master's degrees concurrently.
Debug
Query for this