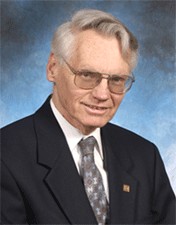 Earth Day Milestone: In Walking to Work, UC Engineer Totals 24,902 Miles
John Niehaus has been commuting to work at the University of Cincinnati from his Clifton home by foot since he moved from Mt. Airy in January 1999. He is approaching a personal milestone of 24,902 miles — the circumference of the Earth. He projects that he will reach his goal in June.
"I figured that with parking and everything, walking would be more cost effective. Transportation engineers are multimodal, you know — we don't just think of cars!" says the 74-year-old Niehaus, an adjunct professor in the Department of Civil and Environmental Engineering in the UC College of Engineering and Applied Science. "Then I started realizing the other values associated with walking: health, environmental, etc."
Niehaus points out that his Gaslight-district home is about one and a quarter miles away from UC. "I've often methodically kept track of things," he says. "So I started keeping a record over the years."
He tracks his distance by measuring his pace and counting his steps, a method quite common in the sciences and engineering.
He had to scale back this year because of problems with sidewalk maintenance along his route, which have been the cause of five injuries along the way.
"I lost 70 miles in a two-week period because of a twisted knee," he notes. Those miles were a loss not just from a personal standpoint but from an environmental one as well. The
U.S. Environmental Protection Agency
estimates that if people didn't use their cars just two days a week, they could reduce greenhouse gas emissions by an average of 1,600 pounds per year.
Niehaus admits that sometimes walking can be "kind of a bore unless you have a goal."
"That's when I decided to 'walk around the Earth,'" he says. Niehaus estimates that he will achieve his goal around June 2–4, 2010.
For more tips on how you can reduce your own carbon footprint, check out the U.S. EPA's "
."
1
How a UC technology transformed the marketplace for ready-to-eat...
September 19, 2023
While employed at the University of Cincinnati as a professor of mechanical engineering, William Kuhn, PhD, had an idea for a compact, flameless heater that could be enclosed in pre-packaged meals to safely cook them. The device transformed the meals, ready to eat landscape through a simple process involving salt water and a magnesium-iron alloy.
2
With UC, you see the world
September 19, 2023
Study abroad is back to 75% of pre-COVID levels at the University of Cincinnati, and a wide variety of international study options is available to students in any program. Where do you see yourself in the world?
3
State grant allows for UC's continued research on firefighter...
September 18, 2023
A team of UC researchers across three colleges has been awarded an additional $1.5 million state grant to continue research on improving firefighter protective gear. This brings the total of grant funds for the project to over $2.5 million. The research is a cross colleges effort to research and develop a new firefighter coat liner that will reduce temperatures.
Debug
Query for this