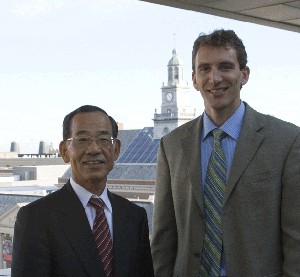 UC Awarded $3 Million from State of Ohio to Research Microfluidic Devices for Medical Settings
The University of Cincinnati has been awarded $3 million from the Ohio Department of Development's Third Frontier Wright Projects Program funds to research microfluidics biomedical technology.
The project, "The Ohio Center for Microfluidic Innovation
(OCMI)
— New Products and Competitive Manufacturing Spanning Emerging Biomedical, Electronics, and Sensor Applications," is one of seven across the state that will share more than $20 million in funding from the state of Ohio.
Jason Heikenfeld, associate professor of electrical engineering and director of the Novel Devices Laboratory in UC's College of Engineering and Applied Science, is the principal investigator on the project. With this new funding, a center will be established to research the development, manufacture and commercialization of biomedical devices that can test minute amounts of body fluids in medical settings, such as emergency rooms or natural and man-made disaster areas.
"Here at UC we have numerous faculty in engineering, chemistry and medicine who are internationally known for their innovative work in microfluidics/electrofludics. This award will provide UC a common center with world-class equipment capability to support commercialization of numerous UC technologies," says Heikenfeld. "The center makes it 'official' that UC is, and will remain, a leader in microfluidic/electrofluidic technology."
Heikenfeld will be collaborating with many UC colleagues:
Chong Ahn, professor of electrical engineering
Suri Iyer, assistant professor of chemistry
Andrew Steckl, professor of electrical engineering
Bill Heineman, professor of chemistry
Dorothy Air, associate vice president of entrepreneurial affairs
Sang Yong Son, assistant professor of mechanical engineering
Ian Papautsky, associate professor of electrical engineering and director of the UC Engineering Research Center Clean Room Facility
The UC Engineering Research Center (ERC) Clean Room is a central fabrication, processing, and characterization center. The ERC Clean Room's extensive operations and associated equipment are used to develop microfluidic devices and systems not just by UC, but by other industry and academic organizations throughout the area.
"Microfluidics has been around for nearly three decades, offering scientists a platform for developing lab-on-a-chip and point-of-care clinical diagnostic devices. With the Third Frontier funding, OCMI will stimulate commercialization of these technologies," Papautsky says. "The ERC Clean Room will complement the newly funded center and will play a key role in manufacturing prototype microfluidic systems."
The other collaborators from outside UC are
Siloam Biosciences — Aniruddha Puntambekar
Gamma Dynamics — Ken Dean and John Rudolph
Sun Chemical — Russell Schwartz and Lisa Clapp
EnMonT
A set of first projects has been chosen for OCMI targeted for commercialization in the next three years by Ohio corporate partners (Siloam Biosciences, Gamma Dynamics, Sun Chemical, EnMonT). Each project will be co-managed by an industrial partner and by one of UC's faculty. The projects will be implemented in a new physical lab and meeting space, which provides much-needed unification and standardization of UC's microfluidics research and development.
The team anticipates that the center will have a near-term impact of more than 50 new Ohio jobs created, with longer term opportunity $1.1B in Ohio revenue and more than 1,000 sustainable jobs.
The team envisions that OCMI will jumpstart a surrounding industrial cluster in Southwest Ohio spanning advanced materials sales, device production and product integration. OCMI will continually allow Ohio faculty and businesses to advance through the commercialization framework:
Imagining — lab proof of principle/conceptual linkage to commercial applications
Incubating — validate key product performance metrics/business model planning
Demonstrating — technology productization/pilot production and initial sales
"Our vision is for microfluidics to find way into a wide range of biomedical applications such as point-of-care diagnostic devices," Papautsky adds.
In addition, OCMI will enhance workforce training and education by allowing expansion of UC's NSF-sponsored microfluidics curriculum (five courses). This will initially lead to a distance-learning certificate program and longer term to a graduate degree focus in microfluidics.
This is UC's second Third Frontier award received in 2010 to date. The Ohio Third Frontier Wright Projects Program provides grants to support specifically defined near-term commercialization projects requiring major capital acquisitions and improvements at Ohio colleges and universities and nonprofit research institutions. Projects must involve one or more Ohio companies and be in the areas of advanced materials; advanced/alternative energy; instruments, controls and electronics; biomedical; or advanced propulsion.
Related News
5/4/2010  2010 Emerging Entrepreneur Award: Jason Heikenfeld
With more than $5M in funded research in four years, 11 journal articles in 2009 alone, more than a dozen pending or granted patents, and his second spin-off company, you might say that Jason Heikenfeld is running at the speed of light.
4/2/2010 Ohio Third Frontier Awards Million-Dollar Grant to YSI-UC Team
The Ohio Third Frontier Commission approved a $1.1 million award to YSI Inc., Riehl Engineering and UC for a carbon nanotube-based nutrient sensor project.
3/19/2010  WATCH: A Lab-on-a-Chip With Moveable Channels
UC engineering researchers create tiny pools without walls with programmable microfluidic systems.

5/29/2009 UC Awarded $3 Million from State of Ohio for Improvement of Biomedical Devices
The Third Frontier Wrights Project award supports development and commercialization of laser shock peening technology that will strengthen certain materials, such as the titanium alloy rods used in spinal implant devices.
5/21/2009 2009 Emerging Entrepreneur Award: Chong H. Ahn
Faster diagnoses and more immediate test results are the desires of many patients and physicians. Chong Ahn's innovative "smart" polymer lab-on-a-chip has opened a new door for point-of-care in vitro diagnostics to quickly analyze a person's health condition and status.
2
Business Courier: UC named to national microelectronics hub
September 22, 2023
The University of Cincinnati is among 65 institutions, businesses and government agencies that will use the first federal grants to help bolster the domestic production and development of new state-of-the-art semiconductors in the United States.
3
UC and GE partner to introduce high schoolers to engineering
September 21, 2023
Rising 9th and 10th graders experienced a free, weeklong, immersive engineering camp at the University of Cincinnati as part of GE's Next Engineers program. Students completed hands-on engineering design challenges while being mentored by GE Aerospace volunteers, industry professionals and current College of Engineering and Applied Science (CEAS) students.
Debug
Query for this