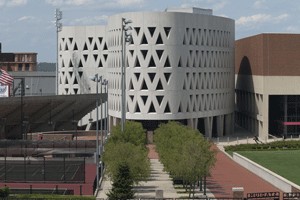 WEDNESDAY: UC Faculty Club Speaker Series A Desire Named Streetcar John Schneider
UC's own Arts & Sciences distinguished alumnus John Schneider, managing director of First Valley Corp. and chairman of the Alliance for Regional Transit, will give us the scoop on the proposed Cincinnati streetcar!  
What:
—"A Desire Named Streetcar" — John Schneider
When:
Wednesday, May 12, 2010 — buffet at 11:30; presentation at noon
Where:
Faculty Club, 8th Floor banquet room
Deli buffet lunch is complimentary,
courtesy of the Faculty Club Board of Governors.
UC faculty and staff need not be members of the club to attend this event. Non-members may attend one session of the Faculty Club Speaker Series a year. 

Reservations are required by May 7.
Call 513-556-4154 to make your reservation today.
See the streetcar route, FAQs and photos at
.
1
WVXU: Tech CEOs talk AI with lawmakers
September 22, 2023
Professor Richard Harknett is a guest speaker on WVXU's Cincinnati Edition on the topic of AI and the need, or lack thereof, for government regulations. Professor Harknett is the head of UC's School of Public and International Affairs and is an often sought out media resource on technology, cybersecurity and governmental affairs.
3
UC celebrates Marian Spencer Scholars
September 22, 2023
The University of Cincinnati celebrated the legacy of UC alumna Marian Spencer by recognizing 20 students awarded her namesake scholarship during a Sept. 9 induction ceremony. The Marian Spencer Scholars are all high-achieving graduates of the Cincinnati Public School system.
Debug
Query for this