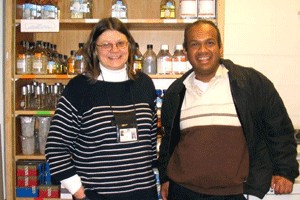 Interdisciplinary Team of UC Scientists Awarded $2 Million NIH Grant for Better Flu Diagnoses
An interdisciplinary team of scientists has received a $2.3 million dollar grant from the National Institute for Allergy and Infectious Diseases, one of the National Institutes of Health (NIH). The name of the grant is "Glycan Receptor Mimics for Rapid Detection, Typing, and Susceptibility Testing of Influenza."
With the five-year grant, the team will develop carbohdyrate-based diagnostics for influenza virus. The principal investigators on the grant are Suri S. Iyer, an assistant professor in the Chemistry Department of the McMicken College of Arts and Sciences, and Alison A. Weiss, a professor of molecular genetics in UC's College of Medicine. Also on the team are Monica McNeal and Mary Staat from
Cincinnati Children's Hospital Medical Center
.
specializes in a type of carbohydrate called a glycoconjugate that eventually can be used as a means of detecting the presence of toxins. The carbohydrates "recognize" the toxins on a surface, react and cause something to change — like the color of a solution, which could be read by a measuring device, for example. In this way, the carbohydrates are called a "recognition molecule."
Through the grant, the scientists will synthesize a library of tailored carbohydrates. They will then incorporate these synthetic molecules into multiple diagnostic platforms and evaluate their performance to detect influenza using clinical human samples. As in their other collaborations, Iyer's research group will create the molecules in their lab that then go to Weiss' lab to be tested.
Successful completion of this project is expected to lead to the development of rapid, robust, user-friendly diagnostics for influenza virus.
"It is really exciting to find solutions to basic problems in infectious diseases," says Weiss.  "Such advances require an interdisciplinary approach. Our team consists of synthetic chemists, microbiologist and clinicians."  
"Early and accurate detection of influenza strains is critical for effective countermeasures, especially since new strains — for example, the 2009 H1N1 strain — can spread rapidly," says Iyer. "There is an urgent need to develop diagnostics to detect and type the particular strain and we are excited to work on this problem."
Related News
1/15/2010   UC's 'Up and Coming' Chemistry Faculty Get National Science Foundation Recognition
Every assistant professor hired by UC's Chemistry Department from 1998 to 2008 has received the prestigious NSF CAREER grant, given to junior faculty in recognition of their research and teaching potential.
1/14/2010   Keeping the Food We Eat Safer
UC chemist receives prestigious NSF CAREER grant to develop toxin-detecting biosensors.
1
WVXU: Companies are losing ground on DEI efforts
June 2, 2023
Littisha Bates is a featured guest on WVXU's Cincinnati Edition to discuss the topic of diversity, equity and inclusion (DEI) in the workplace. Bates is UC's associate dean for inclusive excellence and community partnerships.
3
Local 12: UC startup gains approval for trials
May 30, 2023
A startup founded by four University of Cincinnati physicians gained FDA approval to move forward with clinical trials for its portable system that can detect brain injuries, Local 12 reported.
Debug
Query for this