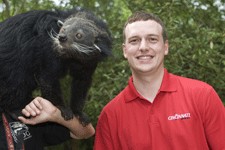 Mr. Bearcat 2010: Brad Stephens
The University of Cincinnati honors many traditions. For example, each year, Sigma Sigma honorary fraternity traditionally bestows the title of "Mr. Bearcat" upon a graduating man who has achieved academic success, demonstrated leadership in diverse settings and contributed to UC with "Bearcat Spirit." And another, unofficial tradition has been that Mr. Bearcat has been a College of Business student. This year is no exception.
Brad Stephens wasn't seriously considering UC as he was finishing up his high school career at Mason High School. He thought of UC as "just the hometown college" but decided to attend the annual
competition anyway to get out of basketball practice.
Sometimes great things happen for foolish reasons.
After the Cincinnatus competition, he received a letter from the Lindner Honors-PLUS program. They had reviewed his application and were willing to open up a window for him to apply. They gave him a week to get his application and letters of references together.
"My life changed after learning about this fantastic program," Brad says. He was accepted by his original college of choice as well as UC. "For me, once I received my letter of acceptance from UC's
it was a no-brainer decision."
His respect for the program has only grown since then. He cites the networking opportunities, the passion for making the most of one's college experience, giving back to Cincinnati and the community.
Brad will be working at Deloitte Tax in Cincinnati in July as an international tax consultant on their international tax team.
"I like it because a lot of tax work is focused just on compliance and filling out forms," Brad says. "International tax also involves consulting, working with clients to lower their tax rate across the board to provide them a strategy to minimize their tax burden. This way I get to see two different sides of the tax world."
Brad spent three co-op quarters on Deloitte's tax team with six at Deloitte altogether. Because of his co-op experience, he will start as second-year staff at Deloitte right out of college.
"The future is bright!" he adds.
Brad's next goal is to begin preparation for the CPA exam. "You have to have 225 credit hours to take the CPA exam and you graduate the undergraduate program at 215 or so. As speaker of senate this year, I had to forego my last co-op so I was able to pick up an extra quarter of classes in my normal five-year window. So I'll be able to start preparing for exams right out of school," he says. "That worked out to my benefit."
As student senate speaker, Brad presided over student senate meetings, which includes the college tribunals and the student government boards.  That wasn't his only extracurricular activity. He was also president of Omicron Delta Kappa, which is a campus leadership honorary.
"Our big event each year is Camp Bearcat, which is a retreat for freshman," Brad points out.
He enjoyed being senior class treasurer, since the senior class gift was to raise money for the Jefferson athletics complex.
"I know folks in athletics are appreciative of that," he says. "And our Proudly Pennies has raised about $8,200 toward our goal $10,000. When students get behind something like that it's good for the campus."
Last year Brad was president of his fraternity, Pi Kappa Alpha, which he found to be challenging but rewarding.
"The stakeholders care very much about the fraternity so they test you," he says. Brad found it to be a good test of his leadership skills as the fraternity has more than a hundred members. This year he was chosen to serve as an undergraduate international vice president on the PKA supreme council, the equivalent of the board of directors.
"There are 220 chapters in North America. After meeting the council members and applying for it I was fortunate to be selected for it."
Two undergraduates are picked to serve as vice president; the others are alumni. Through this position he has flown to Kansas City, New Orleans and Memphis, and will travel to Austin later this year.
Like many UC students, Brad participated in
and the
. He also participated in Pike's Presents, where they go to the Rees E. Price Academy in Price Hill the last day before winter break. (Pike's Presents is a program carried out by Pi Kappa Alpha chapters nationally.)
"We raise money for presents for the seventh and eighth graders and deliver presents to them," he says. "There's no greater experience than to deliver presents to the elementary school and see their faces light up when they see us there."
So does Brad feel that it was ultimately worth turning his back on that other institution?
"Where do I start?" he says with a laugh. "This is the place to be! The transformation physical and academic — as well as the school spirit with the athletic success — in the last five years has been incredible. In the greater Cincinnati area, there is no better time than now to be here. Whatever you're seeking, the university offers many terrific opportunities where you can maximize your college experience. For me, being able to participate in co-op was key.  Across the board you can co-op in many areas, in addition to other academic experiences like studying abroad. Also in research, UC has established itself as a leading urban research institution."
"There is no better place to be than the University of Cincinnati," Brad concludes.
"Or hey, come to the University of Cincinnati and get out of a Saturday morning basketball practice!"
1
WVXU: Tech CEOs talk AI with lawmakers
September 22, 2023
Professor Richard Harknett is a guest speaker on WVXU's Cincinnati Edition on the topic of AI and the need, or lack thereof, for government regulations. Professor Harknett is the head of UC's School of Public and International Affairs and is an often sought out media resource on technology, cybersecurity and governmental affairs.
3
UC celebrates Marian Spencer Scholars
September 22, 2023
The University of Cincinnati celebrated the legacy of UC alumna Marian Spencer by recognizing 20 students awarded her namesake scholarship during a Sept. 9 induction ceremony. The Marian Spencer Scholars are all high-achieving graduates of the Cincinnati Public School system.
Debug
Query for this