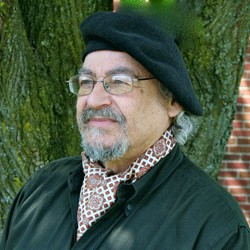 UC Prof s Book on Greek Jewry Optioned by Hollywood Filmmaker
As announced at the Cannes Film Festival, independent filmmaker Dimitri Vorris has optioned "Agony of Greek Jews, 1940–1945," by Steven Bowman, professor of Judaic Studies in the University of Cincinnati's McMicken College of Arts & Sciences.
Bowman's book, the second he has written about this era, is the first full-length scholarly study into the tragic experiences of Greek Jews during World War II (WWII). Bowman says that Greek Jewry is central to the story of the Holocaust—and their wartime story has many unique aspects.
Filmmaker Vorris also optioned the rights to Holocaust survivor Heinz Salvatore Kounio's "A Liter of Soup and Sixty Grams of Bread, The Diary of Inmate 109565," which documents the story of the Greek Jews who perished in the Holocaust. Bowman published Kounio's book as part of his series on the Holocaust, "The Sephardi and Greek Holocaust Library."
Bowman is editor-in-chief of the five-volume series. Volume I (2002) was "The Holocaust in Salonika: Eyewitness Accounts," edited with introductory essay by Bowman and translated by Isaac Benmayor. Volume 2 (2003) was Heinz Salvator Kounio's memoir, which was adapted and translated by Marcia Haddad Ikonomopoulos.
"I will be the historical consultant and am working with the director on the technical details in the film," says Bowman. "I am delighted to be collaborating with Dimitri in a film presentation of an important, yet neglected, chapter in the millennial story of Greek Jews, namely their heroism and tragedy during World War II."
The film will tell the story of the Sonderkommando revolt at the Auschwitz-Birkenau concentration camp in Poland, in which about 135 Salonika Jews participated.
Before WWII, Salonika had the largest population of Jews in Greece, at about 50,000. The Nazis rounded up the Jews, destroyed their homes, taken over the hospitals and deported approximately 45,000 Jews to Auschwitz where the majority were killed on arrival.
The "Sonderkommando" was a special unit of Jews who were forced to work in the crematoria in the concentration camp. Each of them was executed after about three months of use. The Sonderkommando revolt occurred in October 1944. One of the crematoria was destroyed and a second disabled.  Ultimately, hundreds of prisoners were executed and the revolt was quashed. Himmler ceased the mass murders soon afterward.
"This is one of the most heroic pages of humankind history. The world forgets not only that Sephardic Greek Jewry suffered during the Holocaust too, but that Greek Jews were brave enough to revolt and fight under the most hopeless circumstances. These historical events have striking similarities with Leonidas and the 300 Spartans fighting the Battle at Theromylae," Vorris announced in the film's press release. "The major difference is that, in this film, you don't have an elite army fighting an Empire, but imprisoned, entrapped, everyday people in a termination camp. They are hungry, tortured, abused, sick, ailing, armed only with an ingenious plot and self-made guns, against the Empire of the Third Reich. They are performing the ultimate sacrifice for their fellow man and woman."
About Dimitri Vorris
Dimitri Vorris (Metaphor Entertainment, LLC) has directed five short-length features: "Jump Cut," "Claudia's Best Friend" and "Ancient Greek's Symposium Parts 1–3." Part 3 of the symposium series had a record 60 prints distributed by Village Roadshow in Greece and was seen by more than 1,700,000 moviegoers. Vorris also produced and directed the animated feature "Socrates: Lost in Olympia" in 2008 and currently has five feature films in development, including indie thriller "NA4U" starring Costas Mandylor ("SAW'), Jeff Fahey ("LOST") and Sarah M. Blessing.
About Steven Bowman
University of Cincinnati Judaic Studies Professor Steven Bowman published his long-awaited book "The Agony of Greek Jews, 1940–1945" with Stanford University Press (October 2009). His study of the "Shoah in Salonika" appeared in CUNY Holocaust Studies Series (New York, 2010). Two articles on the Byzantine period: "Jewish Responses to Byzantine Polemics 9th–11th Centuries" in Shofar, vol. 28, no. 3 (Spring, 2010) and "Jews in Byzantium 1204–1453" in Jews of Byzantium: Dialectics of Minority and Majority Cultures in series "Jerusalem Studies in Religion and Culture" (eds. David Shulman and Guy G. Stroumsa) are in press.
Bowman will be on sabbatical next year with a Fulbright-Hayes Faculty Travel Abroad Award in the United Kingdom and Israel and has been awarded a Lady Davis Fellowship at the Hebrew University of Jerusalem. His sabbatical plan is to finish several projects connected with
Sepher Yosippon
.
More about "Agony of Greek Jews, 1940–1945"
Professor Pens Book on WWII Greek Jews
Steven Bowman of Judaic Studies looks at the Holocaust through a perspective rarely studied: the Greek Jews.
1
WVXU: Tech CEOs talk AI with lawmakers
September 22, 2023
Professor Richard Harknett is a guest speaker on WVXU's Cincinnati Edition on the topic of AI and the need, or lack thereof, for government regulations. Professor Harknett is the head of UC's School of Public and International Affairs and is an often sought out media resource on technology, cybersecurity and governmental affairs.
3
Clifton Court Hall grand opening garners detailed media coverage
September 20, 2023
The University of Cincinnati celebrated the opening of Clifton Court Hall on Tuesday, Sept. 19, with a ribbon cutting, attended by approximately 200 administrators, faculty, staff and students. The event was covered by multiple media outlets.
Debug
Query for this