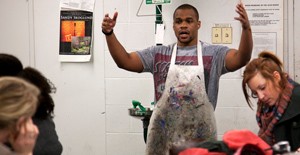 New Faculty Member Making His Mark in DAAP s Print Making Program
Printmaking – and art making in general – is like yoga in that it stretches the mind.
So says Noel Anderson, new assistant professor of fine arts in the University of Cincinnati's College of Design, Architecture, Art, and Planning (DAAP), who is actively recruiting students from a variety of majors to see and use printmaking as an adaptable, creative tool that can contribute to all manner of projects.
"Printmaking can easily contribute to the creative endeavors of fashion design students, interior design and architecture students, and planning students, and there are applications for other majors as well, especially when it comes to project presentation. And no passport is needed to enter the printmaking studio," states Anderson.
For instance, printmaking can help fashion design students create color and patterns on cloth, help interior design and architecture students produce a unique wallpaper, help planners and other majors produce a silk-screen poster, diagrams and color stills.
"Printmaking can add creativity that is very individual to almost any endeavor with a two-dimensional component," explains Anderson.
He adds that the most important characteristic any student can bring to DAAP's printmaking studio is a work ethic, something that UC students have in abundance. "I'm always telling students that my motto is 'exhaust the system.' Experiment and seek out creative solutions till you hit the wall. Then, walk away from the wall and keep going."
Anderson continues that "the majority of UC students I've worked with so far do that. The work ethic here is tremendous. Students routinely sleep in the building here in DAAP. I've never been in a school like this," says Anderson, who has previously taught sculpture and performance art at Vanderbilt and Yale universities.
Anderson, who has previously taught at Vanderbilt University and at Yale University (where he was a graduate student),  also routinely produces and exhibits his own printed textiles, often showing work in Miami, Fla., and New York City. In fact, his work has been briefly
in "The New York Times."
In his art, he is most interested in exploring black masculinity and how any need to redefine black masculinity must begin with children.
"If we're going to influence perceptions, we need to go back to where perceptions begin to take root at a young, developmental age," he explains.
For instance, one figure that Anderson focuses on in his exploration of race and identity is the cartoon character, Fat Albert, who served to shape and define attitudes of black masculinity for generations of children, in a show where the main character (Fat Albert) works to maintain integrity in a show that dealt with serious issues – from smoking to gun violence and from racism to immigration – in an manner appropriate for children.
In other tapestries, Anderson depicts an Ebony magazine cover in addition to creating a portrait that combines the features of John F. Kennedy, the Rev. Dr. Martin Luther King, Jr., and the Rev. Al Sharpton.
Now that he has joined that faculty at UC, Anderson is planning to show his work locally.
Further action is required to make this image accessible
One of the below criteria must be satisfied:
Add image alt tag

OR

Mark image as decorative
The image will not display on the live site until the issue above is resolved.
1
UC Learning Lab inspires College of Medicine to SIT
November 29, 2023
In a convergence of academic integration, the University of Cincinnati's renowned colleges — Design, Architecture, Art, and Planning, Lindner College of Business, College of Engineering and Applied Sciences and College of Medicine — recently joined forces at the 1819 Innovation Hub for an ideation session that exemplifies the institution's commitment to interdisciplinary collaboration.
2
National media highlight newest US World Heritage site
November 28, 2023
For nearly two decades, professor emeritus John Hancock helped lead a team of archaeologists, historians and Native American scholars, including staff at the National Park Service and Ohio History Connection, to have the Hopewell earthworks recognized on par with other World Heritage sites such as the Great Wall of China and Stonehenge.
Debug
Query for this