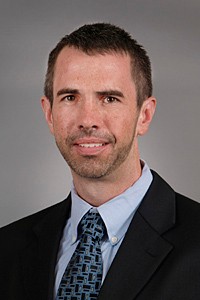 UC Research Examines Momentum in the NFL
New research out of the University of Cincinnati supports the argument that momentum is more like a myth in the NFL. The research by Michael J. Fry, a UC associate professor of operations and business analytics, and UC alumnus F. Alan Shukairy, who earned his master's of science in business analytics, is published in the current issue of the Journal of Quantitative Analysis in Sports.
The word, "momentum," is often described by coaches, players, sports writers and announcers as those defining points in the game that causes a team to win or lose. "However, it is often difficult for human perception to separate intrinsic changes in probability from simple, random occurrences," Fry says.
In their paper, "Searching for Momentum in the NFL," the researchers analyzed data on five years' worth of plays during the NFL season, from 2002 to 2007. They examined four particular plays that are popularly described as "momentum-changing events:"
1. Successful fourth-down conversions
2. Unsuccessful fourth-down conversions
3. Turnovers
4. Allowing scores (touchdowns and/or field goals)
For each of the events, the researchers compared a team's performance up to the "momentum-changing event" to plays from a control data set. The data set used pairwise matching to control for field position, score differential, time of game and for whether the team was playing at home or on the road.
The researchers say their analysis found possible statistical evidence of positive momentum gains after a team successfully converted a fourth-down. They found no statistical evidence of in-game momentum resulting from turnovers or allowing scores.
Momentum is taken very seriously in the NFL and can be a turning point for coaches as they plan team plays.
"While our findings cannot conclusively disprove the existence of momentum in the NFL, they further support the argument that momentum should not be a guiding factor for in-game decision making," write the authors.
"We conclude that in many instances, players, coaches and writers may put too much credence on the existence of momentum and that this may affect play-calling," conclude the authors.
2
Local 12: UC startup gains approval for trials
May 30, 2023
A startup founded by four University of Cincinnati physicians gained FDA approval to move forward with clinical trials for its portable system that can detect brain injuries, Local 12 reported.
3
UC students visit Ghana and learn how engineering crosses...
May 30, 2023
Each year, the University of Cincinnati sends more than 1,000 students to countries around the world. Over spring break, UC international facilitated a trip for 13 students — 11 from the College of Engineering and Applied Science (CEAS) one from the Lindner College of Business and one from the School of Information Technology — to explore Ghana, be immersed in the culture and venture outside of their comfort zones. Students were led by Cedrick Kwuimy and co-led by Nora Honken, faculty in UC's Department of Engineering and Computing Education.
Debug
Query for this