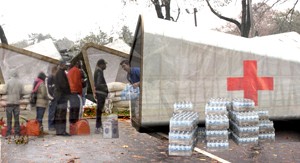 UC-Designed "Flat Pack Shelter" Set to Display at Prestigious New York Exhibit
The future of disaster shelters is flat.
Or at least that's the vision of faculty and students in the University of Cincinnati's architecture program.
They've designed an eight-foot tall, 18-foot-long shelter made of a plywood frame that could be covered in a shrink-wrap vinyl membrane for water proofing. Most importantly, it could be delivered flat packed and assembled by an ordinary family using readily available tools.
Because it can be flat packed, 25 of these shelters could fit (flat packed) on the bed of a standard tractor trailer of 53 feet in length.
(When flat packed, the shelters measure 4 feet wide, 4 feet high and 10 feet long.)
Their design, titled "Flat Pack Shelter," has been accepted for exhibit at the prestigious International Contemporary Furniture Fair (ICFF) May 18-21 in New York City. The ICFF is North America's premier showcase for contemporary design. At the exhibit, a prototype of the shelter will be on display.
Working on the project since last fall have been Brian Davies, associate professor in UC's
School of Architecture and Interior Design, part of the College of Design, Architecture, Art, and Planning (DAAP), and Stephen Slaughter, adjunct assistant professor in the same school, along with 16 students in a fall semester seminar course and seven independent study students this spring semester.
According to Davies, "We were inspired by Hurricane Sandy and decided to take on the challenge of creating a shelter that could be manufactured extremely quickly of readily available materials – plywood and shrink-wrap vinyl for waterproofing – in the most-basic manufacturing facility. These are inexpensive materials that can be found at any home improvement store."
Furthermore, added Slaughter, the end result could be shipped flat pack so that a larger number could be shipped and families needing emergency shelter could assemble the shelter much like furniture from Ikea is assembled. "No special tools are needed for assembly. An ordinary family could put the whole thing up in five or six hours using everyday tools, and it would basically fit in a parking stall. That's deliberate since car parks and surface lots provide flat foundations for quick set up," he explained. The needed tools for assembly would be an allen wrench, hex head bolts and rubber mallet.
The result would be a viable, secure shelter or base for relief efforts for up to three months (since the 90-pound structure is not meant to provide permanent housing for years on end). The shelters could be used as part of camp shelters with separate hygiene facilities, since the flat-pack shelter does not include plumbing.
The total materials cost for such a flat-packed shelter would be about $3,000 vs. a price tag between $25,000 to $40,000 for a new Federal Emergency Management Agency
.
At the ICFF, and the UC team hopes for feedback and suggestions for improvements.
EASE OF ASSEMBLY AND FUTURE IMPROVEMENTS
The ribs of Flat Pack Shelter are pre-tethered for rapid assembly and are locked into position by the base rails and longitudinal elements.
Further improvements already in the planning include foam insulation between the structure's ribs for use in colder weather.  
Students working on the project throughout the past academic year include
Reuben Alt
Kate Bogenschutz
Diana Chan
Dina Elawad
Adam Fischer
Alec Gardner
Tyler Gentry
Madeline Goryl
Tony Mangione
Mary Jo Minerich
August Miller
Ryan Schmidt
Nick Schoeppner
Molly Smith
Joe Southard
Alex Ziemba

According to student Reuben Alt, 25, a just-graduated master's of architecture student from Roosevelt, N.J., working on the shelter project, "It's great to see what you sketch on paper and model in the computer become a real, materialized design. It's an exciting challenge because when designing and producing a small-scale model, if something doesn't fit quite right, you can use strength to force it. It's an entirely different story when working full scale. Here we are producing the thing itself and the level of precise detail and accuracy is that much greater."
Fellow student Kate Bogenschutz, 22, a just-graduated senior in architecture from the Cincinnati suburb of Delhi, agreed, "We're producing a level of work that isn't seen in many other studios or courses. It's the perfect opportunity to take part in a collective built project with real meaning behind it."
1
Venture Lab startup seeks to revolutionize physical therapy
September 20, 2023
When Abby McInturf was a University of Cincinnati College of Design, Architecture, Art, and Planning (DAAP) student on her way to a degree in industrial design, she studied ways to enhance human health through better design. Her research and experiences in the UC Venture Lab led her, shortly after graduation, to found a company called Band Connect that improves physical therapy rehabilitation for a host of musculoskeletal injuries.
2
With UC, you see the world
September 19, 2023
Study abroad is back to 75% of pre-COVID levels at the University of Cincinnati, and a wide variety of international study options is available to students in any program. Where do you see yourself in the world?
3
State grant allows for UC's continued research on firefighter...
September 18, 2023
A team of UC researchers across three colleges has been awarded an additional $1.5 million state grant to continue research on improving firefighter protective gear. This brings the total of grant funds for the project to over $2.5 million. The research is a cross colleges effort to research and develop a new firefighter coat liner that will reduce temperatures.
Debug
Query for this