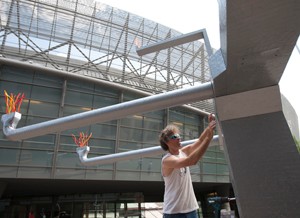 Duct Tape for Dads: UC Duct-Tape Sculptures to Display Father's Day Weekend at Ohio Duck Tape Festival
Here's something for all the dads - and the rest of us too - who depend on duct tape.
University of Cincinnati students are displaying some pretty cool uses for duct tape, having completed colorful, large-sized sculptures – ranging from five to 16 feet high, making use of Duck Tape® brand duct tape.
The sculptures are on display along UC's MainStreet through June 10. Then, they will next travel to Avon, Ohio, the self-proclaimed "Duck Tape® Capital of the World" as part of the
10th Annual Avon Heritage Duct Tape Festival, June 14-16, the weekend of Father's Day
. Following the sculpture exhibits, the duct tape creations will become part of the art collection of ShurTech, LLC, the company that markets Duck Tape® brand duct tape. ShurTech sponsored the UC students in their projects, all part of a course led by Joe Girandola, associate professor of fine arts.
The students' work, part of a "Duct Tape Through the Decades" theme, consists of:
A purple whale, about six feet long, by graduate fine arts student David Armacost. Titled "The Whale Bus Worldwide," the duct tape whale sculpture will be topped by a duct-tape bus. Explained Armacost, "It's a whimsical representation of the view that as technology advances, we'll travel through the oceans as easily as we now travel on land. But, no matter how much our technology advances, we will always need duct tape to shore up our machines."
Optimus Prime, leader of the Transformers, will be represented in a 12-foot tall sculpture by fine arts first-year student Nina Digiovenale, 21, of Anderson Township. The colorful sculpture of wood, cardboard, Styrofoam and Duck Tape® in blue, red, silver, black and white will pivot at the arms, legs and waist. She said, "The Transformers represent indestructible beings. In that way, they are as indestructible as duct tape."

Rock'Em, Sock'Em Robots boxing in a ring is represented by seven-foot-high sculptures by fine arts sophomore Kate Tobin, 22, of Montgomery, who says she opted to represent the game, which debuted in 1964, because she loves games and costumes from the 1960s. One of the greatest challenges to the project for her: "You can only accomplish a work on this scale by little baby steps. For instance, we have to put six or seven layers of basic duct tape on the frames we're making before we put the final layers of colorful duct tape. We put so many layers of duct tape down in order to make the works waterproof."
A colorful double helix, titled "DeCODE," is represented by a 16-foot tall sculpture of hollow, steel tubes and a repeating pattern of tape colors in Lime Green, Electric Blue, Yellow Sunburst, Funky Flamingo® (pink), Blaze Orange, black, white, and glow-in-the-dark. Student Harriet Kaufman, 68, of Clifton, creator of the double helix sculpture and of a giraffe sculpture explained that duct tape is a great material for artists: "It's a medium that makes people smile. It's so playful and fun to work with. It's been a terrific experience." Kaufman's giraffe sculpture has a 10-foot high neck. That neck and the giraffe's body will feature spots in red, green, black, white, gold and blue. The sculpture will include a three-foot high giraffe body (with folded legs as if at rest).
A six-foot tall ViewMaster toy. The sculpture is by graduate fine arts student Tyler Hamilton.
One sculpture, "Ray Ban Repair," will represent how many of us have, indeed, used duct tape – to fix our eyeglasses. Graduate fine arts student Corrina Mehiel and Greg Swiger are exhibiting an eight-foot high duct tape sculpture of broken eye glasses held together by – what else – duct tape! 
Appropriately enough, UC's Matt Lynch, associate professor of fine arts, created a realistic replica of a heating/cooling duct system out of duct tape, titled "Duct on Duct."
A boom box, made with duct tape, is exhibited by undergraduate fine arts student Todd Richman. An internal amplifier will play music from Richman's childhood as well as music from his father's childhood.

In tribute to "The Wizard of Oz," fine arts student Paul Rodgers created a large-scale Tin Man's heart and yellow brick road.
Course instructor Joe Girandola, associate professor of fine arts who has long used duct tape as an art medium, created a sculpture -- "For the LOVE of Duck Tape®" -- that spells out the word "DUCK" atop a large roll of duct tape -- all made of tape.
The project is sponsored by ShurTech Brands, LLC, the marketers of Duck Tape® brand duct tape, in the form of materials and monetary support. The company is also providing three scholarships worth a total of $2,250 to go to three of the participating UC students. The scholarship recipients will be selected by a combination of juror selections and public votes for the students' sculptures at the June 14-16 festival. Additional donations to the project came from Westcott Scissors.

1
Venture Lab startup seeks to revolutionize physical therapy
September 20, 2023
When Abby McInturf was a University of Cincinnati College of Design, Architecture, Art, and Planning (DAAP) student on her way to a degree in industrial design, she studied ways to enhance human health through better design. Her research and experiences in the UC Venture Lab led her, shortly after graduation, to found a company called Band Connect that improves physical therapy rehabilitation for a host of musculoskeletal injuries.
2
With UC, you see the world
September 19, 2023
Study abroad is back to 75% of pre-COVID levels at the University of Cincinnati, and a wide variety of international study options is available to students in any program. Where do you see yourself in the world?
3
State grant allows for UC's continued research on firefighter...
September 18, 2023
A team of UC researchers across three colleges has been awarded an additional $1.5 million state grant to continue research on improving firefighter protective gear. This brings the total of grant funds for the project to over $2.5 million. The research is a cross colleges effort to research and develop a new firefighter coat liner that will reduce temperatures.
Debug
Query for this