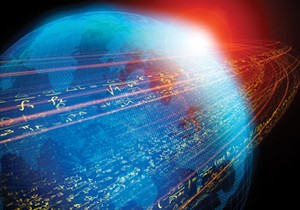 UC at World s Largest Event for Aerospace Research and Technology
The
American Institute of Aeronautics and Astronautics
(AIAA), the world's largest technical society dedicated to the global aerospace profession, is hosting
, January 13 – 17 in National Harbor, Md.
This 52nd Aerospace Sciences event brings researchers together from around the globe and across technological boundaries to collaborate on research that advances aerospace science, technology, and exploration, according to AIAA.org.
More than 1800 technical papers from more than 400 government, academic, and private institutions in 45 countries reporting on the latest in aerospace research, and offering scores of opportunities for collaboration and discussion on more than 300 high-impact topics, will be covered throughout the week-long event.
Several students and faculty from the University of Cincinnati's Department of Aerospace Engineering and Engineering Mechanics are attending and/or presenting at this year's conference discussing research spanning a range of topics including jet noise suppression, new propulsion technology involving controlled detonations, clean combustion, UAV flight control, fuzzy logic, and Computational Fluid Dynamics.
UC College of Engineering and Applied Science Asociate Professor Kelly Cohen, who is an associate fellow of the AIAA, is chairing the Intelligent Systems Technical Committee meeting and is serving as a co-chair for the event's Unmanned Aircraft Sensing and Control session.
Cohen also co-authored three student technical papers slated to be presented at the conference including
Vijaykumar Sureshkumar Fnu's  Intelligent Fuzzy Flight control of an Autonomous Quadrotor UAV
Sophia Mitchell's Collaborative Learning using Fuzzy Logic
Wei Wei's Frequency-Domain System Identification and Simulation of a Quadrotor Controller
"The best minds in aerospace will come together at the AIAA Science and Technology Forum and Exposition, as engineers and educators, researchers and designers, scientists and students all join together to play a part in advancing the state of aerospace science and technology," he said. "I am most pleased that our talented and deserving students are getting this level of exposure."
Aerospace engineering major Marshall Galbraith, who recently started a postdoc position at the Massachusetts Institute of Technology (MIT) to continue his work on continuous and discontinuous Galerkin discretization schemes, is presenting his thesis work on improving Computational Fluid Dynamics (CFD) software. His paper,  A 3-D Discontinuous Galerkin Chimera Overset Method, is co-authored by Paul Orkwis and John Benek.
"Computational Fluid Dynamics is used in a wide range of fields to study a variety of topics ranging from astrophysics, to aircraft design, to blood flow in veins," he said. "Having faster and more accurate CFD solvers means researchers can focus on the topic at hand and not so much on the quality of the calculation."
In his research, Galbraith uses the high-order accurate discontinuous Galerkin discretization scheme to minimize numerical errors. "I combined that with the Chimera overset meshing technique," he said. "The Chimera overset technique is a method for computing fluid flow solutions on multiple overlapping meshes and has the potential to simplify the grid generation process."
Galbraith says that his focus on discontinuous Galerkin discretizations began in 2008, but UC has been involved in CFD research since the 1970s.
Department of Aerospace Engineering and Engineering Mechanics Department Head and Professor Paul Orkwis says UC's participation in SciTech2014 is important. "The conference is the premier aerospace sciences event in the country bringing together researchers from academia, industry and government labs."
Select for a complete list of the Technical Program Overview. 
2
Biomedical engineer driven to create a better life for her sister
March 29, 2023
Dominique Tanner, a biomedical engineering doctoral candidate at the University of Cincinnati, finds motivation from her sister. Diagnosed with epilepsy at just a few months old, her sister has experienced seizures all her life. Tanner became determined to learn about the condition and dedicated herself to a career in helping her sister and others like her. She is the second black woman to receive a Ph.D. in biomedical engineering at UC and was named Graduate Student Engineer of the Month by the College of Engineering and Applied Science.
3
Aerospace engineer shares how co-op helped her discover her path
March 28, 2023
The "College Matters. Alma Matters." Podcast interviewed University of Cincinnati aerospace engineering Ph.D. candidate Lynn Pickering earlier this month. In the episode she discusses her undergraduate experience at UC, the importance of co-op and her research of fuzzy logic.
Debug
Query for this