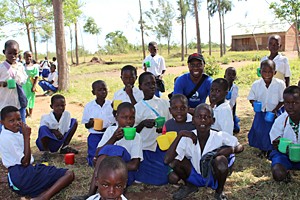 UC Students Call Service-Learning Trip to Tanzania a Life-Changing Experience
If there was ever a challenge that could demonstrate the success of Cincinnati Smart university partnerships, it would be a recent spring break trip to the impoverished regions of Tanzania.
The service-learning experience was the teamwork of Vanessa Allen-Brown, an associate professor of educational studies, the UC African Students Association (UCASA) and the nonprofit Village Life Outreach Project, founded by UC alumnus Christopher Lewis, a UC associate professor of family and community medicine and assistant dean of Diversity and Inclusion for the UC College of Medicine.
UCASA is a student organization that encourages volunteer and study abroad experiences in African countries while promoting educational, social and cultural awareness. Fourteen students, many of them first-generation college students, participated in the service-learning experience led by Allen-Brown, of the College of Education, Criminal Justice, and Human Services (CECH).
Working in partnership with the nonprofit
, the students took part in a number of community service projects to gain an understanding of the economic, social, political and health issues of Tanzania.
Students assisted physicians and pharmacists at a clinic that Village Life had built in partnership with the UC College of Design, Architecture, Art, and Planning (DAAP), as well as at a school that UC's Engineers Without Borders student organization had built in an earlier partnership with Village Life Outreach Project. Other health-related activities involved giving out mosquito nets to protect villagers from malaria, as well as explaining how to use the nets.
Students also delved into education projects. They outlined lessons trading English with Swahili and Luo at primary schools in three different villages; demonstrated how to make "slime," a science lesson to further the understanding of English; math, using English words; and also traded teaching a song in English, while the UC students learned the same song in Swahili. Recreational activities with the schoolchildren included jump rope and outdoor games (soccer, dance).
"These children lived in mud huts and walked for three hours to get to school," says Allen-Brown. "This was truly a service-learning project in building reciprocal relationships, learning to respect other cultures and appreciating the value of indigenous knowledge."
For Greg Evans, a UC senior graduating this spring with a bachelor's degree in health promotion and education (CECH), it wasn't just his first trip abroad, but it was also the first time he had traveled by plane. "Taking this trip was one of the best college decisions I've ever made," says Evans, who's from Golf Manor (Cincinnati). "We got to connect to the kids on a deeper level through sport and inspirational songs. With limited electricity, Wi-Fi and everything else we have in America, it opened my eyes to a more simple way of life."
"There was limited Internet access and as a result, instead of connecting online, our students were connecting with each other," says Allen-Brown.
"This experience was life-changing," says Evans. "It made me appreciate the little things, like drinking water from a faucet, flushing the toilet, taking a shower and traveling by car. Still, things like watching the stars and finally seeing the Big Dipper, writing in my journal and gazing out on the scenery of Tanzania – it changed my life for the better." Evans quotes his favorite rapper, Tupac Shakur, saying, "I may not change the world, but I will spark the brain that will change the world."
is described as involving reflective, educational experiences blended with service activities that foster a deeper understanding of course content and an enhanced sense of civic responsibility.
Learning objectives of the course and the Tanzania study abroad experience included:
Gaining a basic understanding of Tanzania – the culture, people and traditions
Gaining a basic understanding of the economic, social, political and health issues affecting Tanzania
Examining global issues that cross geographical borders
Examining students' individual beliefs and personal biases in relation to transitional cultures and traditions

"My trip to Tanzania was the highlight of my college career," says Christian Asumadu, an international affairs/pre-medicine senior from Columbus, Ohio, who will be graduating in December.  "It was a blessing to be a part of this project with college students like me."
Asumadu says he was the designated photographer/videographer for the trip and gained confidence in those abilities with the support of his fellow students. "My colleagues commended me greatly for my work in capturing incredible memories in Tanzania. This trip has taught me not to lament so much on my personal doubts and weaknesses, but rather how to use challenges as a tool to think critically of solutions to problems as well as working through those issues."
Student participant and UC senior Ufuoma "Michelle" Ziregbe is graduating this spring with a bachelor's degree in marketing. Born in Nigeria, she now resides in West Chester and is a graduate of Lakota West High School. "I owe these people my time and whatever knowledge I've acquired now to give back to them, especially the women, because some African countries do not encourage education for them. I am learning from them as they learned from me.
"The trip to Tanzania gave me a chance to reflect on what I perceive as wealth," says Ziregbe. "I heard repeatedly that the areas we visited were lacking, and although there were noticeable needs, I couldn't help but think there was something far more important that they had. Sure, water might have been an issue, but the joy and love I saw in them couldn't be tamed by their circumstances. They inspired me with their love. I learned that true wealth cannot be bought, it is an irreplaceable gift sowed in the depths of one's being that flows and affects the lives of people it comes across."?
The student group represented a wide range of majors including education, business, biology and health sciences. Before they departed for spring break, the students collected school supplies to provide to the schools that they visited.
Chris Lewis, the founder of Village Life Outreach Project and a family physician with UC Health, earned his MD from UC in 2000. He was a third-year medical resident when he witnessed the devastating poverty and deplorable health conditions in Tanzania during a 2003 international health elective. He founded the Village Life Outreach Project to educate villagers on preventative health care, develop long-term and self-manageable solutions to address the health and development challenges in Tanzania, and create village partnerships.
"This most recent trip is the result of a 10-year partnership between UC and Village Life, a partnership in which close to 250 students and faculty have traveled to Tanzania in service over the past decade," says Lewis. "It can be a life-changing experience using lessons from the classroom and applying them to real-life situations that can improve lives."
Allen-Brown, who has also traveled the world with support from the Fulbright Scholar Program, says the spring break trip was the first service-learning course that she had developed, as well as her first trip to Tanzania. She says the trip also gave her an idea for a future research project: gaining an understanding of the cultural and historical practice of women who serve as traditional birth assistants in Tanzania – collecting narratives from the women and exploring how traditional education can benefit from their stories.
The UC Academic Master Plan sets a goal for 100 percent of UC's undergraduates to participate in experiential learning, such as service learning and study abroad. The Office of the Provost reports that 44 percent of UC's undergraduates, or 14,084 students, were involved in at least one experiential learning course during the 2012-13 academic year.
UC International awarded approximately $114,000 in scholarships to students participating in spring break programs involving a global study experience in 2014.
Funding for the Tanzania trip was supported by the Office of the President, Student Affairs and Services, UC International, CECH, the Carl H. Lindner College of Business (LCOB), College of Allied Health Sciences and McMicken College of Arts and Sciences (A&S).