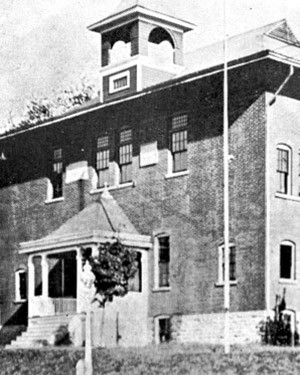 Kennedy Heights: Students Conduct Hands-On History Project for Special Cincinnati Community
University of Cincinnati students helped pull together yellowing newsletters, old photos and personal accounts to write a compelling history of a century-old Cincinnati neighborhood.

A seminar of five graduate students and two undergraduates researched and wrote the history of Kennedy Heights to commemorate being a part of Cincinnati for 100 years. The village was annexed into Cincinnati in 1914. It grew after World War II as residents migrated to the suburbs. As the community grew, it intentionally remained integrated, according to professor Fritz Casey-Leininger.

"It is one of a few Cincinnati neighborhoods that have deliberately and successfully worked to maintain stable racial integration over the past 50 years," Casey-Leininger says. "I was struck by the passion for the neighborhood. People are deeply committed to it and want to do more."

The neighborhood history project provided a great community engagement opportunity for students. The story came from several sources, including oral history interviews with neighbors and stacks of community council newsletters.

"Students were able to get their hands dirty doing real history," says Casey- Leininger. "With a finished product that will end up being useful to the recipients."

Casey-Leininger edited and compressed the student essays into what will become a book designed and published by the Kennedy Heights Community Council for its centennial festivities later this month.

"This project was a great success for our students and our public history program and will be the third publication that has grown out of this seminar," says Casey- Leininger. Other projects by students in the program include:
 
•    "Going Home: the Struggle for Fair Housing in Cincinnati, 1900 to 2007," published in 2008 by Housing Opportunities Made Equal (HOME) of Greater Cincinnati as part of its celebration of the 50th anniversary of the Federal Fair Housing Act of 1968 and of HOME's 50th anniversary of incorporation.
 
•    A history of the Woman's City Club of Cincinnati since the 1960s, being written by one of the program's recent MAs, Rachel Powell. She is building on the work of the 2012 Public History Practicum in which she was a student. It is scheduled for publication by the club as part of its 100th anniversary celebration in 2015. The Woman's City Club has been at the forefront of some of the most important civic issues in the city for the last hundred years.

Read more about Kennedy Heights in this Cincinnati Enquirer article and at the Kennedy Heights Community Council site.


1
New species of voiceless frog discovered in Tanzania
February 2, 2023
University of Cincinnati researchers discovered a new species of frog in Africa that has an unusual trait: it's completely silent. The Ukaguru spiny-throated reed frog does not croak, sing or ribbit. It is among the few frogs that do not vocalize to other frogs.
3
Why we still need Black History Month
January 26, 2023
While Black History Month is an opportunity for all Americans to consider concepts central to the founding of the nation — democracy, freedom and equality — the University of Cincinnati propels the diversity, equity and equality momentum by honoring Black Americans' extraordinary impact through engaging lectures, open classes, food, galas and off-campus activities.
Debug
Query for this