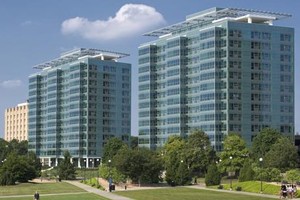 University of Cincinnati Is First US Public University to Sell Green Bonds
 During the first week of December, the University of Cincinnati will enter the market to sell  approximately $29 million in Green Bonds to fund a portion of the estimated $35 million renovation of campus' Scioto Hall.
This step will make UC the first public university in the United States to bring a Green Bond to market.
(The
first-ever higher education green bond
in the country was by the Massachusetts Institute of Technology in September 2014, when MIT issued refunding bonds to pay off existing debt related to green projects.)
Green Bonds are a relatively new segment of the municipal bond market. A green bond is one in which the proceeds are used to fund environmentally friendly projects, such as ecological construction or projects associated with energy efficiency, clean water, river/habitat restoration and more.
were first issued by the World Bank in 2008 as a means to finance environmentally friendly projects and to help stimulate and coordinate public and private sector activity to combat climate change.
The General Receipts Bonds, Series 2014C, that UC will market on or about Dec. 2, meet the definition of a green bond as they will fund the majority of the costs of the Scioto Hall renovation where energy efficiencies and energy recovery system as well as reuse and recycling of materials will be prominently featured in the building's redesign. After it reopens for use in August 2016, Scioto is expected to earn a minimum of Leadership in Energy and Environmental Design (LEED) Silver Certification from the U.S. Green Building Council, as has its "twin" structure,
, which was recently renovated with sustainable features and design.
Including Morgens,
at UC are already LEED Gold, LEED Silver or LEED certified.
UC President Santa Ono stated, "The University of Cincinnati was among the first public universities to be recognized by the Princeton Review as a best 'green' school. We continue to expand our commitment to sustainability through our academic master plan and the university's
goals. Green bonds are a natural next step in our efforts to foster a deliberate and responsible approach to our environment."
Robert Ambach, UC senior vice president for administration and finance, explained that the university is designating this Series as a Green Bond, as it meets the voluntary, best-practices
established in January 2014 by environmental finance experts and banks.
He added, "Since sustainability is woven into all aspects of the university in terms of academics, research and extracurricular activities, it only made sense to further extend that to our financing. UC is already nationally recognized for our
sustainable energy efficiencies and savings
and our high-performance green buildings. That momentum will only continue at UC, and this step is an important milestone in our focus on sustainability.

ABOUT SCIOTO HALL AND ITS SUSTAINABLE FEATURES
Upon completion, the renovation of Scioto Hall, which is located on the corner of West Campus near the intersection of Martin Luther King Drive and Jefferson Avenue, will include a cladding comprised of
2,000 glass panels featuring a high-tech design
that gives the building a greater insulation value than the original exterior. Each panel is made of two quarter-inch thick windows with a half inch of air space separating each window (total of one-inch). The glass has low-emissive properties, making it better than standard glass by preventing heat loss or heat gain. These panes of glass will replace the current concrete-and-brick exterior, which dates back to 1964.
The panels will be partially adorned with a white linear pattern called "fritting." The reflective pattern adds another degree of insulation to the glass by decreasing solar heat gain by 20 percent, and it also serves as a visual warning to errant birds. On the inside, the fritting gives the floor-to-ceiling glass walls something similar in appearance to a chair rail.
The glass panels will be paired with interior, custom-fit roller shades for an insulated "fit" that will increase energy efficiency, user comfort and help control the building's temperature and so, save on heating and cooling costs as well.
In addition
All mechanical systems will be designed for energy efficiency. (In the renovated Morgens, overall energy use in the building's first year of use was 46 percent lower when compared to annual figures on energy use in the "pre-renovation Morgens.")
 100 percent LED lighting. (In the renovated Morgens, which opened in August 2013, use of LED lighting resulted in a 20 percent reduction in lighting energy use compared to the "pre-renovation Morgens.")
An energy-recovery system which will capture exhaust heat (from use of the bathroom exhaust fans within the building's suites) and use that heat to warm the fresh air pumped into the building from outdoors for air-quality comfort and needs.
Use of Forest Stewardship Council (FSC) Certified for the interior doors to and within the building's suites. The FSC is an international organization committed to ensuring responsible management of the world's forests. FSC certification makes certain that the wood in products come from sustainably managed forests.
 Use of materials from the local region, which will reduce energy and costs associated with transportation.
Mary Beth McGrew, university architect and associate vice president of Planning, Design and Construction, said, "It's also important to note that this project got off to a sustainability-conscious start before the first hammer was swung as part of the ongoing renovation. Reusing the existing building eliminated the need to send truckloads of debris to a landfill. Not to mention that on-campus living for students reduces the use of personal transportation to get around campus and beyond."
She added, "These reductions of energy use along with the adaptive reuse of a building to provide a high quality of life and a safe and secure environment for our students are just some of the many goals in the transformation of the campus where sustainability has been a practice for a long time."
When renovations are complete, Scioto Hall will provide approximately 450 beds in about 140 apartment-style suites. Unused since 2008, Scioto is undergoing renovation, in part, because of increased demand for on-campus housing resulting from increased student enrollment and increased demand for on-campus housing by upperclassmen. UC currently has an enrollment of 43,961, the
in its almost-200 year history.
UC'S GREEN TRACK RECORD: FIVE YEARS OF NATIONAL SUSTAINABILITY RANKINGS
Just before Earth Day 2014, UC was named among the nation's
by The Princeton Review. That was the fifth year in a row that UC was honored among the country's colleges and universities recognized for their commitment to the environment and to sustainability.
includes both national and regional awards including recognition from the United States Environmental Protection Agency and Duke Energy. Earlier this year, UC also earned an Association for the Advancement of Sustainability in Higher Education silver award.
MORE ABOUT UC'S GREEN BONDS
The university's Series 2014 C General Receipts Bonds are offered and sold only pursuant to the university's official statement, a copy of which can be obtained from the managers.
Wells Fargo Securities, Senior Manager: 866-287-3221
 J.P. Morgan, Senior Manager: 212-270-1989
 KeyBanc Capital Markets, Co-Manager: 866-227-6479
 Loop Capital Markets, Co-Manager: 888-294-8898
1
UC sets College of Nursing student on the road to success
September 27, 2023
When Elajah Trosclair, '23, came to UC from California, her expectations were straightforward. She would study, support herself financially, earn her degree, and become a registered nurse. To her surprise, a much larger world opened up to her.
3
Finding an unexpected passion at UC
September 27, 2023
Lane Bokros '25, grew up in a household that showcased what intelligence and a strong work ethic can do. Today, Bokros is following in the family tradition of success, but with a difference: He is a first-generation college student who aspires to post-graduate education and a career in medicine.
Debug
Query for this