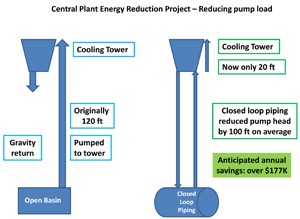 Thanks to Energy-Saving Efforts, UC Earns Most Duke Energy Rebates
In ongoing efforts to realize both economic and energy savings, the University of Cincinnati has earned $2.5 million in conservation-related rebates from Duke Energy. That's the largest rebate amount provided by the company in its Midwest territory of Ohio, Kentucky and Indiana.
UC's participation in Duke's SmartSaver Incentive Program from June 2012 to December 2014 earned the rebates and
saved a total of 35 million kiloWatt hours of electricity in that time.
According to Joe Harrell, UC director of utilities,
"That's enough energy to power about 3,500 average U.S. homes for a year."
UC's recent energy rebates via the SmartSaver Incentive Program came through a variety of efforts including
Use of a "closed-loop" chilled water system: Water (60,000 gallons per minute) from a closed tank in UC's power plant is vertically pumped – using natural pressure vs. electricity – 120 feet into a cooling tower. Explained Harrell, "Now, air pressure is doing most of the work that electric pumps once had to do. So, now, the pumps only need to use power to move the water the last 20 feet of the chilling process. Air pressure actually moves the water for the first 100 feet."

Improved, more energy-efficient lighting: The university has replaced thousands of building and garage light fixtures. The new lights are long lasting, expected to last for 25 years, and provide better illumination while requiring about half the energy of those they replaced.
A four-million-gallon thermal-energy storage tank, measuring about 160 feet long and placed about 30 feet below the Sheakley Athletic Complex. The water in the tank is chilled via electricity at night, when cooling requires less energy and when unit costs for electricity are less expensive. The water is then used during the summer heat to cool campus buildings by day.
Smart vending machines: All 146 vending Pepsi vending machines on UC's West Campus are outfitted with motion sensors, allowing them to "power down" when no potential users are nearby, for instance when a building is closed for the night. When in "powered down" mode, the machines' lights turn off and any cooling setting may rise, though still within food-safety limits.
Server efficiencies wherein different units of the university share servers for data needs vs. each having individual servers.
UC's ongoing efforts related to conservation are a continuation of a quarter century of energy-reduction initiatives. During the past 25 years, UC has consistently reduced energy consumption between 1 and 3 percent per year. So, even as the university grew, new buildings came online and enrollment increased, the energy load was minimized, and energy costs remained flat.
This commitment to energy conservation and fiscal responsibility aligns with the university's commitment to sustainability through the academic master plan and the university's Creating Our Third Century goals.
1
Clean Earth Rovers cofounders named to Forbes 30 Under 30 list
November 30, 2023
A pair of graduates of the University of Cincinnati's Venture Lab program were recognized as being among the top entrepreneurs in North America as part of the 2024 Forbes 30 Under 30 list. Clean Earth Rovers cofounders Michael Arens and David Constantine were named to the 13th annual Forbes 30 Under 30 list in the energy category.
2
CNN Business: Best Buy's simple strategy for beating shoplifting
November 30, 2023
The Best Buy approach to thwart shoplifting is to increase staffing. It's a move that UC criminologist John Eck says, in a CNN Business article, that makes perfect sense. It's also a different approach at a time when most retailers are reducing staff.
3
UC Learning Lab inspires College of Medicine to SIT
November 29, 2023
In a convergence of academic integration, the University of Cincinnati's renowned colleges — Design, Architecture, Art, and Planning, Lindner College of Business, College of Engineering and Applied Sciences and College of Medicine — recently joined forces at the 1819 Innovation Hub for an ideation session that exemplifies the institution's commitment to interdisciplinary collaboration.
Debug
Query for this