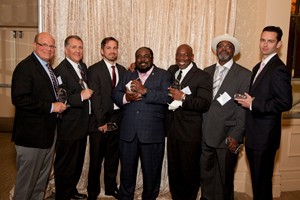 UC's Ohio Innocence Project and Exonerees Honored at Award Ceremony by Death Penalty Advocacy Group
The University of Cincinnati College of Law's professor Mark Godsey, Ohio Innocence Project (OIP) attorney Brian Howe and three exonerees were recognized with the Rose Elizabeth Bird Commitment to Justice Award at the
24th annual Death Penalty Focus Awards
dinner, held in Beverly Hills, Calif.
Death Penalty Focus, founded in 1988, is an organization committed to the abolition of the death penalty through public education, grassroots organizing and political advocacy, media outreach, and domestic and international coalition building. The award recognizes individuals whose actions and stories bring to light the flaws in the US judicial system.
Wrote Mike Farrell, the organization's president, in an email about the award, "Your efforts which resulted in the exoneration of these men for a crime they did not commit are an incredible accomplishment. It is cases like these which further illustrate the importance of our work to end the death penalty."  Farrell, an actor and activist, is well-known for his role as Captain B.J. Hunnicutt from the hit TV show "M.A.S.H."
Event attendees included: Ed Asner, known for his Emmy Award-winning role as Lou Grant during the '70s and early '80s on "The Mary Tyler Moore Show" and spin-off "Lou Grant" and as Ed Wuncler on "The Boondocks," among many other film and TV roles; actress Amy Brenneman, known for her role in the TV series "Judging Amy," Violet Turner in "Private Practice" and Laurie Garvey in HBO's "The Leftovers"; Larry Flynt Jr., publisher and president of Larry Flynt Publications; and many others.
Godsey and Howe were recognized for their representation of Ricky Jackson. The OIP's investigation also ultimately freed Jackson's co-defendants, Wiley Bridgeman and Kwame (Bridgeman) Ajamu, who — along with Jackson — were honored for their courage and commitment. The men together served over 100 years in prison for a crime they did not commit; many of those years were spent on death row. Jackson has the tragic distinction of setting the record for the longest-serving person to be exonerated in U.S. history. They were exonerated in November 2014 after a key prosecution witness, Eddie Vernon, recanted his story that he saw the men shoot and kill Cleveland businessman Harold Franks in 1975.
In addition to the OIP team and exonerees, several other individuals and organizations were  recognized for their work at the event. Awardees included Dale Baich, an assistant federal public defender, who defended Joseph Wood, a man whose botched two-hour execution in Arizona last year was deemed by many to violate the Eighth Amendment; Rabbi Leonard Beerman, a founder of the DPF and lifelong opponent of capital punishment; and the program "Death Row Stories," an eight-part CNN series exploring cases that pose hard questions about capital punishment and the justice system.
About the Lois and Richard Rosenthal Institute for Justice/Ohio Innocence Project
Harnessing the energy and intellect of law students as its driving force, the OIP seeks to identify and assist inmates in Ohio prisons who are actually innocent of the crimes they were convicted of committing.  Innocence Projects across the country have freed more than hundreds of wrongfully convicted inmates to date. The Ohio Innocence Project to date has helped 23 individuals obtain their long-sought freedom.
Read more about Ricky Jackson's story:
http://www.law.uc.edu/oip/ricky-jackson
Learn more about the Ohio Innocence Project: