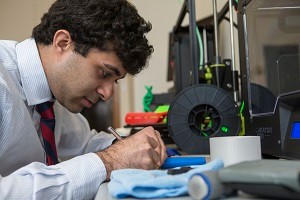 UC Student Named 2019 Schwarzman Scholar
Ishan Anand's attempt to become a Schwarzman Scholar almost didn't happen. His attention shifted away from his academic studies earlier this semester when a member of his immediate family received a life-threatening medical diagnosis. But the burgeoning entrepreneur forged ahead, and submitted his application hours before the deadline.
He's glad he did.
"It still hasn't hit me yet…that I've been selected," says Anand.
Schwarzman Scholars is a highly selective, one-year master's program at Tsinghua University in Beijing designed to prepare the next generation of global leaders for the challenges of the future. The curriculum bridges the academic and professional worlds to educate students about leadership and about China's expanding role in the world.
The 22-year old Cincinnati native and biomedical engineering major was naturally drawn to biology as a child, but he says it wasn't until his college tour at the University of Cincinnati that he knew exactly what he wanted to do.
"During my tour, a UC professor took me into his lab and showed me how he was testing the stresses and strains of tendons. He explained that certain surgeries have been done a certain way for years, and they were conducting the tests to see what could be done differently to improve the surgical techniques and patient outcomes," says Anand. "I knew right then I wanted to be a doctor and an innovator."
Throughout his UC career, Anand has gained two years of world-ready education through UC's co-op program, which he believes helped set him apart from other Schwarzman Scholars applicants.
Anand learned firsthand about the new field of pharmacogenomics while working for AssureX. Here, he learned about product research and discovery (R&D), and worked with engineers and scientists to develop new products. Anand then completed four co-ops with Bard Medical where he was able to complement his learned R&D skills with more hands-on engineering.
Together, those experiences and learned skills have guided what he is most proud of — developing and providing free upper-limb prosthetics and assist devices as part of
.
A student organization established in 2015, Enable UC builds prosthetic hands and devices using 3D printing. The devices aren't meant to replace prostheses developed with medical professionals, but help improve the quality of life for children and adults.
"We work much like an incubator. We analyze a task and figure out how we can make that task easier," says Anand, president of EnableUC. "Our group includes students with engineering, biomedical, product design and industrial design skills. It's important to have the different backgrounds and perspectives so the products are functional, as well as cool and attractive so people want to use them."
All of EnableUC's work is open source to allow anyone with a 3-D printer to recreate their products for free.
Becoming a Schwarzman Scholar
Anand's journey to become a
began during the 2016-2017 academic year.
UC's Office of Nationally Competitive Awards (NCA) works closely with students to match them with the most appropriate awards program based on their academic studies and career goals.
The Schwarzman Scholars program requires an official endorsement from the applicant's institution. NCA staff meet with interested UC students each spring and summer who must first submit an application to participate. Students also participate in an on-campus interview with UC's campus Schwarzman committee. The committee, which includes faculty from multiple disciplines and colleges with interests in or connections to China, reviews the applications and conducts in-person interviews. Throughout the process, NCA staff works closely with applicants to guide them in preparing a competitive application that accurately reflects their qualifications.
"The University of Cincinnati is extremely proud of Ishan Anand," says UC's Interim Senior Vice President for Academic Affairs and Provost, Kristi Nelson. "He is an exemplary student and person who embodies the character and innovative spirit of our university." 
Ishan is the second student in UC's history to be named a Schwarzman Scholar.
Rachel Walker, a 2018 Schwarzman Scholar,
was the first UC student to receive the prestigious honor.
Schwarzman Scholars like Anand are selected based on their academic aptitude and intellectual ability, leadership potential, entrepreneurial spirit, character and desire to understand other cultures, perspectives and positions.
The Class of 2019 is comprised of 142 scholars selected from over 4,000 applicants. The students represent 39 countries and 97 universities, with 41 percent from the United States, 20 percent from China, and 39 percent from the rest of the world. The Class of 2019 will enroll at Schwarzman College on the Tsinghua University campus in Beijing beginning in August 2018.  
"Our next class brings together another group of young leaders who have the demonstrated ability to bridge differences in background, professions, and perspectives through their leadership on campus and in the workplace," says Robert Garris, global director of admissions. "They will be a dynamic part of the Tsinghua community and through their very different careers paths will help ensure peaceful and prosperous relationships between China and the rest of the world." 
Anand says the Schwartzman Scholar application process was rigorous, but it forced him to think about his life's goals and chart out a path. Finalists are flown to New York City to participate in a panel interview conducted by high-profile industry experts and global business, human rights, and community leaders.
Anand says, "Being named a Schwarzman Scholar is an honor and an opportunity to gain leadership skills and connections with incredible people, which will hopefully help me foster some sort of macro-level change to the world."
Following graduation from UC, Anand will travel in August to China to begin his master's degree in global affairs with a concentration in public policy. Afterward, he plans to attend medical school and become a physician, with the goal of developing a platform to provide high-quality, standardized, open-source healthcare to patients across the globe.
"What drives me is inefficiencies and not innovating fast enough," he says. "My hope is to catalyze change in healthcare and transform the world in some way."
1
Fox19: UC hosts international aerospace conference on AI
June 2, 2023
UC College of Engineering and Applied Science Professor Kelly Cohen talks to Fox19 about how artificial intelligence is becoming more ubiquitous as it becomes more trustworthy. UC is hosting an international conference on artificial intelligence.
2
UC hosts aerospace conference on AI
May 31, 2023
Aerospace experts from across North America are coming to the University of Cincinnati this week for a conference on artificial intelligence.
3
UC engineer makes an impact with nanomaterials
May 31, 2023
University of Cincinnati doctoral student Vamsi Krishna Reddy Kondapalli has studied nanomaterials, specifically graphene, since he was an undergraduate student at a university in India. He chose UC for his graduate degrees due to the state-of-the-art facilities and the support for innovation. Kondapalli was named Graduate Student Engineer of the Month from UC's College of Engineering and Applied Science.
Debug
Query for this