UC Ph.D. student receives award for algal toxin-detection research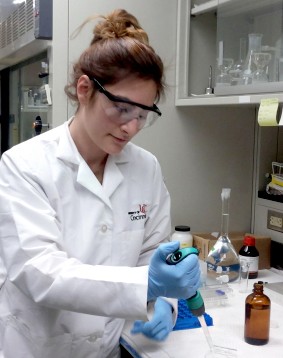 Water is all around us – it covers nearly 70 percent of the Earth's surface. Of course, not all of it is drinkable, and only 1 percent is fresh and accessible. As the world population grows and the effects of climate change expand over the next several decades, many more people will find themselves in water-stressed regions or regions with water scarcity issues. So, it's important to ensure that the accessible fresh water is both safe and drinkable.
Vasileia Vogiazi, M.S., a research assistant and graduate student of the University of Cincinnati environmental engineering Ph.D. program, recently received the N.G. Kaul Memorial Scholarship from the New York Water Environmental Association. The scholarship, which includes $2,500 and a certificate, recognizes students and researchers who show a commitment to government service through water quality research.
Vogiazi is on a research team headed by UC environmental engineering professor Dionysios Dionysiou, Ph.D.. The team is developing and testing a biosensor that detects toxins in surface water – water found in streams, reservoirs, rivers or lakes – through a National Science Foundation grant, "Nanosensor for the Point-of-Use Detection of Hepatotoxic Microcystins in Water."
The research addresses the detection of toxic products of cyanobacteria algal blooms, which are formed mainly by agricultural runoff. When farmers sprinkle their fields with fertilizer – or when homeowners sprinkle their lawns – some of the fertilizer's nutrients (mainly phosphorus and nitrogen) can run into bodies of water that also serve as freshwater drinking supplies.
Naturally occurring cyanobacteria in freshwater bodies feed on these nutrients and tend to grow fast and extensively. These bacteria die off and decay begins, which consumes oxygen in the water, killing marine life like fish.
During the summer, the combination of these nutrients and rising temperatures stimulates rapid growth of harmful algal blooms. A large-scale example of this is Toledo's 2014 algal bloom, which spread across Western Lake Erie and affected the drinking water of more than 500,000 people.
One of the biggest dangers with algal blooms is the toxins they produce called microcystins. This specific type of toxin can cause skin irritation, as well as nausea and vomiting if swallowed. Large volumes of ingested microcystins can also cause liver damage. The research team at UC is using a biosensor to determine how to best detect and quantify microcystins before the toxins enter a water treatment plant.
If these toxins get to a water treatment plant, contaminated water may be much more difficult to treat.
Vasileia Vogiazi, UC Ph.D. candidate
"Initially, it is important to know if a reservoir is impacted by a cyanobacteria bloom, so drinking-water operators can adjust their management strategies accordingly," says Vogiazi. "If these toxins get to a water treatment plant, contaminated water may be much more difficult to treat. Because these molecules are very tiny, conventional treatment processes are not always efficient in removing these toxins."

The biosensor that Vogiazi and the team are working on aims to monitor microcystins on-site, like in rivers or lakes. The team is developing electrodes within the biosensor using nanomaterials like 3D graphene and carbon nanotubes. These materials have high electrical conductivity and a larger surface area, both advantageous when building a biosensor.
When toxins link onto the nanostructured electrodes, the researchers can then use different electrochemical techniques and strategies to detect and quantify microcystins in the various water samples.   
After running optimization tests to determine the most efficient sensor, the team will collaborate with Greater Cincinnati Waterworks to use the sensor on real-world water samples.
"When developing a sensor, testing the sensor performance with real water samples is a challenging but vital part of the process," says Vogiazi.
The team's work can have great impacts around the world and is a reflection of UC's strategic direction, Next Lives Here. 
From an early age, Vogiazi saw the importance of having access to safe drinking water. Vogiazi is originally from a small island on the Mediterranean in Greece called Symi. Growing up, Vogiazi recalls the major water problems that her hometown faced. Because of the lack of rivers and lakes, the island had to import its water from other parts of Greece. Today, the island uses desalination techniques to convert seawater into fresh water, but even this use of manufactured water is limited to irrigation and not necessarily for drinking.
Now, the research Vogiazi and the team at UC are conducting will provide a significant step forward in water-quality monitoring. Though the team is currently working with Southwestern Ohio issues, they hope to apply this work to large bodies of fresh water like the Great Lakes and other at-risk international lakes and rivers.
As global pollution grows, climate change revs up and toxins find their way into freshwater supplies, ensuring safe drinking water is critical for the coming decades. With a better system for finding dangerous toxins in our drinking supplies, current and future generations will have better ways to use the limited water they have.
Featured image at top: A satellite image of an algal bloom in Lake Erie, the shallowest and warmest of all the Great Lakes. Photo/NASA
Next Lives Here
The University of Cincinnati is classified as a Research 1 institution by the Carnegie Commission and is ranked in the National Science Foundation's Top-35 public research universities. UC's graduate students and faculty investigate problems and innovate solutions with real-world impact. Next Lives Here.