History and Innovation on Display at University Hospital
UC Health University Hospital traces its history back to 1823 with the opening of the Commercial Hospital and Lunatic Asylum—the first teaching hospital of the Medical College of Ohio.

The Medical College of Ohio was established in 1819 by Dr. Daniel Drake and was a precursor to the University of Cincinnati College of Medicine.

This long history and connection to an academic medical center has given rise to many "firsts" in patient care, research and education, including:

• The development of new training programs in nursing and emergency medicine.
• The use of lasers for patient care in dermatology and neurosurgery.
• Funded research partnerships with the U.S. military aimed at improving care for soldiers in combat.

Highlights of University Hospital's history and its leadership in innovation can be seen in the "University Hospital Innovation and Discovery" exhibit—a permanent lobby showcase unveiled Thursday, Sept. 13.

W. Brian Gibler, MD, president and CEO of University Hospital, said the exhibit was designed to celebrate a rich past and continue to encourage the culture of excellence that exists within the hospital.

"Everyone is important. Everyone who does work here is doing mission-critical work," said Gibler.

"When I visit other hospitals, I can see that they celebrate their past," said Gibler. "But we're actually older than most of those institutions. We must celebrate that history. When we participate in care here, we are participating in care that's now 190 years old."

The exhibit boasts:

• Fourteen vignettes (20 images total) with descriptive text lining the corridor from Goodman Garage to the University Hospital lobby. This museum-quality "walk" highlights history and innovation at University Hospital.
• Two display cases near the lobby desk showcasing a rotating display of historical medical artifacts on loan from the University of Cincinnati's Henry R. Winkler Center for the History of the Health Professions. Select items currently on display are a tissue slicer patented in 1908, a medical illustration of the lung and a metal "suit" used for maggot therapy for burn victims.
• Eight framed images surrounding a UC Health logo and highlighting present-day University Hospital and the hospital through time. These include photos of the surgical amphitheater (1950 and 2012), Cincinnati General Hospital circa 1920, Cincinnati Hospital in 1859 (positioned along the Miami and Erie Canal, now Central Parkway), the UC College of Medicine in 1918, a present-day photo of the Barrett Center and a 2009 aerial view of the UC Medical Campus.
• "Then and now" aerial photos showing the medical campus as it was in 1960 and as it is now in 2012.
• Tile mosaic displaying an image of University Hospital. At approximately 9 feet by 5 feet, the mosaic comprises approximately 5,000 tiles—with each individual tile featuring a face of a University Hospital employee.

The present-day photographs featured in the exhibit were taken by Dan Davenport, senior medical photographer with UC's Academic Health Center Public Relations and Communications Office. Amy Hirsch, executive assistant to Gibler, led the committee charged with creating the exhibit. She was supported by Becky Sittason and Liz Keating, both from the UC Health Foundation.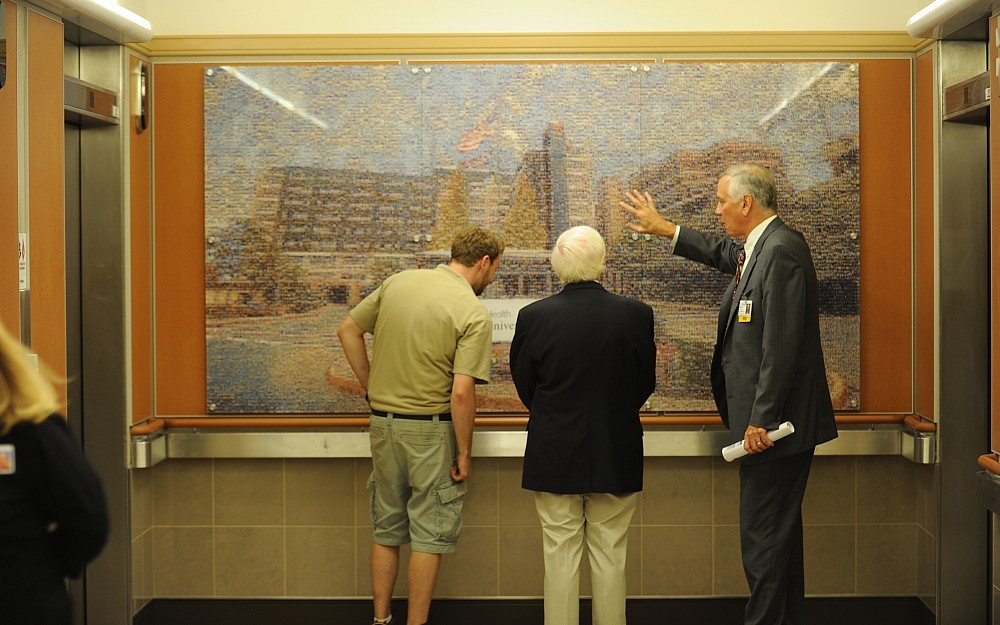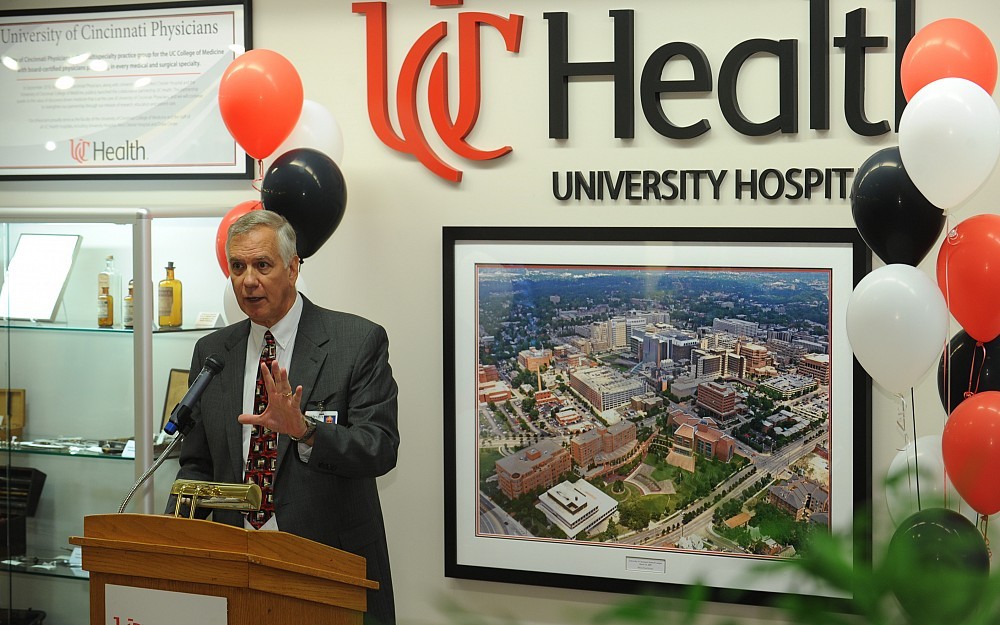 1
Drugs.com: Lowering blood pressure after clot removal may not be...
September 22, 2023
Drugs.com and HealthDay highlighted University of Cincinnati research recently published in JAMA that found using blood pressure medications to lower the top number of blood pressure readings (systolic blood pressure) may not be safe or effective among people who have an acute ischemic stroke and undergo a successful mechanical clot removal.
2
Know Stroke Podcast: UC expert discusses past, present and...
September 21, 2023
The University of Cincinnati's Joseph Broderick, MD, recently joined the Know Stroke Podcast to discuss the current state of stroke research, including the FASTEST trial he is leading to test a potential treatment for strokes caused by ruptured blood vessels in the brain.
Debug
Query for this