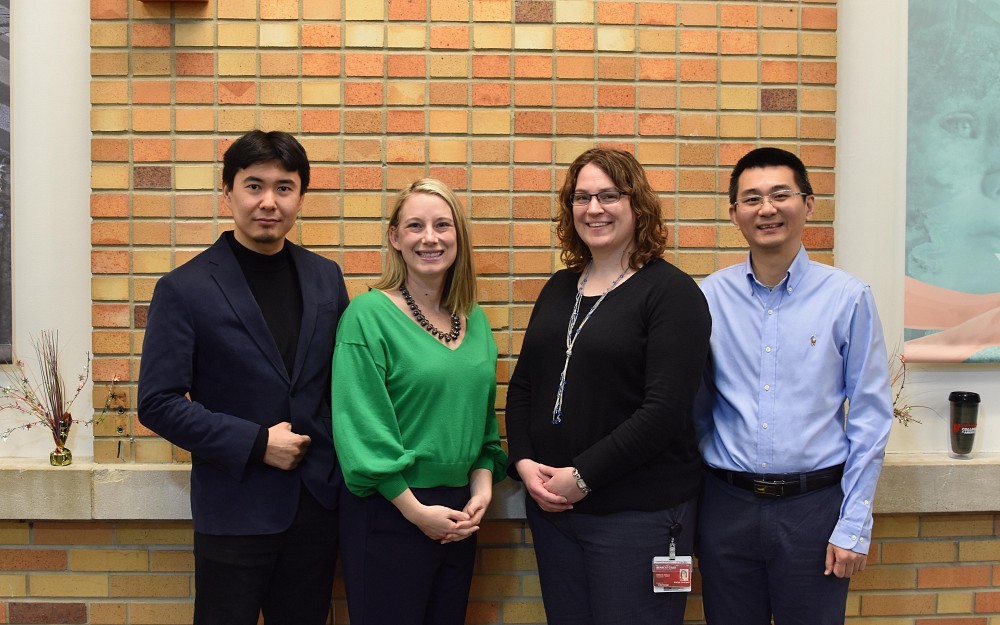 UC Awarded $8 Million to Continue 'Gene-Environment Interaction' Research
CINCINNATI—The Center for Environmental Genetics (CEG) at the University of Cincinnati (UC) has been a regional stronghold for research since the early 1990s, examining the interplay between genetics and environment (GXE) with special attention to epigenetics, big data analytics, the early origins of disease and translation of GXE to precision disease prevention. 
Housed in the Department of Environmental Health at the College of Medicine, the CEG recently received a grant renewal for more than $8 million from the National Institutes of Health's National Institute of Environmental Health Sciences (NIEHS), over the next five years, taking the Center into its 30th year of continual funding. 
"This realm of epigenetics continues to be so important, as we learn more about health and disease as a continuum—we are finding that disease risk is laid down very early in life, even in preconception," says Shuk-mei Ho, PhD, CEG director and Jacob G. Schmidlapp professor and chair of the department.
"The CEG is known for the quality, quantity and uniqueness of exposure data—not only regionally, but nationally and internationally," says Ho. The CEG's core facilities, technologies and rich datasets help facilitate innovative research, focused on how environmental agents interact with genetic and epigenetic factors to influence disease risk and outcomes. 
"We have 11 human cohort studies, all with substantial exposure data, which makes the CEG unique, and sharing these resources is important to the NIEHS," says Susan Pinney, PhD, professor and deputy director of the CEG. "In addition to the rich biorepository, we also have a resource library where we can share best practices like questionnaires, methods and protocols to provide quality assurance in research."
The CEG is composed of four primary core areas:
Bioinformatics Core

: Led by Mario Medvedovic, PhD, professor, and Jarek Meller, PhD, both professors in the Department of Environmental Health, this core helps researchers collect and organize data on how proteins function in the body and understand how that information might translate into new targets for drug development. The team also helps researchers design and analyze gene-expression experiments and understand the biological implications of results.



Integrative Technologies Core

: Led by Ricky Leung, PhD, assistant professor of environmental health, and Ho, this core offers specialized services and expert consultation in facilities such as genomic and sequencing cores, transgenic mouse construction, genotyping, proteomics, high-field magnetic resonance imaging and spectroscopy, flow cytometry and mass spectrometry-based detection of metal ions.


I

ntegrative Health Sciences Core

: Led by Pinney and Aimin Chen, MD, PhD, associate professor of environmental health, this core supports human studies of environmental exposures and disease and promotes translation of research findings.to physicians and community members. The core guides CEG members through designing epidemiologic research studies, especially with methods of quantifying exposures, to build capacity for research that integrates basic with clinical research and public health.



Community Engagement Core (CEC)

: Led by Erin Haynes, DrPH, associate professor of environmental health and Nicholas Newman, DO, assistant professor of pediatrics, the CEC links research and investigators to community need. The CEC works to translate scientific research into practical health promotion, disease prevention information, tools and resources for community members, public health decision-makers and health care professionals. The CEC also listens to community concerns and builds scientific connections to address those needs.
"The big data capabilities we have, with the bioinformatics core lead by Mario Medvedovic and Jarek Meller, are a key strength of the CEG; they are developing new ways to analyze the data, overlay it and process genomic and genetic data," says Ho. 
Ho adds that the CEG can provide subsidies for investigators to use the core facilities, as long as the research includes an environmental health sciences component. 
"It attracts people by reputation of the core, and it ends up nurturing new studies in the environmental health sciences, because they've become drawn to the environmental interactions in their work," says Leung. 
In the past five years, the CEG has provided over $1 million in pilot grants and career development awards and has helped directly generate nearly $14 million in additional funding support. 
In addition to supporting shared research services, the CEG has a Pilot Project Program, led by Jagjit Yadav, PhD, professor, and Chen, with annual pilot project funds of $170,000. These funds support affinity groups, innovative research, new-to-environmental health sciences proposals, new investigators, the translation and community engagement award and time-sensitive response awards. The goal is to provide seed funding for new and established investigators within and outside the center to launch high risk-high reward projects. The success of the program is reflected in its ratio of $14-to-$1 funding return on investment and recruitment of a number of star faculty into the field. 
The CEG also incorporates a environmental health sciences career development initiative, directed by Daniel Woo, MD, a professor in UC's Department of Neurology and Rehabilitation Medicine, and Chen. The effort focuses on developing the next generation of environmental health science researchers to conduct transdisciplinary research and encourage use of modern technologies in environmental health sciences.
Founded in 1992 by Daniel Nebert, MD, now a UC professor emeritus of environmental health, the center is one of 20 Environmental Health Sciences (EHS) Core Centers funded by the NIEHS (P30 ES006096.) The new award will be disbursed in annual increments of about $1.6 million through March 31, 2022.  
There are more than 90 members of the CEG, made up of faculty members and clinicians who are investigators and/or affiliated with research in the area of environmental genetics.
Collectively, CEG members hold $350 million in funding for UC and Cincinnati Children's during the last funding period. Ho says their close partnerships with Cincinnati Children's, the Environmental Protection Agency, the UC water cluster, the UC College of Engineering and Applied Sciences and the Centers for Disease Control–National Institute for Occupational Safety and Health are also a key strength of the CEG.  
Additional missions of the center are to attract new talents to EHS research and empower communities to impact public health policies.
"We will continue to look into these windows of disease origin and susceptibility: in gestation, puberty, and now moving all the way back to preconception. We're also learning so much more about the microbiome, and so on one end, we are looking at smaller and smaller models, and then on the other end, we have the larger population sets of exposure data—all with the goal to figure out who is most at risk," says Ho.
"We can classify a population as high-risk and then devise interventions and prevention measures for those highly vulnerable groups."
For more information, visit www.eh.uc.edu/ceg.