Sandusky Register: Panel moves to name NASA center for Armstrong
Astronaut Neil Armstrong left NASA to teach aerospace engineering at UC
The U.S. Senate voted to rename NASA's Plum Brook Station after the late astronaut and Ohioan Neil Armstrong, the first person to walk on the moon.
According to The Sandusky Register, Plum Brook Station is a test facility for NASA's Glenn Research Center in Sandusky, Ohio. It is home to the Space Environments Complex where researchers simulate the space environment. NASA also tests equipment for the rigors of space travel at the station.
Armstrong grew up in Wapakoneta, Ohio, and served in the U.S. Navy during the Korean War where he flew fighter planes off the aircraft carrier USS Essex. He joined the NASA Astronaut Corps and piloted the Gemini 8 capsule in orbit where it docked with another spacecraft.
During Apollo 11, Armstrong and astronauts Buzz Aldrin and Michael Collins launched from Cape Canaveral and traveled three days to lunar orbit. Aldrin and Armstrong took the lunar lander to the moon's surface where Armstrong made his historic moonwalk.
After leaving NASA in 1971, Armstrong accepted an offer to teach aerospace engineering at the University of CIncinnati.
"I'm pleased to join Sen. Rob Portman in honoring Ohio-native Neil Armstrong by renaming NASA Glenn's Plum Brook Station in Sandusky for a man who inspires future Ohioans to continue our state's tradition of breaking barriers in space," U.S. Sen. Sherrod Brown told The Register.
Featured image at top: "One small step for man, one giant leap for mankind." Astronauts Buzz Aldrin and Neil Armstrong perform their historic moonwalk. Photo/NASA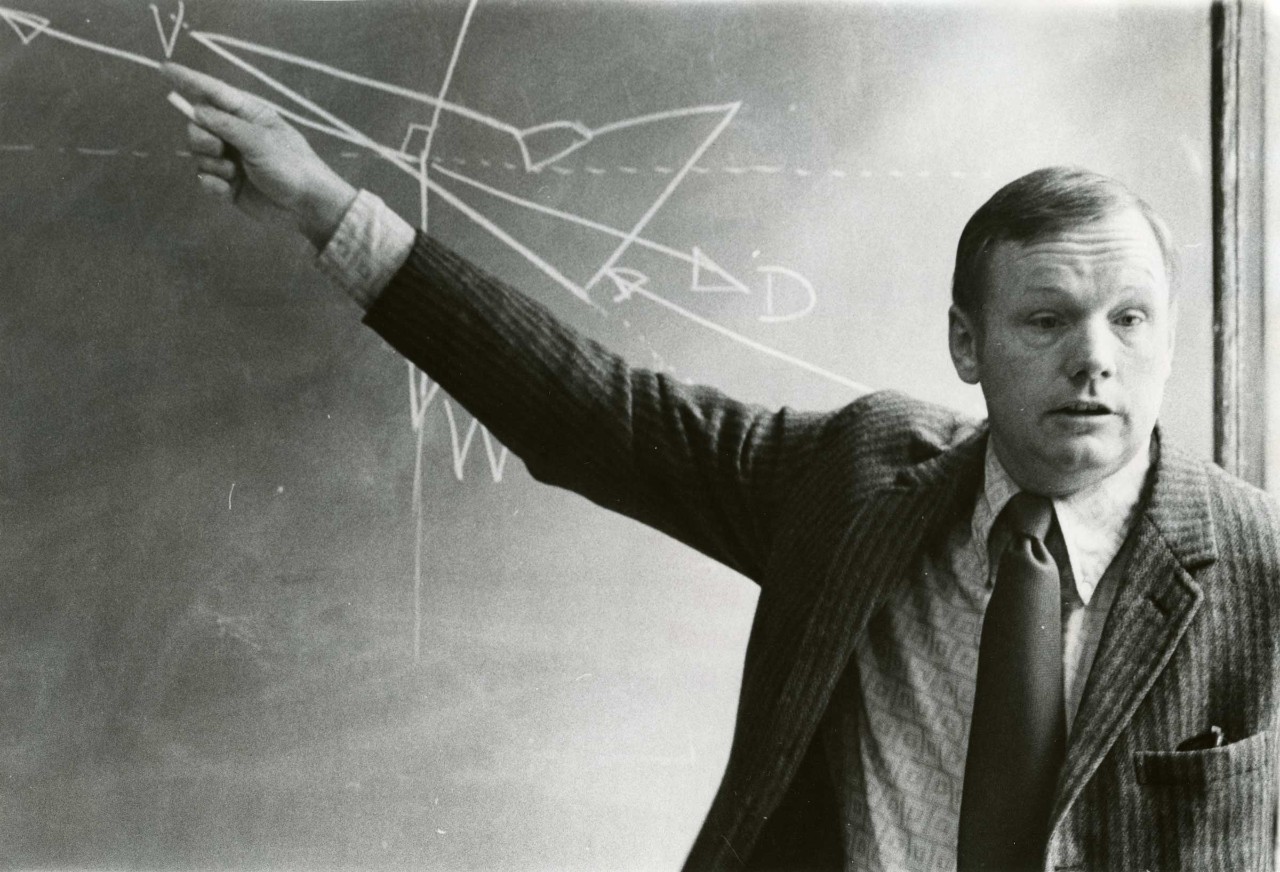 Impact Lives Here
The University of Cincinnati is leading public urban universities into a new era of innovation and impact. Our faculty, staff and students are saving lives, changing outcomes and bending the future in our city's direction. Next Lives Here.

Stay up on all UC's COVID-19 stories, read more #UCtheGood content, or take a UC virtual visit and begin picturing yourself at an institution that inspires incredible stories.