WVXU: Study aims to reduce energy disparities in Cincinnati's multifamily housing stock
UC research will help to inform city policies
University of Cincinnati researchers discovered disparities in energy efficiency while taking stock of the city's multifamily residential buildings. The City of Cincinnati's Office of Environment and Sustainability will incorporate the findings into policy that could address these inequities for impacted residents and reduce the city's overall greenhouse gas emissions. 
WVXU spoke with Amanda Webb, assistant professor of architectural engineering, about the study. Webb and David Moore, graduate research assistant, found energy cost intensity (cost per square foot) and energy burden are unevenly distributed throughout the city, with up to 20 percent of some residents' income going to energy bills.
"That's not fair," Webb told WVXU. "It's not fair that just based on where somebody lives in the city, they end up paying a higher dollar per square foot or they end up with a higher energy burden."
Two thirds of the city's multifamily buildings are located in low income areas. Multifamily structures represent a large percentage of all buildings in the city.
"It's 17 percent of the total square footage in Cincinnati and 31 percent of the residential square footage," Webb said. "It's also important to understand multifamily buildings because they suffer from what's known as the 'landlord-tenant split incentive.' Often multifamily buildings house renters and in the split incentive landlords pay for upgrades but tenants are the ones who pay the utility bill and benefit from energy savings. So, there's often a barrier to energy-efficient upgrades in these buildings."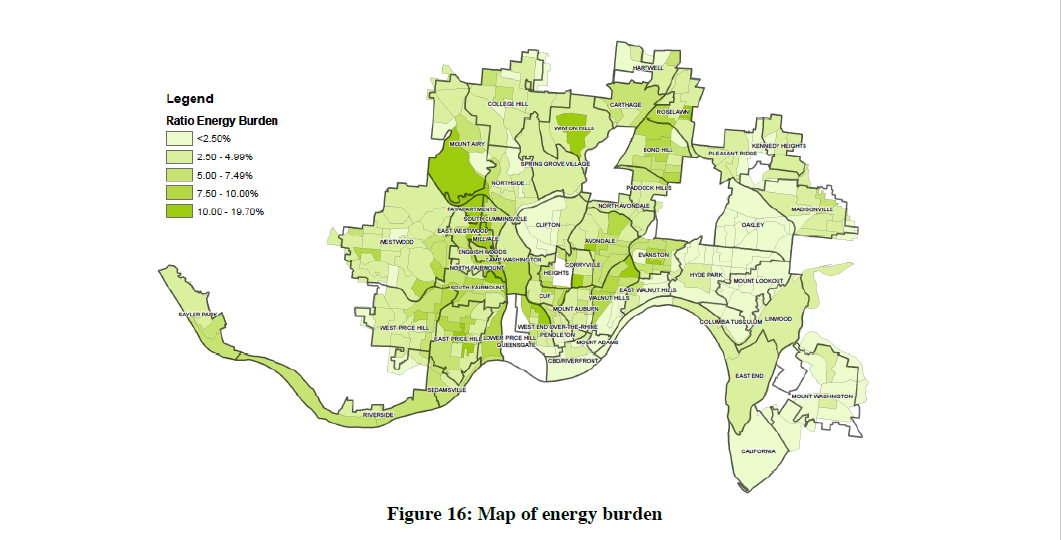 Featured image at top: Cincinnati's skyline viewed from the east. Photo/Zach Vessels/Unsplash.