UC team's high-tech pets to help seniors
Improving upon an existing line of robotic pets, professor and her class have added innovative features to a prototype that can provide care in addition to companionship
It's no secret that pets bring joy to their owners' lives. Caring for animals keeps us active, gives us purpose, provides stress relief and builds a loving bond — studies show pets can even increase people's lifespans.

For some older populations, having a pet isn't possible. Perhaps they can't care for an animal or their retirement community doesn't allow it. Robotic companions have entered the market to fill that void, and one University of Cincinnati professor is reimagining these high-tech pets to not only provide companionship, but care.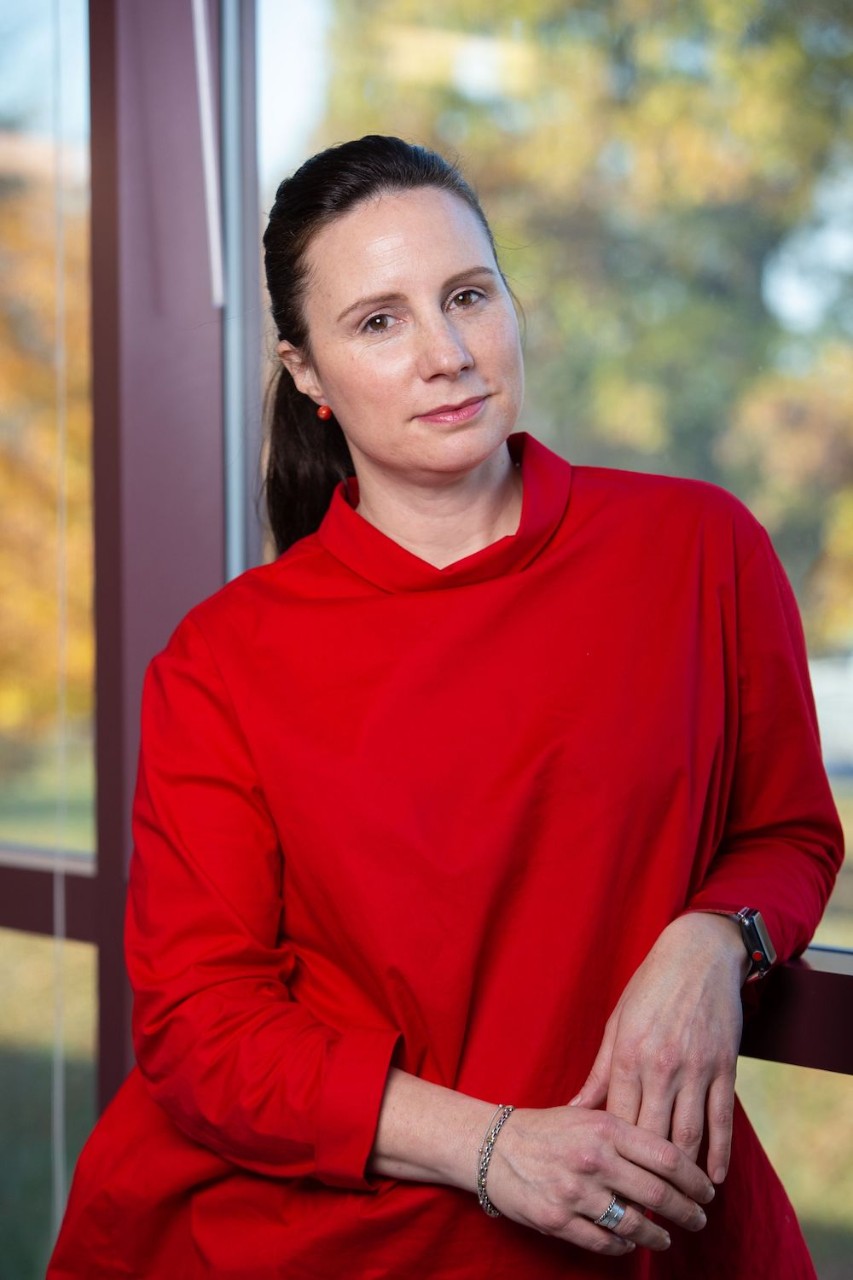 Claudia B. Rebola is an associate professor and graduate studies coordinator in UC's College of Design, Architecture, Art, and Planning. Together with graduate students from DAAP and UC's College of Engineering and Applied Science, Rebola set out to design innovative new features and functionality of the existing line of robotic pets that could expand capabilities, like checking a user's vital signs, and build on the realism of the dog.
Rebola's work combines design, science and technology to create innovative, interactive health products. Innovation is a cornerstone of UC's strategic direction, Next Lives Here.
Rebola also is an expert on aging and researches disabilities, health, technologies, robotics and applying accessible design, from wearables to user experiences, tailored to the older adult population.
In 2017, while working at Rhode Island School of Design, Rebola collaborated in acquiring federal funding for a project called ARIES — or Affordable Robotic Intelligence for Elderly Support — with researchers from Brown University and Butler Hospital and industry partner Hasbro, one of the largest toymakers in the world. The team received a $1 million National Science Foundation grant to reenvision the existing line of Joy For All Companion Pets (now owned by Ageless Innovation, a spinout led by the former Hasbro management team responsible for the Joy for All brand) through the addition of artificial intelligence  On the market since 2015, these robotic cats and dogs feature petlike sounds and movements to provide comfort, companionship and fun for older adults and their families.
Rebola's team is setting out to reimagine the pets from appearance to function, collaborating to create the next-generation robotic intelligence that provides psychosocial support for older adults.
Working collaboratively with industrial design and engineering graduate students, Rebola focuses on human factors, such as "understanding the user, their needs and how to translate those needs into unique design opportunities for these pets," she says.
Part of that research involves pilot studies and focus groups with older adults and their caretakers in the community to get feedback on the robots to better improve the design enhancements. Cincinnati area communities, including Scarlet Oaks Retirement Community and Episcopal Retirement Services, will be participating in a longitudinal study to understand how the existing robotic pets enable companionship, and Rebola has recruited members from UC's Osher Lifelong Learning Institute (OLLI) to help evaluate the new ideas her class is developing.
"You are the experts," Rebola told participants at a recent focus group, "not us. We are just the enablers."
Feedback from these sessions led the class to concentrate on redesigning the robot dog, which resembled a cartoonish yellow stuffed animal and had the most room for improvement. They found that users envisioned a dog with enhanced realistic features from its fur to movements, so they modeled the new prototype after the Yorkshire terrier — one of the most popular breeds among older adults they discovered. Although not commercially viable today, Rebola hopes that in the future buyers can order custom breeds and colors to perhaps resemble a pet they used to have.
The class sourced high-quality faux fur from Donna Salyers' Fabulous Furs in nearby Covington, Kentucky, making the new dog "more pettable and lifelike," as described by focus group participant Kathi Lawrence. As a dialysis patient, she thought she could benefit from a robotic pet during her treatments. "I'm amazed that you made the dog as lifelike as the cat," she said. "The fur and color are wonderful."
Students also redesigned the body to make it less mechanical and more flexible, like a lapdog, and refined features like the eyes, nose and paws, all while being mindful of the technology that also must be incorporated in the body.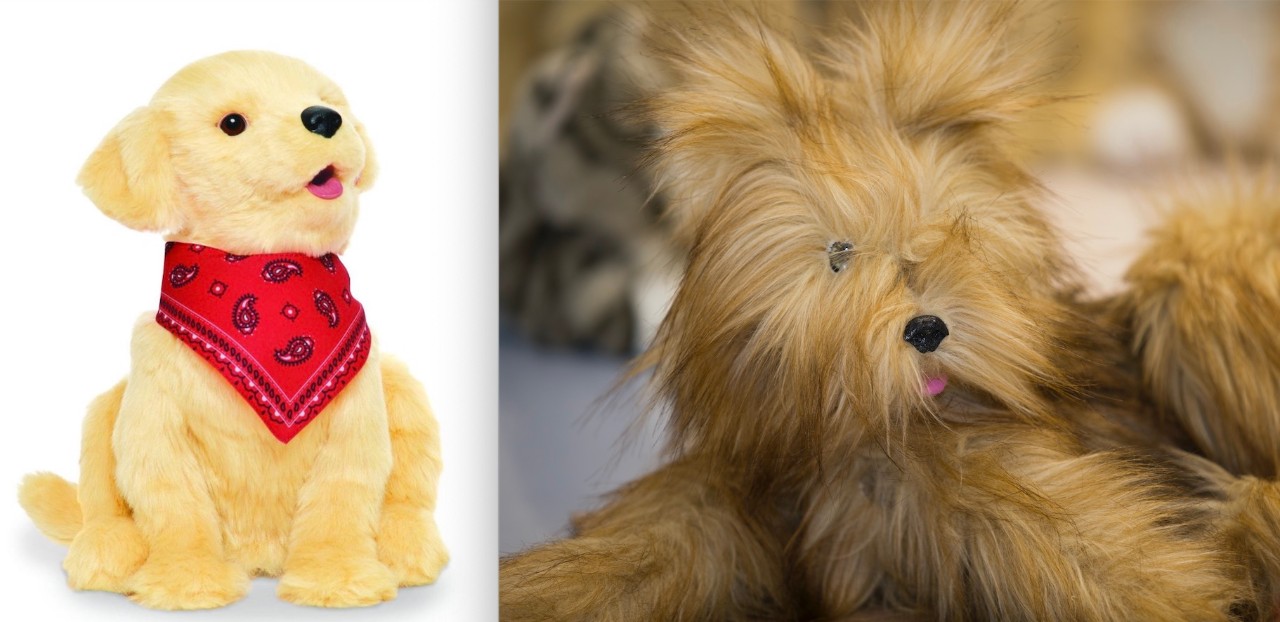 While some students worked on improving the physical components of the dog, others centered on the caregiving possibilities. The result is four areas of care: detecting/preventing falls, connecting users to caregivers and loved ones, checking vital signs and providing helpful reminders. The class envisions a smart collar for the robotic pets that can enable these functions.
To prevent falls, the pet could promote activity and detect risky situations such as low light. If a user did experience a fall, it would alert emergency services or a caregiver. For connectedness, loved ones could communicate through the pet, track the user's activity and interaction and even use it to serve as an audiodiary. The pet could monitor a user's vitals by way of a simple hug, while also monitoring sleeping, medication intake or emergencies, all while sharing the health data with caregivers. Finally, a memory function could act as a smart alarm clock, reminding users to make doctor's appointments, take medicine or charge the robot, while helping them find misplaced objects and detecting intruders. The students were mindful of the costs that would be added with these technologies while also making the monitoring as unobtrusive as possible — they didn't want this to feel like an intrusive Big Brother.
"I'm very proud of my students for working on this for months when it takes years to work on robotics."
UC geriatric medicine physician Dr. Jeffrey D. Schlaudecker sees the advantages of these robot pets for his patients.
"A robotic pet that combines the benefits of companionship with the opportunities for tech-based monitoring for older adults, especially those with cognitive impairment, is an idea with huge potential," he says. "My patients affected with memory disorders can really benefit from the sensory aspects of a robotic pet — touch, sight and sound can all create a real consecutiveness. This companion could help ease transitions as well. For example, a visit to a provider's office or a hospitalization can be very traumatic for a person with cognitive impairment. The presence of a known companion that can be transported easily anywhere can be a great addition to smoothing these sometimes bumpy transitions."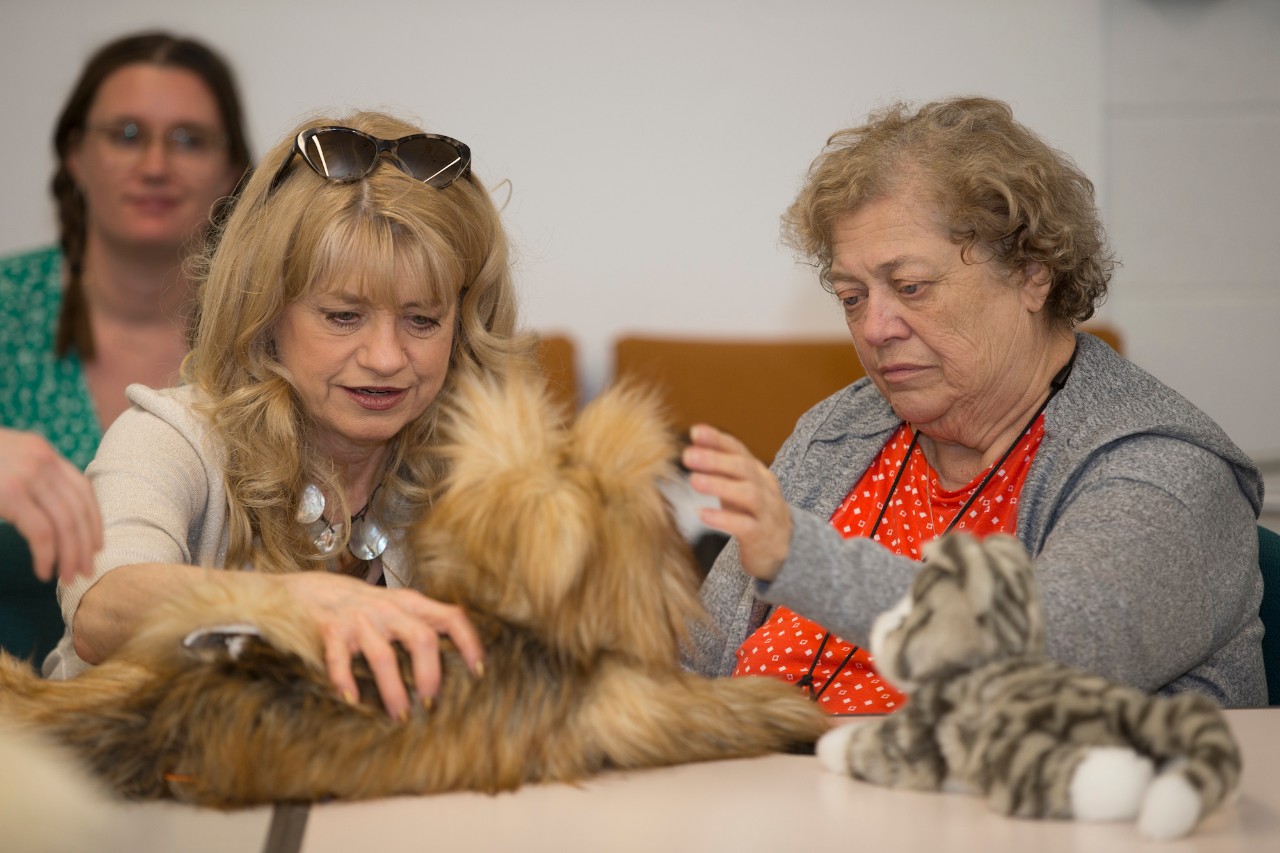 Rebola and her team will continue to fine-tune the prototype this year and hope to to present a robust enhanced pet design to Ageless Innovation in the coming months. 
"Ten years ago I was exposed to an organization that gave me funding to do a project for a retirement community. I fell in love, [reminding me] about why I was doing design and the role of technologies to really help people's lives. Now I cannot stop. Whenever I can write a grant or work with students, it's all about giving something meaningful for the older adult population, improving or saving their lives."
This project is just one of many Rebola is working on to better the community through design. Another is AntiOD, a smart lifesaving naloxone-dispensing device and an educational campaign to inform the public about the opioid epidemic and how to help. AntiOD will soon be installed in Cincinnati's public library downtown and on May 16, the State of Ohio's Drug Abuse Heroin Unit will honor Rebola for her work on the field at Great American Ballpark when the Cincinnati Reds take on the Chicago Cubs.
As the robotic pet class's final session came to an end, participant Candas Stacey, who has worked as a caregiver, shared a story about a former patient who passed away shortly after her cat died. She saw great potential in the project.
"You are saving lives," she affirmed.
Featured image at top: Focus group participants compare the new model to the existing line of robotic cats and dogs. Photo/Lisa Ventre/UC Creative Services
The innovation agenda is one of three central platforms tied to the University of Cincinnati's mission. In combination with academic excellence and urban impact, the innovation agenda activates the university's strategic direction, Next Lives Here.
Learn more about the innovative programs in DAAP's Myron E. Ullman, Jr. School of Design.
1
Ongoing quest for justice a life-changer for all parties
December 7, 2023
The Ohio Innocence Project and its student fellows, past and present, recently marked 20 years working to exonerate the wrongfully convicted. OIP co-founder and director Mark Godsey, as well as past OIP fellows and Cincinnati Law alumni, Eric Eckes, Law '08, and Simar Khera, Law '15, spoke about their shared experience and its life-changing impact.
2
Lindner student named to Schwarzman Scholars class of 2024-25
December 7, 2023
Carl H. Lindner College of Business student Lance Entsuah, BA '24, recently earned admission to the prestigious Schwarzman Scholars program that offers a one-year, fully funded master's degree program in global affairs from Tsinghua University's Schwarzman College in Beijing, China.
Debug
Query for this