Information for Merchants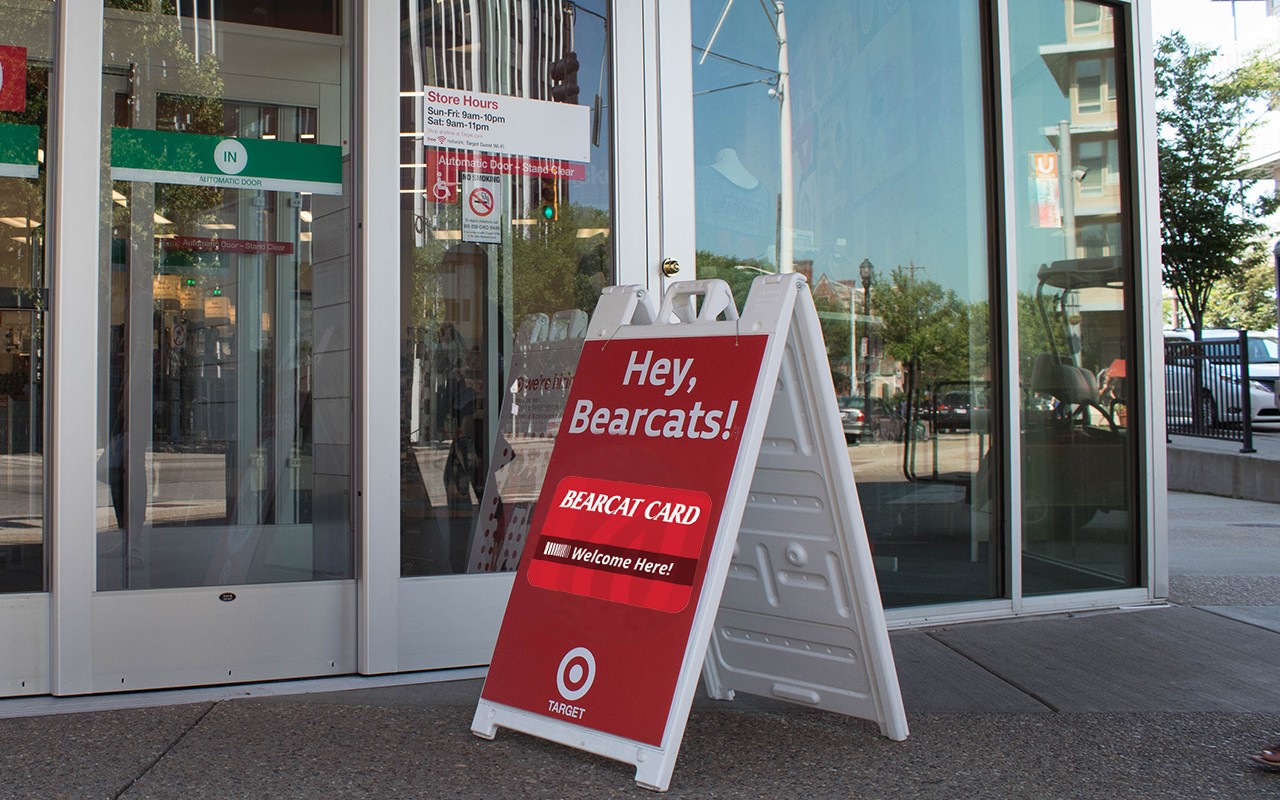 Thank you for your interest in accepting the Bearcat Card (BCC), which is a way for UC students and merchants to conduct transactions with minimal risk, greater convenience, and improved accuracy. For your benefit, we have provided answers to merchants' most frequently asked questions of us regarding BCC. Please call our office at 513-556-1260 if you have any questions not covered on this site.

Contact Colleen King

Complete Merchant Application form, Merchant Agreement form, ACH banking information, and W-9 to the University - include the Bearcat Card start-up fee of $250 and send to:
University of Cincinnati 
Bearcat Card Office 
2766 UC MainStreet 
Cincinnati, Ohio 45221-0220
Call 513-556-1260 to purchase your VeriFone card reader. Once equipment has been received, we will set it up, and call you for a convenient installation date.
If you would like to use a credit card to charge the fee and/or equipment, please call the Bearcat Card desk at 513-556-1260.

It generally takes about two weeks from the time the equipment is ordered and received.

Our technicians or designated qualified trainers will train a reasonable number of your staff and provide written documentation on using equipment.

Contact the Bearcat Card Office at 513-556-1260.

The VeriFone reader that will interface with the Bearcat Card is the VX680 with a $10 monthly fee. The total cost for set-up and equipment is $250. Readers have a one-year warranty. If you are currently using a Micros system, please call us about the possibility of an interface, which can save you some money!  
Call the BCC office at 513-556-1260 or email bearcatcard@ucmail.uc.edu. Someone will promptly assist you. We will check the equipment out for you; however, the warranty on your equipment is with the merchant where we purchased the equipment, not the BCC office.

If necessary, we will give you a loaner in case your equipment has to go back to the merchant for repair. The university is not liable for losses incurred for failure of the equipment to function properly.

It is very possible that your business will increase.  More and more students are purchasing with the BCC. As more merchants sign on to participate in the program, many students will be exclusively using BCC. Students are attracted by the safety and convenience of the campus card and begin to expect that their favorite merchants will accept the card.

Merchants accepting the BCC are the beneficiaries of many free marketing efforts by the University. Once you come aboard, we announce your business as a new merchant in our monthly statements to users.  The university posts advertisements and distributes many brochures regarding BCC that include your store name and phone number. Further, UC advertises BCC at most university sponsored events.
Our website, which is regularly updated, will also list merchants accepting BCC along with your web address that users can access from our site. In addition, future university promotions regarding coupons, discounts, or sweepstakes related to BCC will also likely provide information regarding participating merchants. Off-campus merchant specials are listed on the BCC website.  
This program strictly involves debit transactions, so if a user does not have sufficient funds for the purchase, the transaction will automatically be denied.

If you accept a stolen card, you are not eligible for reimbursement for the sale, so staff must be trained to carefully inspect all presented cards and check if the photo on the ID matches the person.  
The university reimburses merchants by electronic deposit monthly or weekly for reported sales in the BCC system. UC deducts a 4% monthly or 5% weekly fee from the reimbursement. Merchants can check their daily BCC totals at the end of each evening from their VeriFone. Our office distributes sales daily or monthly by email. 
 
The university prepares funds for transfer the first or second working day of the month if paid monthly.

Some businesses elect to receive weekly electronic deposits with a 5% service fee, rather than the usual 4%. These sales are reimbursed every seven (7) days. To change the frequency of electronic deposits, please email your request to bearcatcard@uc.edu.