Campus Services offers opportunities to help you spread the word about your event.
Numerous digital screens provide promotional support to student organizations and UC departments to spread the word about their events.
Please read and ensure you understand the TUC Promotions Guidelines and Procedures before submitting. This is required to request your promotion.
Let Us Help You Promote Your Event
Promotional Methods at a Glance
Methods of promotion, required information, lead time, format and how to submit.

| Method | Lead Time | Info Needed | Format | Where to Submit |
| --- | --- | --- | --- | --- |
| Poster or Flyer | N/A | On poster: Event information, sponsor's name and contact info | 11" x 17" or smaller | Placed on permitted locations by sponsoring group (see more information below) |
| Digital Signage | 5 business days prior to promotion dates / 15 business days for artwork | Event and contact information, promotion dates and material | Videos, JPGs or PNGs, 1920px X 1080px at 72 dpi; Video in MOV or MP4 | Promotions Request Form |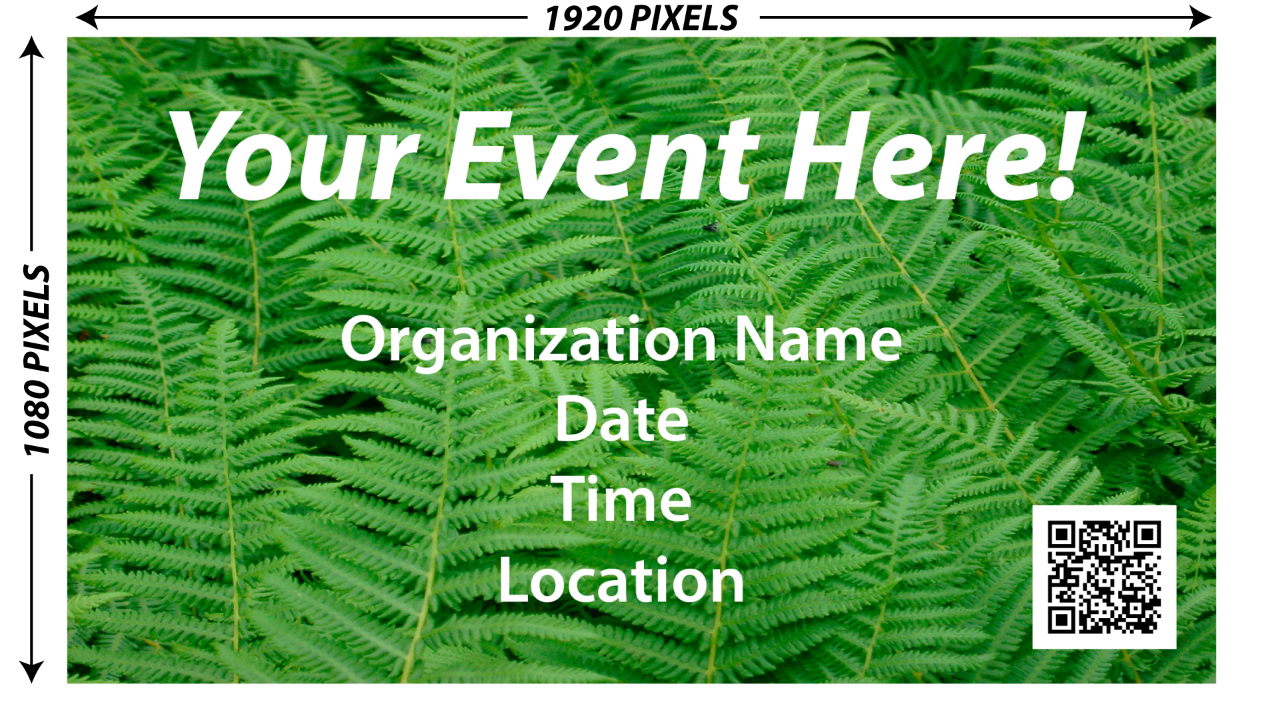 Artwork for digital signage must be 1920 pixels wide by 1080 pixels high (horizontal, as image at left), at 72 dpi

Preferred formats are JPG and PNG
Videos are accepted - see specifications in TUC Promotions Guidelines and Procedures
Use a QR code in your sign to allow viewers find more information quickly

Please submit request at least 5 business days in advance of run date. Submissions with less lead time may not be scheduled in time for your event, though we will do our best to do so.

Posters and flyers must include the sponsor's name, contact information and the date of the event or program.

Only pushpins or thumbtacks are permitted for the bulletin boards.
Tape is to be used for outside posting on the metal MainStreet sign structures.

Organization representatives are responsible for posting the posters and flyers on the bulletin boards and the outdoor metal sign structures.

Alcohol cannot be advertised.
Personal items for sale, roommate searches, apartment searches and local bar ads may not be posted anywhere on MainStreet.
Off-campus, for-profit organizations are prohibited from distributing posters and flyers in TUC and SSLC.
Posters and flyers may not be posted on walls, doors, windows, or any painted surface. Organizations that post posters and flyers on walls, doors, or windows will be subject to a removal fee.
Guidelines and Procedures
Reserve image space on Campus Services digital screens for up to two weeks. When you complete the Promotions Request Form, we will deploy your image or video in Tangeman University Center (TUC), Campus Recreation Center (CRC), and residence halls in the following locations:
TUC main Bookstore entrance
TUC Catskeller entrance
TUC above MainStreet Connection Center
CRC MainStreet Breezeway/Passageway
Residence Hall Lobbies
TUC Video Wall
To request Digital Signage, an organization representative must submit the Promotions Request Form. Confirmed promotions will be displayed on the multiple screens at once.
Registered student organizations and university departments will be permitted to submit events for consideration. Submissions must be received five business days prior to the event on a first-come basis and will be prioritized according to event date, etc. If design is required, there is a charge of $75/hour, and a 15-day lead time is preferred for completion.
Advertising deemed inappropriate will not be permitted and decisions concerning the appropriateness are at the sole discretion of Campus Services.
Events must take place on campus and will only be advertised for 7-10 consecutive days prior.
Groups will be limited to five event listings per semester with the exception of PAC and Student Government.
Alcohol will not be advertised.
Campus Services reserves the right to edit content, background, colors, etc. All material is subject to approval.
Artwork submitted must be JPG or PNG with dimensions of 1920 pixels x 1080 pixels HORIZONTAL at 72 dpi.
Many digital signage screens have to be read from far away. Because of this, limit the text and detail on your artwork. Think of the signs like billboards: no more than seven (or 10 at the most) words, as people are walking past the sign and have a limited amount of time to read your message. Please only include (in at least 48pt font):
Organization Name
Event
Time
Location
Tag Line
URLs will be most effective as QR codes.

Video and Motion Graphics
You have the option to submit videos and/or motion graphics to be displayed on many of the aforementioned screens, which may include the largest portion of the video wall in TUC. Submissions may not be longer than 60 seconds, and must be submitted to us in either MOV or MP4 format
Any videos that use copyrighted materials without permission will be rejected. This includes still images as well as clips from movies and/or music videos. Please make sure you have permission to use every image in your video before submitting it to through the Promotions Request Form.
MainStreet reserves the right to edit videos at our own discretion.