Frequently Asked Questions
The Bearcat Card is a function of your UCID. The Bearcat Card is activated by depositing money into your account. Choose the amount of money that you wish to deposit. You can use cash, check, debit, or credit card. Once activated, you can withdraw the funds by presenting the card when making a purchase at participating locations.

Money can be deposited at any time during the year by: 
Logging into Canopy and selecting the Bearcat Card tile, or the Card Management application

Visiting the MainStreet Connection Center
Stopping by one of the three convenient Value Transfer Stations (VTS) locations on campus:

Langsam Library - Level 4

Medical Science Building - Level 1
Tangeman University Center - Level 2 - Food Court entrance

No. There are no transaction fees or minimum balance required for the Bearcat Card account.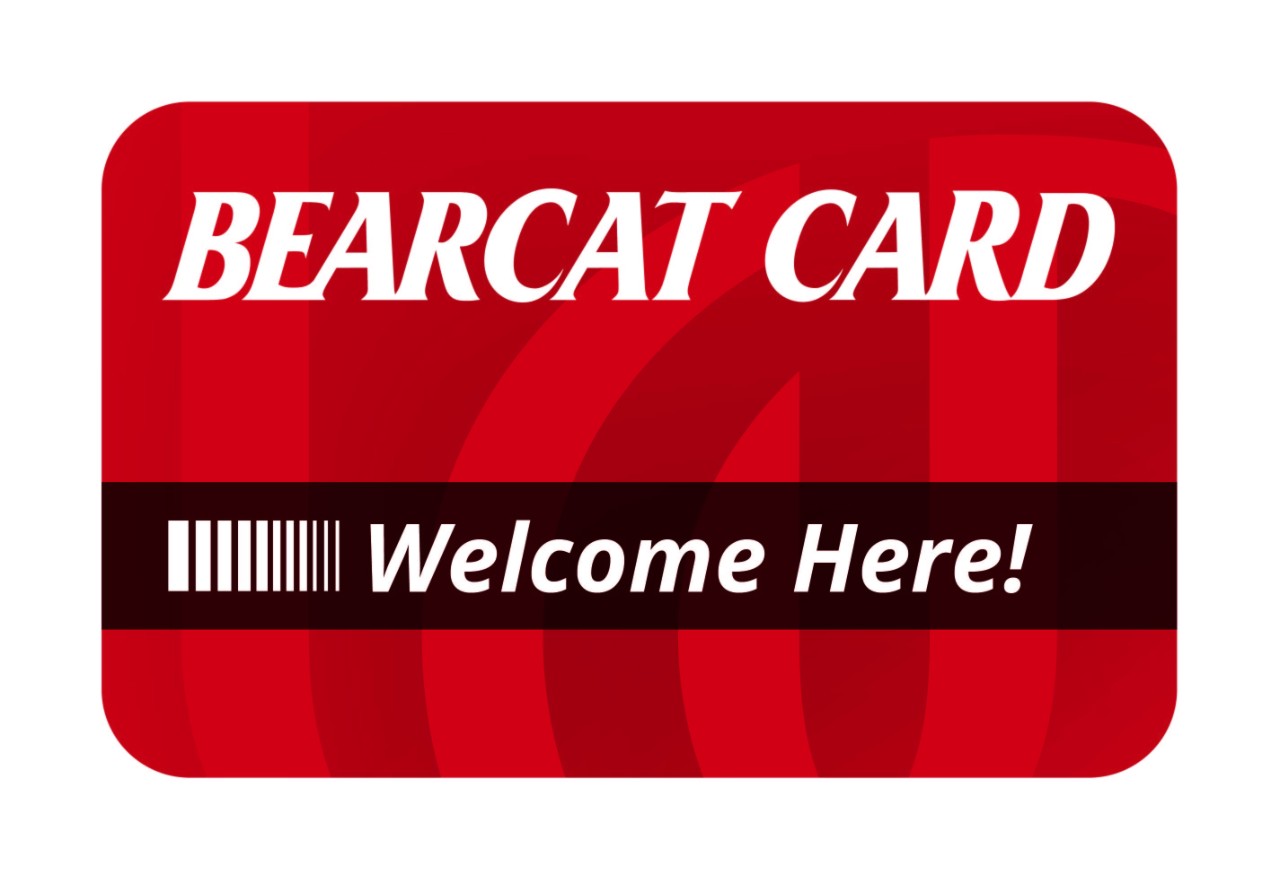 You can use your Bearcat Card at over 400 locations on and off-campus. Also, look for the Bearcat Card Welcome Here acceptance signs at participating locations.
There are several benefits. It is convenient, fast, safe, and you don't have to carry cash or credit cards. There are no transaction fees and a lost card doesn't mean lost money, if reported right away. Moreover, you can save money when you make copies.
You should report lost cards immediately by logging into Bearcat Card account management and deactivating your card. 
Sign in using your central login. Click Card Services then deactivate or reactivate your card. 
Replacement cards can be purchased at the Keys & Badges Office, 4 Edwards Center, at a cost of $35.
Bearcat Cards are updated every 30 minutes. All information and monies will be transferred to your new card at that time. Don't forget if you have activated your account, you need to reactivate for the new card to work.

Refunds are given upon request if you are leaving or withdrawing from the university.* Otherwise, the balance rolls over to the next semester. Statements up to thirty days can be viewed online using your Blackboard account. 
 
*Minus a $5 processing fee. See Terms and Conditions.

Bearcat Card accounts with no activity (defined as a deposit or debit) over a twelve-month period are considered inactive and will be suspended without notice if the balance is less than $25. Inactive accounts with balances over $25 will be assessed an annual $10 service charge. Unless a refund is requested within five years of the last activity, inactive accounts will be closed without notice with any remaining balances forfeited to the University of Cincinnati.
Refunds are processed when:
The account balance is $5 or more; AND

A refund request is submitted. A $5 processing fee will be deducted from the refund.