UC grads spur big changes in Walnut Hills
Many of the new businesses popping up in this historic neighborhood were started by University of Cincinnati graduates
Walking around the gutted Paramount Building in Walnut Hills, it's hard to envision the taproom and brewery that Marvin Abrinica and Brian Jackson have planned later this year.
But the University of Cincinnati graduates see it all very clearly.
"We'll have a taproom space of about 2,500 to 3,000 square feet. It will be a pretty good size," Abrinica said. "But we want it to be warm and inviting — more intimate — sort of the anti-brewery."
The brewery sits on what residents still call Peebles Corner after the former grocery store that occupied the space. It will be the first brewery in the area opened by minority owners. That's a big selling point in a neighborhood as diverse as Walnut Hills, Abrinica said.
"As minority founders, there aren't many people who look like us," he said. "So if we can start a brewery that attracts a diverse crowd, we feel like we've done our job."
Their venture, Esoteric Brewery, is just one of several new businesses invigorating life in Walnut Hills, one of Cincinnati's oldest neighborhoods. And much of this investment interest is being spurred by UC alumni.
"We like to think we're getting in at a good time," Jackson said.
This investment by UC grads reflects UC's broader commitment to making an urban impact as outlined in its strategic initiative, Next Lives Here.
Abrinica was honored by UC's Lindner College of Business at last year's Cincinnati Business Achievement Awards.
Jackson, too, has strong family ties to UC. His sister, Shira Jackson, is studying quantum physics at UC while his mother, Katrina Jordan, was the university's longtime director of career development and placement.
"We hope to be a catalyst for other businesses that want to come in and be a part of the community," he said.
Along East McMillan Street, business after business has ties to UC: Gomez Salsa, Landlocked Social House, Caffe Vivace.
Samantha Reeves, a Cincinnati native and UC graduate in the College of Design, Architecture, Art, and Planning, works as director of real estate and economic development for the Walnut Hills Redevelopment Foundation, a nonprofit group that is helping to steer some of the investment. In a tour of the neighborhood, Reeves showed off some of the latest positive changes in the neighborhood: cafes and restaurants with vibrant facades.
"In addition to the historic Paramount building on Peebles Corner that's being remodelled, we have a couple storefronts, small businesses and mixed-use buildings," she said.
It's the friendliest community I have ever lived in.
Elizabeth Winters Waite, Walnut Hills resident
Another Cincinnati real estate developer, Model Group, is working with Cincinnati Union Bethel, the longest running social service agency in the city, on Cincinnati Scholar House, which will provide subsidized apartments for low-income single parents who are enrolled in higher education. Reeves said the goal is to help single parents in Walnut Hills reach self-sufficiency through education.
Longtime businesses have noticed the changes. John Haney, owner of Haney Custom Framing, said more retail stores have opened as well.
"There is so much new development opening up," he said. "These are great improvements."
Haney said effective community policing has curbed much of the crime he saw when he opened his store in Walnut Hills more than a decade ago. He said it's a good sign that people are willing to stake their futures here.
"They're going out on a limb so I sure hope they're successful. It seems to be making a big difference," Haney said.
Walnut Hills, a neighborhood that borders I-71 and Eden Park, is seeing a "significant and historic transformation," according to an independent 2016 market analysis by the firm Development Strategies. It has a built-in demand for retail and services. The market study found that most residents by necessity do much of their shopping outside Walnut Hills.
Its assets include its central location surrounded by the city's downtown, UC and Xavier University, area hospitals and Over-the-Rhine. It's a walkable neighborhood with historic character (home to the 1804-era Kemper Log House and the Harriet Beecher Stowe House, built in 1832.)
According to the Walnut Hills Area Council, the neighborhood is home to a wealth of architectural firms, artists, musicians and craftsmen. But it also has boarded-up buildings and other signs of blight and neglect. Development Strategies said Walnut Hills faces challenges such as concentrated poverty and unemployment, retail vacancy and substandard housing.
Elizabeth Winters Waite, chief financial officer for the Walnut Hills Redevelopment Foundation, said the neighborhood is trying to capture renewed interest among Baby Boomers and millennials who want to live in walkable city neighborhoods.
"People are moving back to cities. More people want to live closer to where they work so their favorite bar or store is within walking distance," she said.
She relocated to Walnut Hills after raising a family in the Hamilton County suburbs. Today, she oversees one of the many community gardens where residents grow their own fresh fruits and vegetables.
"It is the friendliest community I have ever lived in. It has much more of a metropolitan feel. Not everyone looks the same or sounds the same," she said. "Because you're living in close proximity to other people, you have more exposure to other people. I see my neighbors all the time and they're friendly."
Winters Waite said UC graduates and others who open businesses in Walnut Hills are having untold positive influences.
"When you have pockets of poverty and unemployment, nobody has access to the connections that move people forward in their lives," she said. "How do you make connections to transcend your situation?"
I like the idea that Walnut Hills is a place where everyone is trying to be as inclusive as possible. That really resonates with jazz.
Brent Gallaher, UC graduate and owner of Caffe Vivace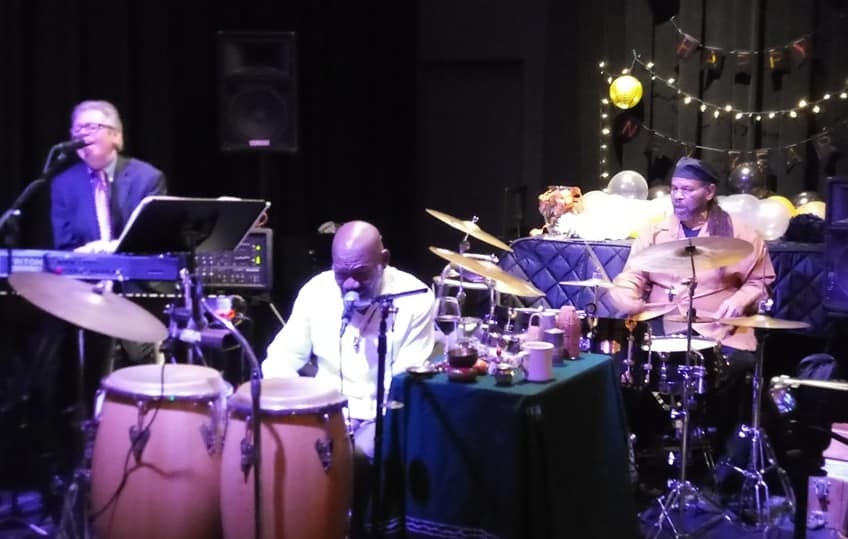 Brent Gallaher, a 1994 graduate of UC's College-Conservatory of Music, opened the coffee house and jazz club Caffe Vivace last year.
"We are a jazz lounge at night and coffee shop by day," Gallaher said. "We open at 7 a.m. with space for remote workers. Then around 6 p.m. we turn everything over to a jazz vibe."
Gallaher said he chose Walnut Hills because of its fantastic location near UC, Xavier University, the hospital district and downtown Cincinnati. Local musicians, including many UC students, are regulars both on stage and in the audience during the club's performances, he said.
But he also likes how his business suits the neighborhood.
"I like the idea that Walnut Hills is a place where everyone is trying to be as inclusive as possible," Gallaher said. "That really resonates with jazz. It's for everybody. So that was the main selling point."
Gallaher said he is looking forward to the opening of more businesses such as Esoteric Brewery. The changes he has seen in the past year make him optimistic about the future.
"I am. There are a lot of smart people involved," he said.
Next Lives Here
The University of Cincinnati is classified as a Research 1 institution by the Carnegie Commission and is ranked in the National Science Foundation's Top-35 public research universities. UC's graduate students and faculty investigate problems and innovate solutions with real-world impact. Next Lives Here.

Become a Bearcat
Apply online or get more information about undergraduate enrollment by calling 513-556-1100. Learn more about UC's many undergraduate and graduate programs.