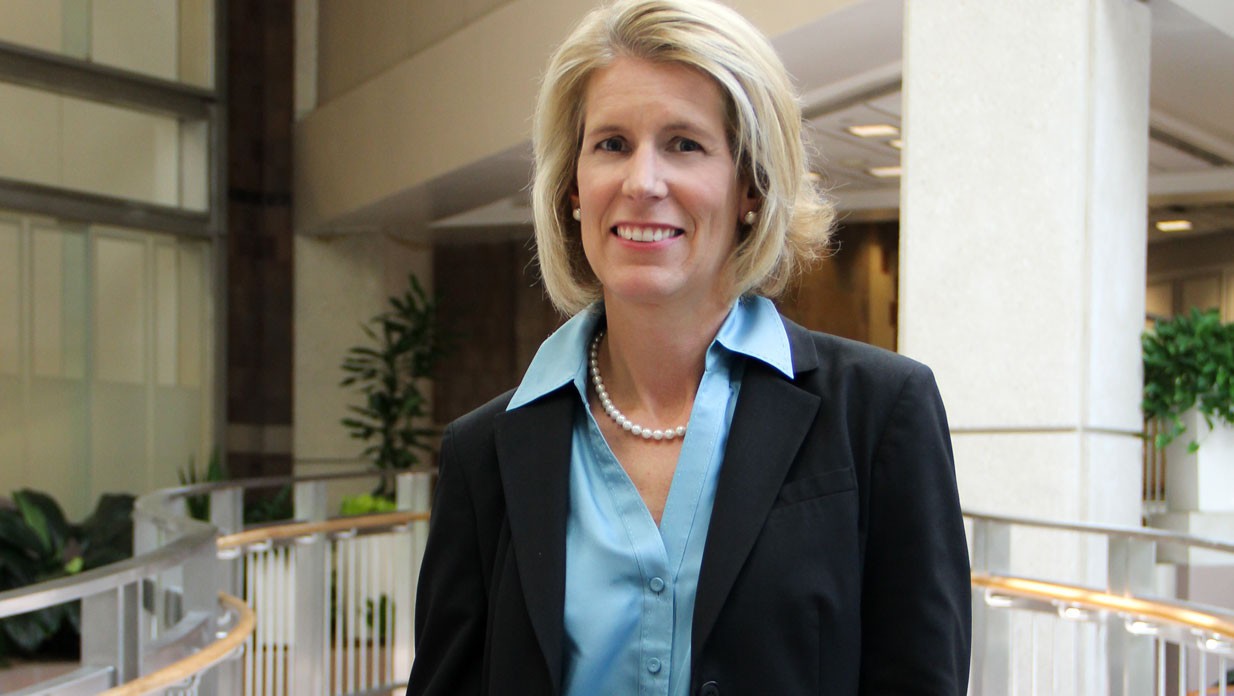 UC nursing faculty create pain management guidelines to lower opioid administration in new mothers
Protocol could decrease the number of opioids moms need to manage pain after a cesarean section
Successful pain management is one of the biggest factors in recovering from surgery, especially in the case of a cesarean delivery. Aware of this fact and its possible consequences, Beth Ann Clayton, DNP, associate professor and director of the Doctor of Nursing Practice (DNP) in Nurse Anesthesia at the University of Cincinnati (UC) College of Nursing, created practice guidelines for managing acute post-surgical pain in women who have cesarean (c-section) deliveries.
Clayton, who is also a certified registered nurse anesthetist, developed post-cesarean pain control guidelines for the American Association of Nurse Anesthetists (AANA), published in fall 2017. With plans underway to implement in hospitals around the Cincinnati region and eventually beyond, these guidelines could help reduce opioid usage in new moms.
"We know that about 12 percent to 18 percent of cesarean patients develop chronic pain," Clayton says. "Often, it happens when acute pain is not managed well in the immediate post-surgical period. These guidelines are focused on adeptly standardizing the management of acute pain to eliminate the prime risk factor for developing chronic pain."
Research shows using a combination of several medications with different mechanisms of action provides superior pain relief and reduces opioid requirements. Treating the inflammation from the surgery greatly assists in the acute pain control.
"A big part of the guidelines is the consistent alternating of anti-inflammatory agents including ibuprofen and acetaminophen medications. It is anticipated, and currently being studied, that this approach will decrease the number of oral opioids mothers need to optimally manage pain postcesarean," says Clayton.
Donna Green, PhD, assistant professor and director of the undergraduate nursing program at the UC College of Nursing, is helping Clayton and several nurse anesthesia students implement and evaluate these guidelines throughout the community. Sarah Farmer, DNP, a recent graduate of the College of Nursing nurse anesthesia program, initiated the implementation at Mercy Health Fairfield Hospital in 2018.
According to the Centers for Disease Control and Prevention, more than 30 percent of all infant deliveries in the United States are by c-section. This number is more than twice the rate of 10 to 15 years before. Green says an emphasis is now being placed on trying to promote better pain management throughout patients' operative delivery process and continued into their postpartum recovery experience.
"These guidelines and implementation plan help facilitate patients' pain control post-operatively, thus reducing their need for opioid use," Green says. "The standardized approach helps to reduce inflammation, and decreases the need for opioid prescription medication."
Ibuprofen and acetaminophen are alternated and administered around the clock as they work synergistically together and both independently decrease the opioid need.
"Ibuprofen itself decreases opioid needs by approximately 40 percent and acetaminophen decreases it by about 15 percent," says Clayton. "If you give both of them together, you've decreased the patients need for opioid by more than 50 percent."
Another positive outcome of this post-operative pain management strategy is that it enables mothers to be the caregivers they want to be for their newborns once they get home from the hospital.
"Helping mothers to be able to take care of themselves more efficiently and promoting their well-being will translate into their acclimation into their role as the mother and the care of their newborn," Green says. "Effective management of pain helps with maternal newborn bonding, caregiving and breastfeeding, along with the ability to engage in those activities that are so important in those first days following delivery."
Through collaborative provider efforts and a variety of DNP student projects at the College of Nursing, the guidelines are being implemented across the region at UC Medical Center and UC Health West Chester Hospital, along with Mercy Anderson, Mercy Fairfield and Norton Women's and Children's Hospital in Louisville, Kentucky. Clayton says once they have outcome data from the two Cincinnati-area Mercy locations, Mercy Health in Ohio is interested in expanding the guidelines to Mercy facilities throughout the state.
"It is a tremendous interdisciplinary effort to improve maternal patient care via the creation of a single order set between obstetrics and anesthesia," Clayton says.
Clayton continues to present the guidelines with Carol Baden, substance abuse and population health director from the Ohio Attorney General's Office, to a variety of health care organizations and associations across the state with the goal of implementing the guidelines as far and wide as possible.
"Cesarean delivery is a major abdominal surgery that can be a planned or unplanned part of a woman's birth experience. Plus, they are acclimating to the role of motherhood and providing care for their newborn," Green says. "Women post-delivery are adjusting to the fluctuations in their hormones and are at risk for postpartum depression. The addition of poor management post-cesarean creates the perfect storm for inadvertently becoming addicted to opioids without even knowing. Hopefully these guidelines can impact how often that happens."
1
Drugs.com: Lowering blood pressure after clot removal may not be...
September 22, 2023
Drugs.com and HealthDay highlighted University of Cincinnati research recently published in JAMA that found using blood pressure medications to lower the top number of blood pressure readings (systolic blood pressure) may not be safe or effective among people who have an acute ischemic stroke and undergo a successful mechanical clot removal.
2
UC and GE partner to introduce high schoolers to engineering
September 21, 2023
Rising 9th and 10th graders experienced a free, weeklong, immersive engineering camp at the University of Cincinnati as part of GE's Next Engineers program. Students completed hands-on engineering design challenges while being mentored by GE Aerospace volunteers, industry professionals and current College of Engineering and Applied Science (CEAS) students.
3
Know Stroke Podcast: UC expert discusses past, present and...
September 21, 2023
The University of Cincinnati's Joseph Broderick, MD, recently joined the Know Stroke Podcast to discuss the current state of stroke research, including the FASTEST trial he is leading to test a potential treatment for strokes caused by ruptured blood vessels in the brain.
Debug
Query for this