2019 Empowerment Day celebrates aspiring businesswomen
Annual Lindner Women in Business Leadership Conference featured presentations by notable female business leaders and alumni
By Suzanne Buzek
Giving and receiving constructive feedback. Turning a negative professional situation around. Creating a network of mentors and trusted advocates. Negotiating through a job offer. Preparing for the world of work is a lot of work, but nearly 200 young women rolled up their sleeves and explored these topics at-length at the 2019 Empowerment Day on Saturday, March 2.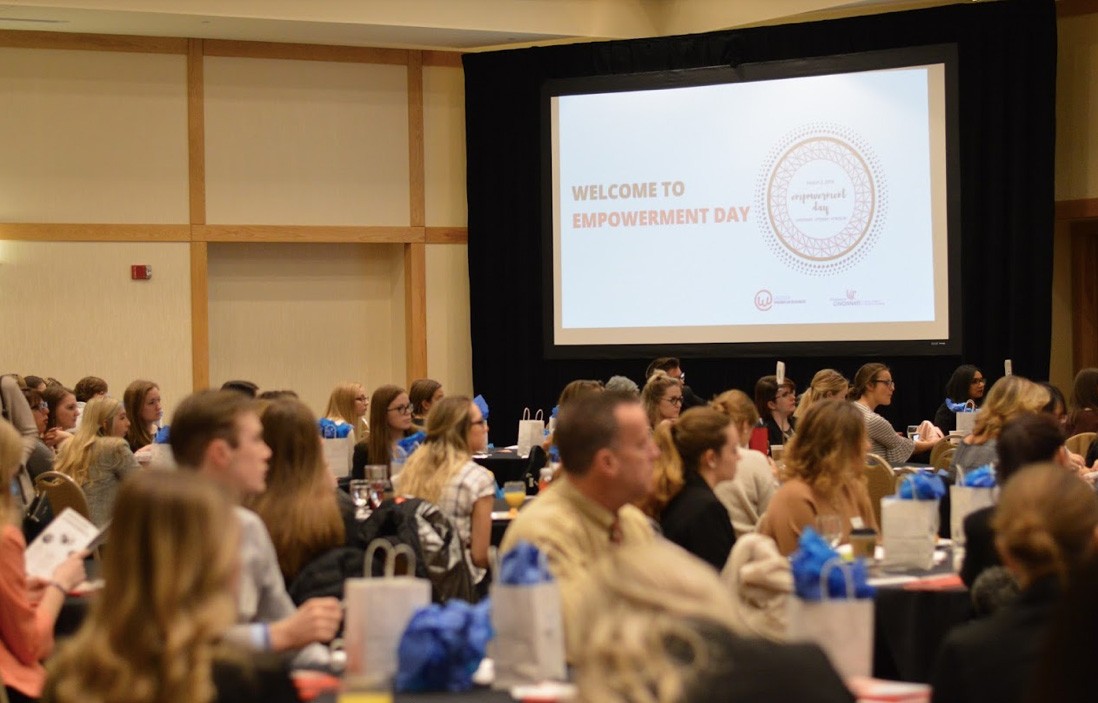 Organized by Lindner Women in Business, Empowerment Day is the program's annual leadership conference intended to enrich, enlighten and empower students as they prepare to enter the workforce after graduation.
"Lindner Women in Business offers a safe place for women to explore who they are and their potential," said Karen Manning, an annual adjunct assistant professor in the Lindner College of Business who also serves as the program's advisor. "The magic of this conference — let alone the program — is seeing students grow in their self-confidence and do things they didn't think they were capable of doing."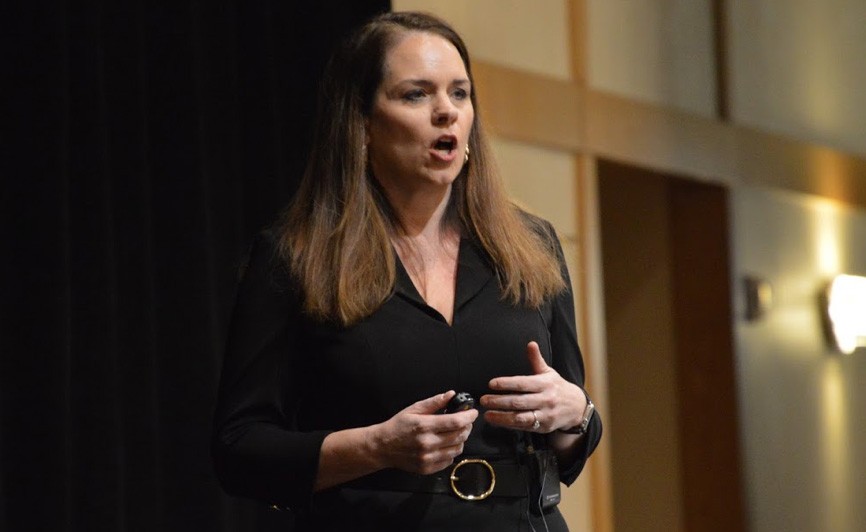 The conference featured a keynote address by Tiffanie Papp, BUS '90, Brand Director of Global Skin & Personal Care at Procter & Gamble, who spoke on the strength that lies in listening.
"People have different lenses that impact how they make decisions," she said. "It is imperative to be empathetic and learn about others' lenses before judging them immediately."
Additional speakers and panelists included:
Kristen Baker, Senior Manager, Talent Management, DHL
Morgan Eberle, BBA '17, Assurance Associate, PwC
Gabrielle Calderone, '13, '14, Portfolio Manager Assistant, Wealth Management, Johnson Investment Counsel
Karen Manning, Assistant Marketing Professor, Annual Adjust, University of Cincinnati
Bethany Maynard, BBA '14, CPA, Assurance Senior Associate, PwC
Anna McCuiston, BBA '06, Senior Team Sales, Retail Lead, Abbott Nutrition
Debbie Psihountas, MBA '87, PhD '00, Dean, School of Business & Technology, Florida Southwestern State College
Jill Rechtin, U.S. Service Quality Program Manager, DHL
Priya Sivagnanam, Portfolio Manager Assistant, Wealth Management, Johnson Investment Counsel
Lacy Starling, President, Legion Logistics, LLC
Kristen Zavo, Author, Job Joy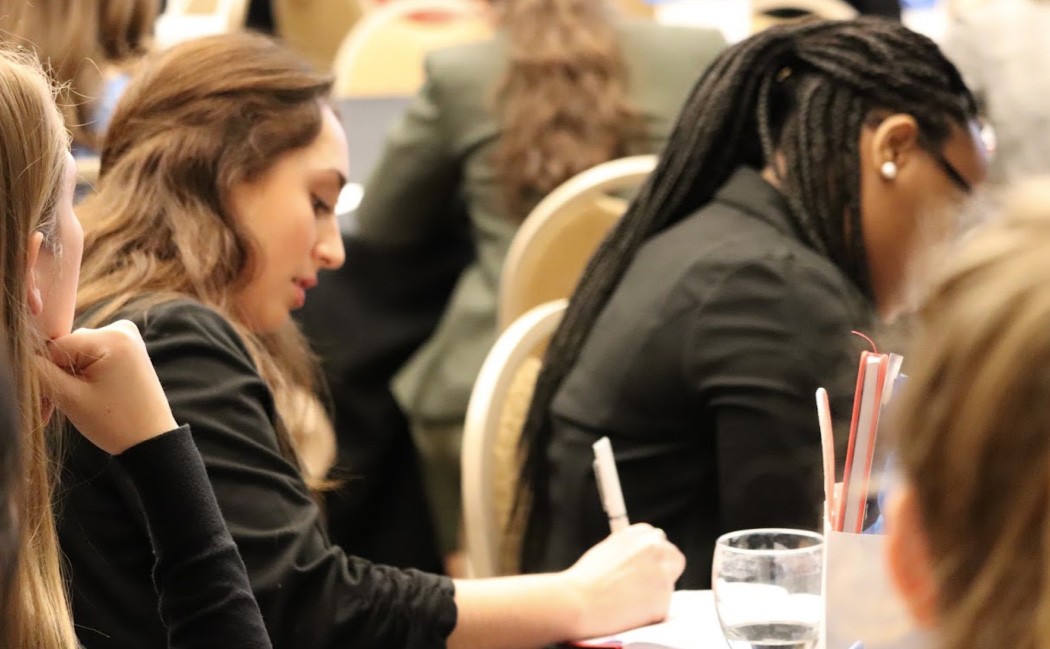 Two women were recognized for their leadership and service to the regional business community: Katie Fisher, BBA '16, and Heather Harris. Fisher, a senior associate in risk consulting at accounting firm KPMG, received the Outstanding Alumna Award. Harris, an investor and consultant with extensive marketing and sales experience at retail brands like Calvin Klein and Donna Karan, received the Distinguished Service Award.
While Empowerment Day is beneficial for current Lindner students, about 25 high school seniors with outstanding offers for admission were also in attendance. The conference gave them a more in-depth idea of what life as a Lindner student could be, and for at least one prospective student, the experience helped solidify her decision.
"I was going back and forth between Lindner and another university, but, after today, I'm going to be a Bearcat," one student said.
Lindner Women in Business was founded in the spring of 2013 as a student organization made up of 30 members and transitioned to a Lindner Diversity and Inclusion program in the summer of 2018, and has since grown its membership to 150 students. The board organizes various events and programming throughout the year for all members of the community to achieve success and uplift those around them. Learn more about the program and how to get involved.

March is Women's History Month. UC is celebrating women's success, leadership and groundbreaking achievements with a variety of events throughout the month. Read more from UC News.

All photos courtesy of Lindner Women in Business.
1
Lindner First-Year Experience spotlights project-based learning
September 28, 2023
The Carl H. Lindner College of Business' First-Year Experience (FYE), which prepares students to become business problem solvers from day one, has been revamped to center on project strategy. This concentration challenges students to perform a strategic analysis of a business' operations.
2
Widespread naloxone distribution not enough to impact overdose...
September 28, 2023
The highest ever number of opioid-related overdose deaths in the United States was recorded in 2020 at 68,630, a 68% increase in just two years. Naloxone is a medicine that can rapidly reverse an opioid overdose, but a new study out of the University of Cincinnati finds that widespread community distribution of naloxone through a take-home naloxone program did not significantly impact the median monthly opioid overdose rates.
Debug
Query for this