Printing hearts and handshakes
CEAS student Vishnu Viraliyur Ramasamy works with 3D printing to provide affordable prosthetics and models for practice surgeries
Vishnushankar Viraliyur Ramasamy designs and prints prosthetic limbs. You read that right—prints prosthetics.  
Vishnu (as he introduces himself) is a mechanical engineering student at UC's College of Engineering and Applied Science, who works for EnableUC, a student organization founded at the University of Cincinnati that utilizes 3D printing to "bridge the gap between engineering and medicine."
Their mission is to use engineered technology to create more affordable prosthetic options for patients. According to their website, they "design, build and implement solutions" in "cases ranging from pediatric prosthetics to assistive devices for traumatic brain injury."
Read a feature story on one of their clients, 4-year-old Ella Morton, whose $20 prosthetic from EnableUC enabled her to play and ride her scooter with all the other neighborhood kids. If not created through 3D printing, Ella's prosthetic could have cost upwards of $10,000.
Why is 3D printing so affordable? And what exactly is 3D printing?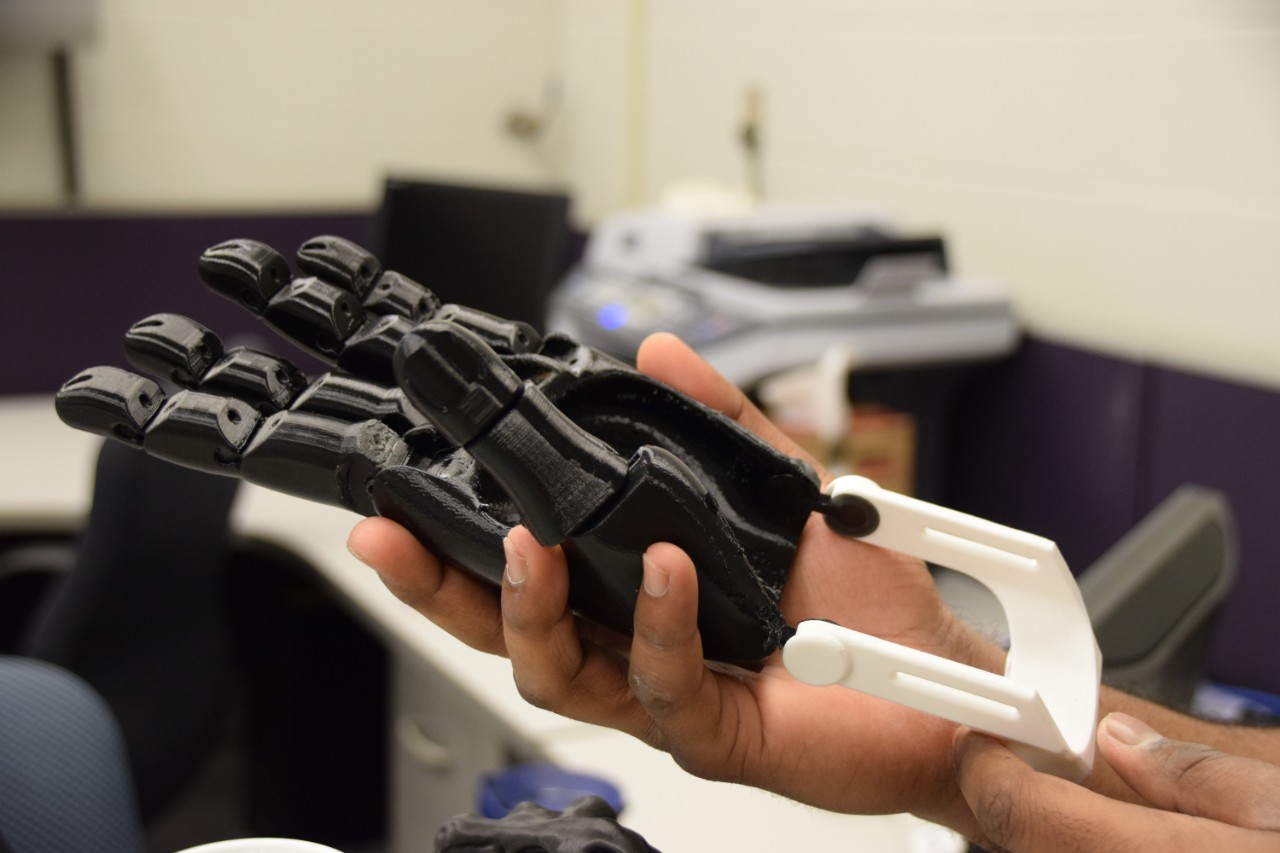 The simplest explanation is that 3D printing (also called additive manufacturing) is the process of creating three-dimensional solid objects from a digital file. The multidimensional object is made by adding (hence the name 'additive' manufacturing) successive layers of material until the desired object forms. And why are 3D printed goods surprisingly so cheap? Ella's prosthetic hand was created with acrylonitrile butadiene styrene — a durable, yet inexpensive plastic.
The magic is in the machine. The bigger the 3D printer volume, the bigger the products printed. There are 3D printers the size of an apartment, and 3D printers that can fit on a desk. While many patents have been made in the 3D printing world, Vishnu believes the perfect design has yet to be achieved.  
"There's so many different ways to design and build these machines," Vishnu explains. "That's what I want to perfect, or at least hope to do." 
Vishnu worked in two labs conducting research on 3D printers — three labs if you include his own apartment. He says his home is littered with 3D printer parts, which he is constantly manipulating and engineering.
"What I'm truly interested in is the mechanics of the machines, how everything works," he says. "All I do is build the 3D printers in my apartment, and then take them apart, and then rebuild them, and then take them apart, and then rebuild them."
Vishnu's website details his latest 3D printing adventures and documents his personal successes and mishaps, like this 3D print gone wrong. Among the examples are a prosthetic he made for a patient with an amputated wrist, his work with custom non-commercial 3D printers and his design experience traveling to India to compete in a national racing event for which he and his team designed an actual racing car. 
In one of his favorite projects, Vishnu worked with the Cincinnati Children's Hospital Heart Institute, printing life-like human hearts. They take the hearts, which are made of muscle-like material, and practice their complicated surgeries on the fake organs before the real procedure happens. Vishnu has printed everything from a custom tumor-infected heart to a large batch of generic hearts used for research purposes.
"When you are printing such complex shapes in a single process," Vishnu explains, "You can print exactly what you want."
What's more, 3D printing is not exclusively for medical devices. One can 3D print nearly anything. Vishnu recently printed a new lampshade as a gift that has little floral cut-out designs that create a beautiful pattern effect all over the room. He's also printed small action figures, an iPhone stand, and more knickknacks just for fun.
"You can do so much with these machines, and I'm really excited to see where they take me," he says. Vishnu plans on continuing his 3D printing journey beyond UC and pursuing 3D printing companies full-time.
"I'm lucky enough to have found what really interests me. All I want to do is design these machines in the best way possible and keep improving them."