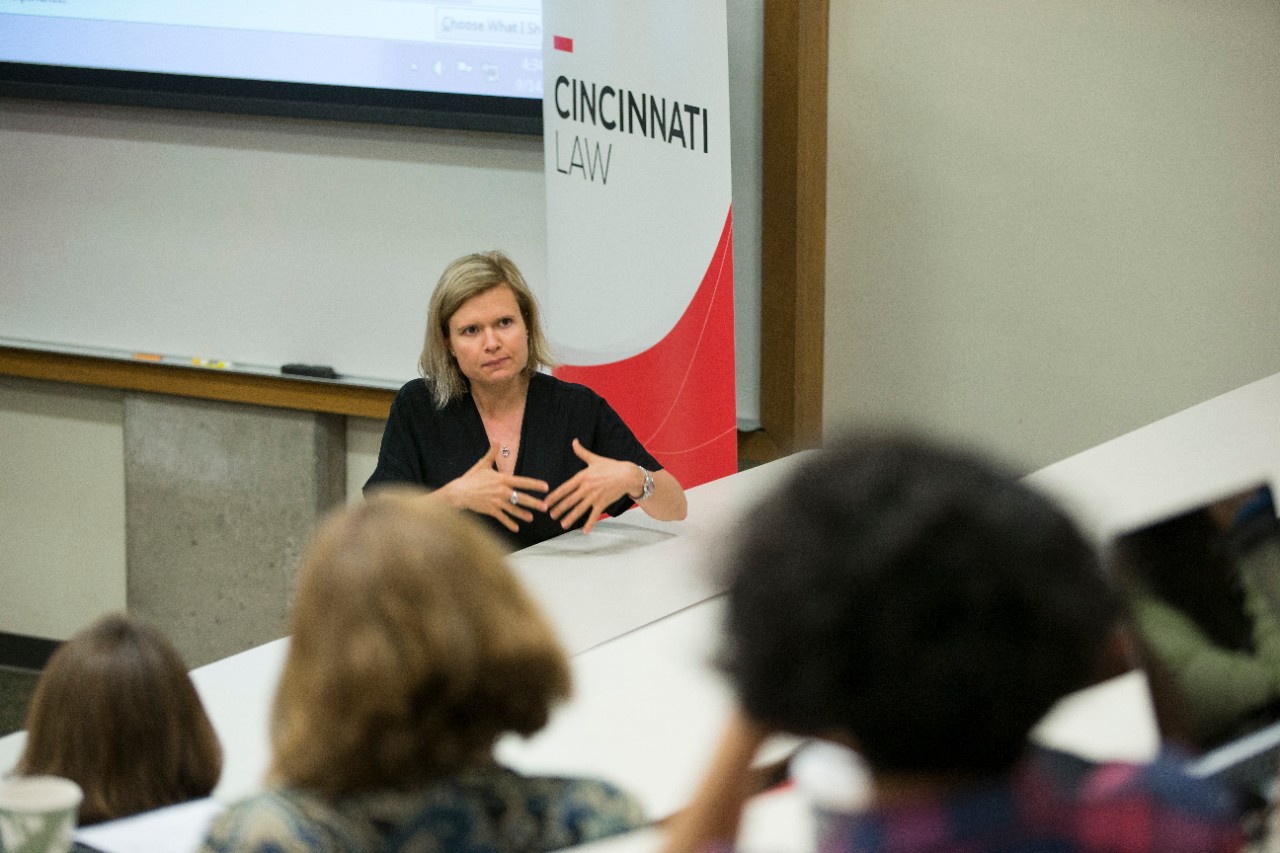 Gain international legal experience with UC Law in Bogotá, Colombia
In recent years, the University of Cincinnati's College of Law successfully has forged friendships with important universities around the world. One of those partnerships is with the Pontificia Universidad de Javeriana in Bogotá, Colombia.
 "JD and LLM students will be thrilled to learn about the new opportunities coming their way courtesy of our friends in Bogotá, including a chance to travel to Colombia," said Nora Burke Wagner, assistant dean for International Student Programs and director of the LLM Program.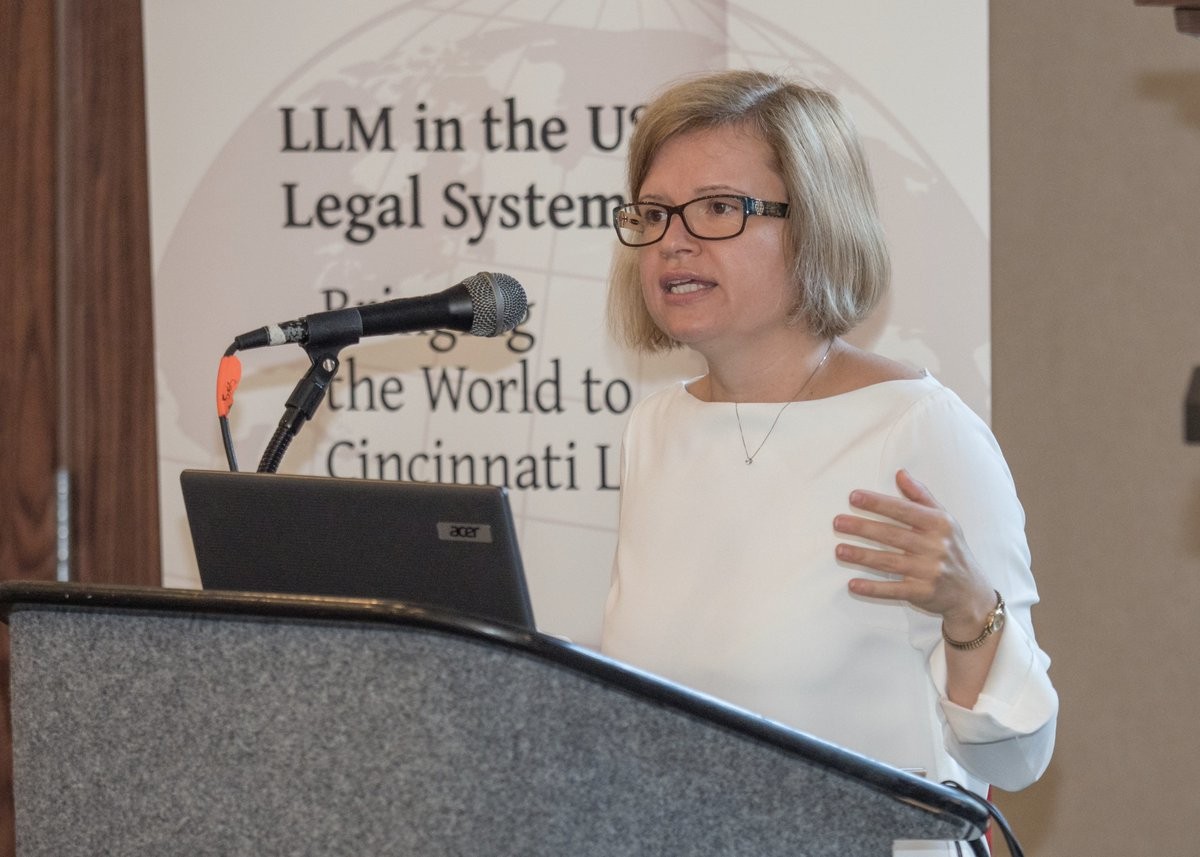 Ildikó Szegedy-Maszak, who is affiliated with Javeriana University, is returning to UC's campus in August 2019 to teach her popular short course on International Trade.  
"Spots for the highly-anticipated course are limited and interested students should sign up when registration opens on April 1," Wagner emphasized.
At Szegedy-Maszak's invitation, Wagner and Cincinnati Law professor Sean Mangan are organizing a spring break trip to Bogotá. The program is two academic credits and preparation will begin in Cincinnati.  Students enrolled in the program will be invited to meet with Szegedy-Maszák for  a primer on Colombian law and culture.
"Anyone who has met Ildikó knows she's brilliant and a lot of fun. She has a real knack for connecting with students, so our dinners and events with her are always a hit,"  Wagner said.

Also in the fall semester, students will have a chance to meet a second Javeriana professor, Lorena Vega.  Professor Vega was selected to represent Javeriana as a visiting scholar through the UC International Visiting Scholar Program. She will be spending Sept. 30-Oct. 5 on campus working with faculty and students.    
In addition to working with international law professors, students will also have an opportunity to experience Colombia for themselves with Professor Mangan in Bogotá. Students can look forward to spending the weekend experiencing cultural sites like the world-famous Gold Museum and Botero Museum and possibly visiting a coffee plantation.
During the week, the program will alternate between collaborations with Colombian law students in an entrepreneurial endeavor, class sessions on topics such as international business law, Colombia's growing technology sector, and Columbian financial regulation, and outings to private law firms, international corporations, and regulatory institutions throughout the city.
Opportunities for interaction between Javeriana and Cincinnati Law students will be an important component. Professor Mangan says he's looking forward to "exploring Bogotá with our students and giving them an opportunity see how law is practiced in a major South American capital city."
Last October, Wagner and Cincinnati Law professor Janet Moore traveled to Javeriana's Bogotá campus to deepen the partnership by meeting faculty, teaching class sessions on U.S. law, and talking with students about UC's LLM degree in the U.S. legal system. Wagner said, "Javeriana students bring a lot to the classroom. I taught a session on classic U.S. tort law, and they were 100% engaged in the hypotheticals. Students were on the edge of their seats for Janet's class on the use of the death penalty in the United States."
Students may be asking, "Is it safe to travel to Bogotá?" For Wagner, Bogotá has become one of her favorite places to visit. "I have been traveling to Bogotá once or twice a year since 2015, and I love it. It's a city of eight million people with a stunning mix of old and new Columbia, indigenous influences, Spanish colonial architecture, and sleek, modern buildings made of metal and glass."
In fact, Cincinnati Law students have been going to Bogotá for a few years now. Early on in the partnership, Javeriana's Professor Liliana Sanchez offered to host Cincinnati Law interns through the Urban Morgan Institute for Human Rights. Wagner explained, "We continue to send students for summer internships in Bogotá because they've had excellent experiences."
Both Moore and Wagner agree it's the people that put Bogotá over the top. Moore was quick to point out that "the folks I met in Bogotá were warm, welcoming, and willing to teach visitors about their fascinating city and country. The Cincinnati-Javeriana partnership opens wonderful opportunities for students and faculty at the College of Law."
Details on the spring break trip will be announced at an information session on April 8, 2019.
1
WVXU: Health benefits and risks to recreational marijuana
December 1, 2023
The University of Cincinnati's LaTrice Montgomery joined WVXU's Cincinnati Edition to discuss the potential health benefits and harms associated with expanded cannabis access after Ohio voters approved legalizing recreational marijuana in the November election.
2
CCM Dance presents 'An American in Paris + Other Works' on Nov....
November 28, 2023
CCM Dance proudly presents An American in Paris + Other Works, a lively program featuring repertoire ranging from classical ballet to modern dance. The centerpiece of the program is An American in Paris, a one-act ballet set to George Gershwin's iconic music, choreographed by guest artist Peter Davison.
Debug
Query for this