UC College of Nursing faculty inspired to Give Like a Mother
Amy Vann taps into a community eager to help others
Amy Vann knows what it's like to not have nice things. Growing up in the Ohio River towns of Gallipolis, Ohio and Point Pleasant, West Virginia, she felt the teasing and mocking by school kids who had the new shoes and brand name clothes that her parents could not afford to buy for her and her sister. Now a mother herself, Vann founded and operates Give Like a Mother, a non-profit company that collects and distributes clothing and other items for free to underprivileged families.
Vann, an adjunct visiting faculty from the University of Cincinnati (UC) College of Nursing who teaches students in a clinical setting at UC Medical Center and UC Health West Chester Hospital, got her certified registered nurse anesthetist (CRNA) degree at the UC College of Nursing in December of 2009. After graduation, with a little more time on her hands, she started searching for a service project.
"I've always had a strong heart for children, and I always loved serving," says Vann. "We have a very service-minded family, and we always love to give back and help others."
Vann began by looking for people to give baby clothing or equipment that she no longer had use for, since, after having a boy and a girl, she was done having babies. Using Facebook yard sale sites, she would meet people to sell them items from her family, and saw then how great the need was in the community.
"That's when I started looking for people who needed items and I would ask other moms that I knew or people in the community if they had anything to spare," Vann said. "It was during what they call a 'journey' at Crossroads Church where they challenged you to be brave in whatever God had planned for you that I started thinking about it and thought, 'this is what I'm supposed to do.'"
When Vann started asking for donations, she got a very strong response, with a lot of people saying they just wanted their items to find a home. At first, she collected items at her home in Batavia, but the amount of donated items grew to the point where she needed larger and larger storage facilities.
She says the tipping point for the growth of Give Like a Mother came when she connected with her coworkers at UC Medical Center and West Chester Hospital.
"I have a really big network ," she says. "Our group alone is 140 people with just CRNAs and anesthesiologists. We get very close. The operating room is like a family because you work closely with them every day, so the nurses, the surgical techs, the surgeons, housekeeping, everybody knows everybody really well."
She says every time she was at work, people would bring items in to donate, which she would take home and organize and sort.
The current Give Like a Mother warehouse space is well-organized but nearly overflowing. Several racks of clothing are bursting with everything from clothing for newborns to adult clothes that teenagers would wear. She also collects baby strollers and swings, car seats and cribs.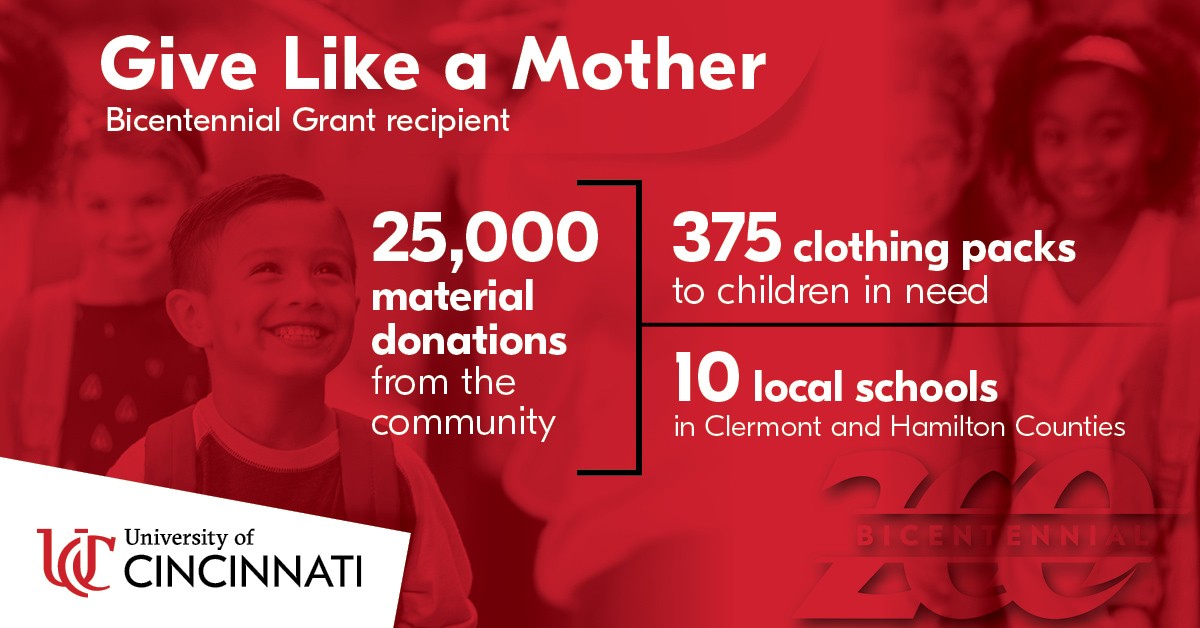 Vann has established relationships with several schools around Clermont County where she sends assistance forms that parents can fill out to request donated items. Those forms have a line where parents can include any siblings at another school who need clothing as well. The program distributes clothing packs with five shirts, five pants, five pairs of socks and five underwear—enough to allow a child to wear clothing to school for a week without re-wearing any of those outfits. The hope is to reduce the bullying that comes with going to school in the same clothing day after day.
"My background definitely makes a big difference," she says. "There were plenty of times I was made fun of and you know how that feels and you don't want that to happen to kids. The amount of bullying and mean kids really hurts my heart and so much of it is kids who don't have enough." 
Following her father's footsteps into a nursing career
Vann says when she was growing up she started thinking about going into health care mostly because her dad was a nurse. When she was 10 years old, he went to anesthesia school and got his CRNA degree.

"That was a turning point for me, because up until then, we struggled quite a bit as a family," Vann says. "After that, I saw that he was able to provide for us in a great way and we still got to see him a lot."

After getting her nursing degree at Marshall University, she chose to go to the UC College of Nursing because of its strong ratings for pass rates, positive student reviews and having her family a short drive away in West Virginia.

She credits Andrea Merkel, CRNA, an instructor in the College of Nursing, with helping her get through two and a half tough years of studying with some tough love.

"She was very hard on you but in a good way," Vann says of Merkel. "There was a very high expectation, so you learned a lot because you were a little nervous to do anything wrong. I thought she was the best mix of being hard enough on you and being realistic at the same time."

The name Give Like a Mother resulted from some brainstorming sessions with her husband.

"It has such a pop to it and it's sassy like me," she said with a laugh. "It's kind of two-fold because it's memorable and funny but it's really meant to have a deep meaning. As we ask people to give to us so we can provide for other children, we say give like a mother would, give like it's your children. Our tag line is that there's no such thing as other people's children. We love that because sometimes the only adults they have to rely on are you and me."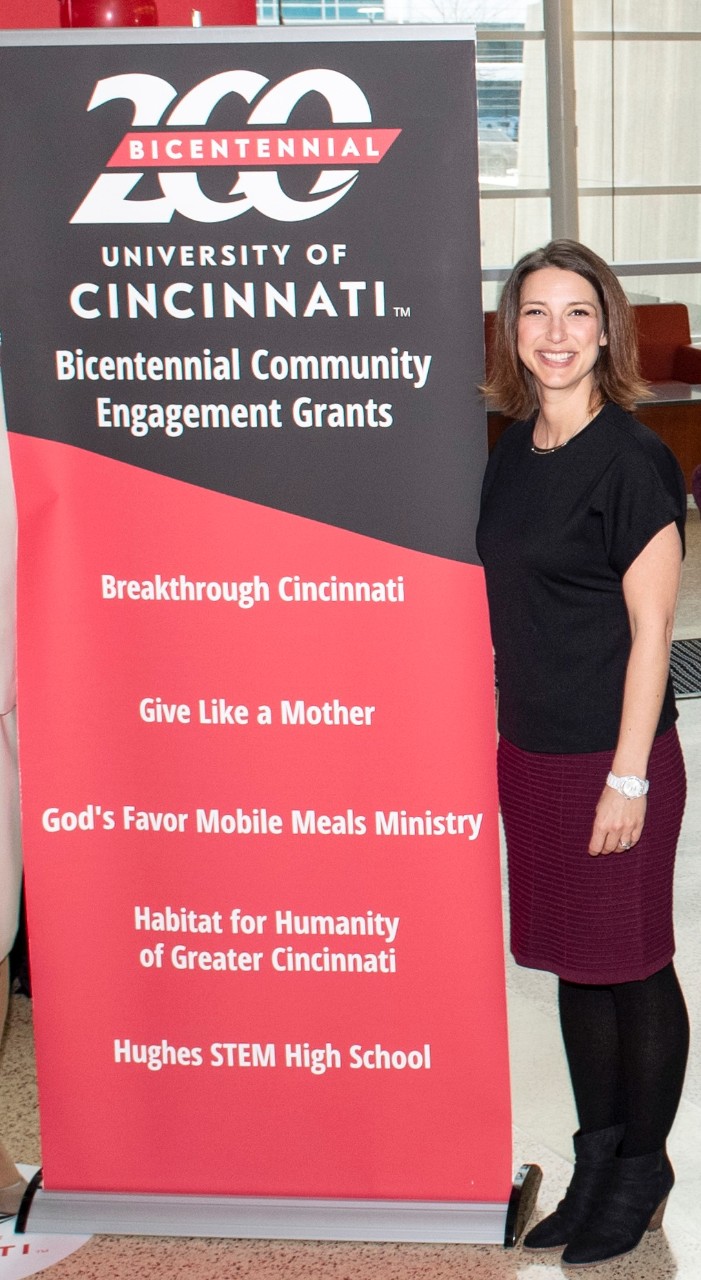 With Give Like a Mother well-established and growing, Vann has plans for even more expansion. Her goal is to have warehouses in several areas of the Tristate to make it easier to both collect donations and distribute them to a wider audience.  To find out how you can help by giving items, funds or your time, visit the Give Like a Mother website.
Give Like a Mother is one of 15 Greater Cincinnati nonprofit organizations that UC is partnering with to celebrate and extend UC's commitment to urban impact in Greater Cincinnati as part of the university's strategic plan, Next Lives Here. UC President Neville Pinto announced the recipients of the UC Bicentennial Community Engagement Grants Tuesday, Jan. 15, at an opening reception kicking off the university's Bicentennial year. The program awarded $100,000 in grants ranging from $2,525 to $10,000.
Featured image at top: Amy Vann at the Give Like a Mother warehouse. Photos by Colleen Kelley/AHC Communication Services.
1
UC sets College of Nursing student on the road to success
September 27, 2023
When Elajah Trosclair, '23, came to UC from California, her expectations were straightforward. She would study, support herself financially, earn her degree, and become a registered nurse. To her surprise, a much larger world opened up to her.
2
UC and GE partner to introduce high schoolers to engineering
September 21, 2023
Rising 9th and 10th graders experienced a free, weeklong, immersive engineering camp at the University of Cincinnati as part of GE's Next Engineers program. Students completed hands-on engineering design challenges while being mentored by GE Aerospace volunteers, industry professionals and current College of Engineering and Applied Science (CEAS) students.
3
With UC, you see the world
September 19, 2023
Study abroad is back to 75% of pre-COVID levels at the University of Cincinnati, and a wide variety of international study options is available to students in any program. Where do you see yourself in the world?
Debug
Query for this