High schoolers find the magic in cosmetic chemistry at UC
UC's James L. Winkle College of Pharmacy introduces area high school students to the science behind how perfumes and colors are made
The University of Cincinnati's fifth annual Magic of Cosmetic Science enrichment program, hosted by UC's James L. Winkle College of Pharmacy on April 6, enabled 35 middle and high school students to have hands-on learning experiences to gain insight as to how research labs formulate creams, shampoos, gels, lip balms and body washes.
The program, established in 2015, is held in laboratories on UC's medical campus; and this year's event, "Gels, Perfumes and Colors", was a collaboration with Breakthrough Cincinnati, part of the Cincinnati Public School (CPS) Strong initiative, a goal to to increase UC graduates from CPS schools, says Karen Henry, associate director of admissions at Winkle College. CPS Strong is also part of UC's strategic direction, Next Lives Here.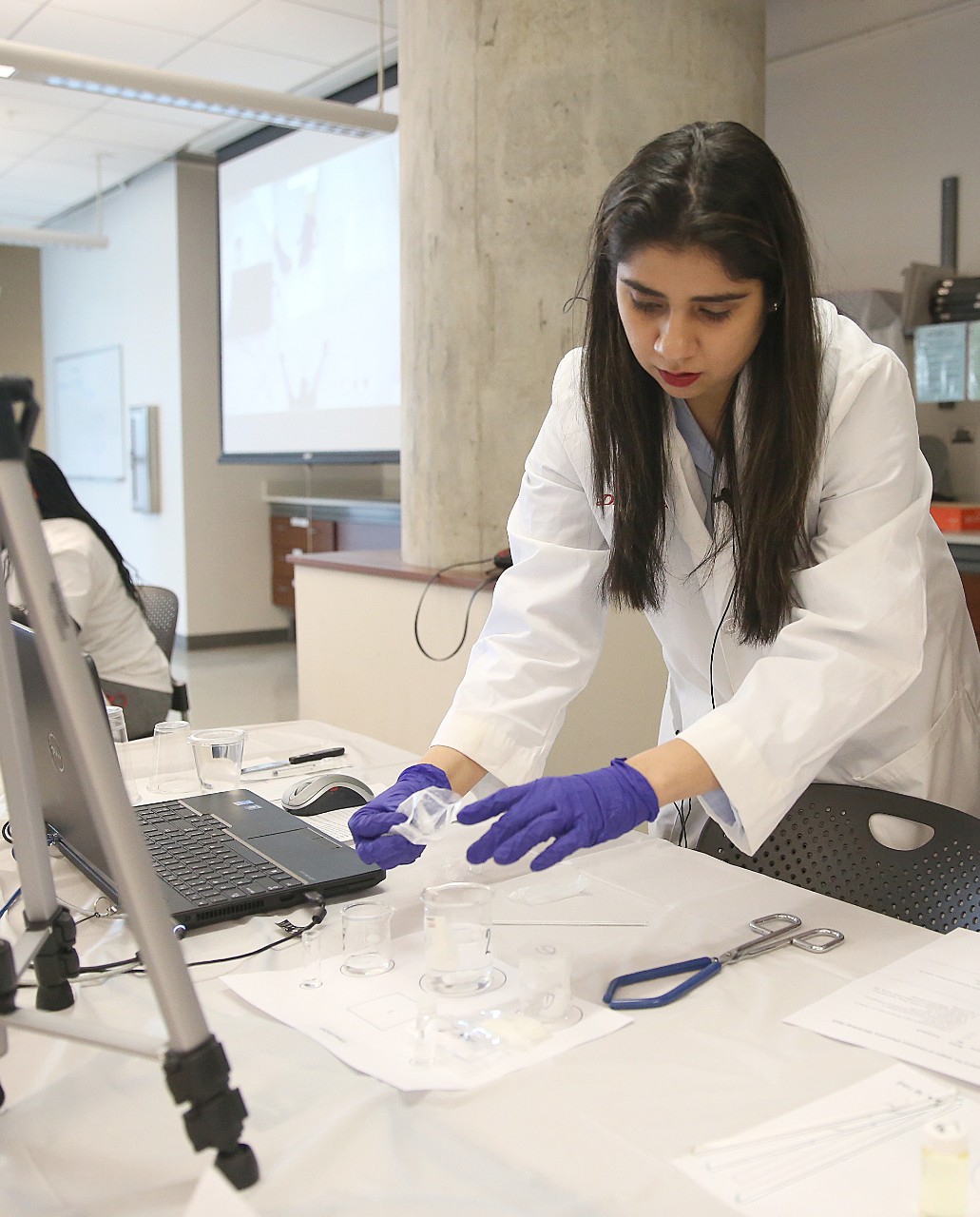 "Science is a magic that works and astonishes young minds," says the workshop's originator, colloidal cosmetic chemist Harshita Kumari, PhD, an assistant professor in pharmaceutical sciences at the college.  

In addition to a chemistry lesson, Kumari says students had the opportunity to interact with a Procter & Gamble scientist, Ed Smith, who discussed the potential for careers in cosmetic sciences. 
"This was the best year yet! We were able to maintain our record number of student registrants and increase the number of volunteers with over 55 students and volunteers which made the program even more fun and exciting," says Henry, noting that getting teenagers excited about science is a magical experience in and of itself. 
And positive feedback indicates that the workshop continues to be a formula for success.
Says one grateful parent: "Just wanted to let you know how informative and fun the workshop was. My daughter learned a lot about cosmetic chemistry and was amazed of how the field is so large and encompasses to much more than she expected."
Photos by Leigh Taylor/UC Creative Services 
1
The future of work: How should we view work-life balance?
February 7, 2023
The COVID-19 pandemic, an increase in remote work and other disruptions to the way people work have led many employers and employees to reconsider issues surrounding work-life balance. Two professors and a staff member from the University of Cincinnati's Carl H. Lindner College of Business discuss how employees and employers can take steps to improve work-life balance, how paid time off should be handled and the potential for a four-day workweek.
3
UC research shows benefits from Jewish tradition
January 18, 2023
Research from the University of Cincinnati shows people who wear tefillin, leather bands used in a Jewish religious practice which involves the tight wrapping of an arm with the bands, may receive cardiovascular health benefits. The study suggests those benefits are the result of ischemic or reduced blood flow preconditioning which produces protection from the damage caused by heart attacks.
Debug
Query for this