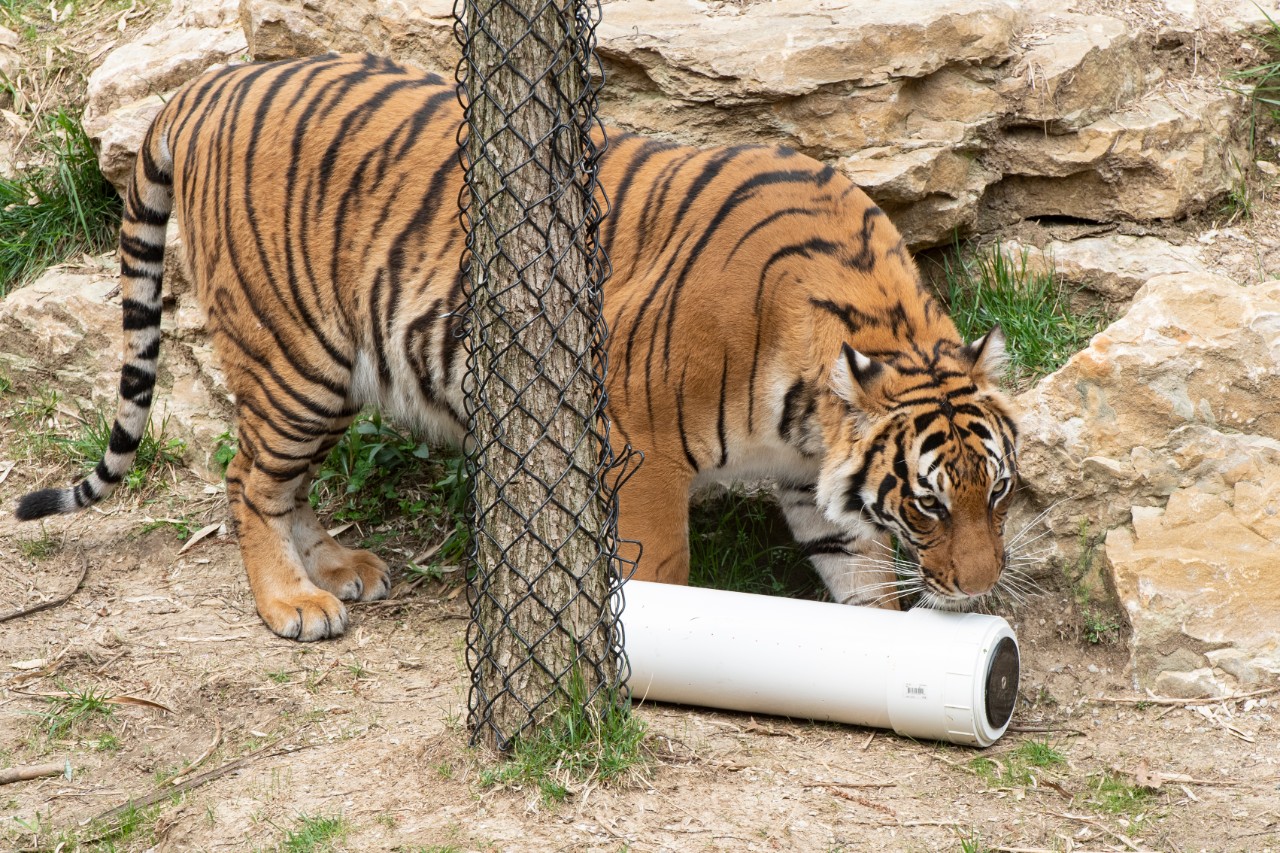 WVXU: How UC students are challenging zoo animals
WVXU profiled work by University of Cincinnati honors students to help provide enrichment for animals at the Cincinnati Zoo & Botanical Garden.
Students are working with UC Forward to come up with novel games and devices that stimulate curiosity and elicit natural behaviors in the animals.
For example, students made a game out of nested PVC pipes that reward rhinoceros hornbills with grapes when they pull strings to line them up correctly. Another device for tigers has built-in speakers and lights.
And students made a Plexiglas browse box for giraffes that requires them to use their dexterous tongues to move Wiffle Balls out of the way to reach a food reward.
Featured image at top: A Malayan tiger inspects an enrichment device playing music at the Cincinnati Zoo & Botanical Garden. Photo/Colleen Kelley/UC Creative Services
Become a Bearcat
Apply online or get more information about undergraduate enrollment by calling 513-556-1100. Learn more about UC's many undergraduate and graduate programs.
1
Ambassadors represent interests of full-time MBA students
December 4, 2023
The Carl H. Lindner College of Business full-time MBA class of 2024 elected three students to serve as program ambassadors to represent their interests and serve as a conduit between the cohort and the graduate programs office (GPO).
2
WVXU: Health benefits and risks to recreational marijuana
December 1, 2023
The University of Cincinnati's LaTrice Montgomery joined WVXU's Cincinnati Edition to discuss the potential health benefits and harms associated with expanded cannabis access after Ohio voters approved legalizing recreational marijuana in the November election.
3
Public gardens contribute to invasives problem
December 1, 2023
University of Cincinnati botanists found that plants at arboretums and public gardens inadvertently can seed wild areas with nonnative plants. Their study was published in the journal Ecological Restoration.
Debug
Query for this