UC students and physician-faculty run local free health clinic to help uninsured
Fourth-year medical student spearheads outreach to area residents
Medical students and physician-faculty at the University of Cincinnati (UC) College of Medicine have opened a free health clinic in northern Hamilton County in hopes of increasing access to health care services for uninsured Tristate residents.
The clinic is located in the Healing Center, 11345 Century Circle West, Springdale, Ohio, and will initially operate 9 a.m. until noon every Saturday. The first day of operation was July 13. The clinic was created by medical students, who will provide care under the supervision of physicians who are on the college's faculty. Licensed interpreters also will be available for non-English speaking patients.
"Our long-term goal is to be a comprehensive primary care clinic that manages acute and chronic illnesses," says Joseph Zegar, PharmD, who is entering his second year of medical school and is involved in the clinic's operations. "Initially, we will operate like an urgent care type center handling flu, fever, infections, minor cuts and injuries. These are matters we can treat during one visit, but we hope to expand and offer more comprehensive care as we acquire more services for the community."
The target audience is the region's uninsured adult population, says Caroline Hensley, a medical student entering her fourth year who has spearheaded efforts to open the health clinic. As a master's of public health student working at the Crossroad Health Center in 2016, she noticed many Spanish-speaking residents who lacked insurance. Many of them lived outside of the central city core and had unreliable transportation to access the clinic.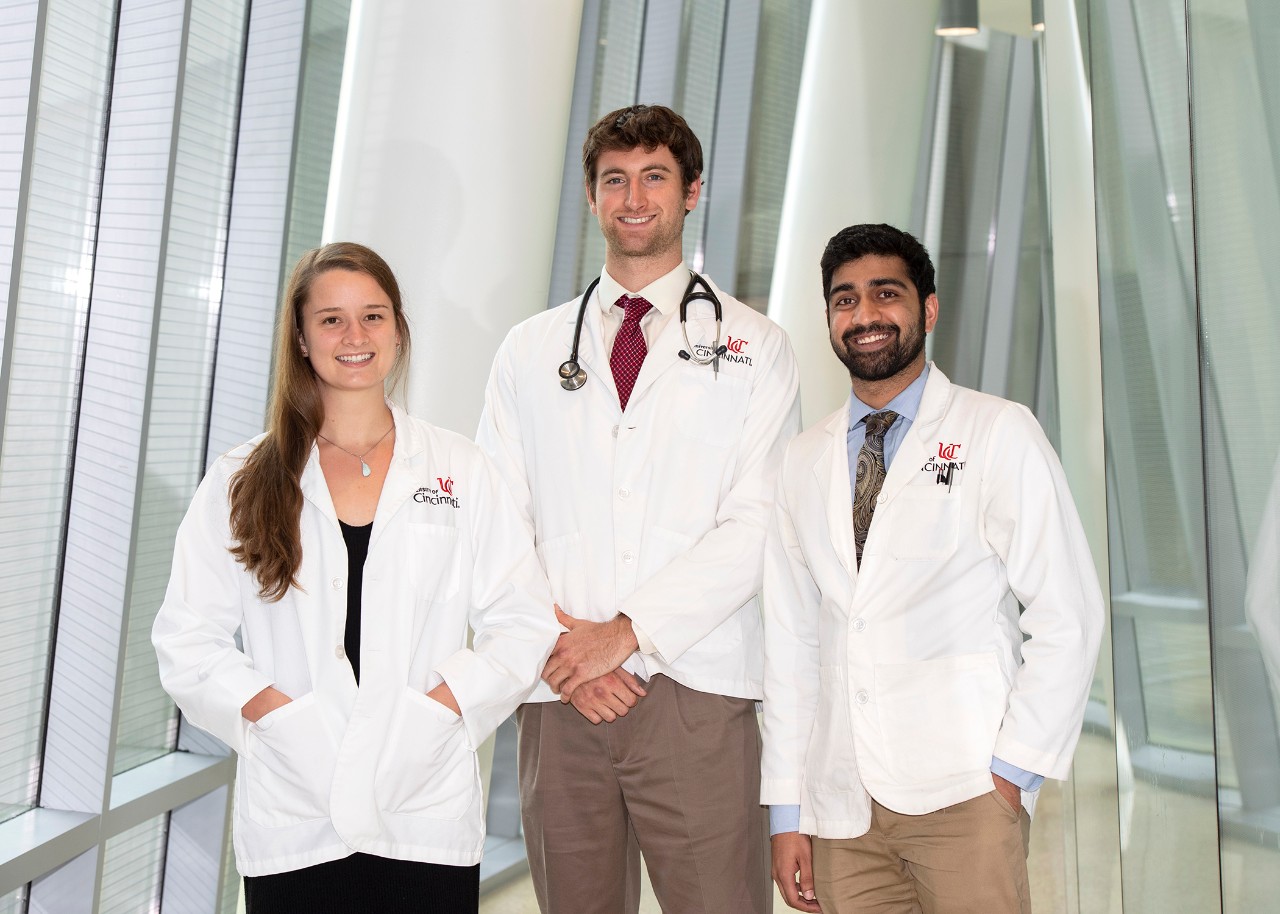 So once Hensley entered the UC College of Medicine, she began working with other students with a passion to develop a free student-run health clinic. They pulled previous proposals, conducted a needs assessment, researched how student-run health clinics in other parts of the country operated, involved students and faculty in the colleges of pharmacy and nursing and approached clinical faculty in the College of Medicine for assistance moving forward. The group found the population most likely to benefit from a clinic was based in northern Hamilton County, and reached out to the Healing Center for a potential site. The student's efforts at having a meaningful impact in their community dovetail with UC's strategic direction Next Lives Here.
"The Healing Center has so many amazing, existing resources," says Hensley. "What's most impressive is they provide such dignity for their clients and that was evident from the first time we visited. It is a beautiful place that strives to care for their clients holistically. It is a wonderful organization."
Hensley says the Healing Center, operated by Vineyard Cincinnati Church, also offers a food pantry, clothing, job services, English classes, citizenship classes, high school equivalency classes and other social services. The clinic leases its space for $1 from the Healing Center and has received donated medical equipment for exam rooms. Students have also raised $34,000 in donations to aid the clinic's operations.
 "There is a great need in Cincinnati for a clinic of this nature," says Shawn Krishnan, a second-year medical student. "When clients come into the clinic they will be triaged at the front desk and individuals in need of immediate care will go over to the exam room and interact with a patient navigator, that's someone who will follow the patient throughout the process. Afterward they will be seen by either a first- or second-year medical student along with a third-year medical student, who will be on hand to help. A physician preceptor will supervise the encounter."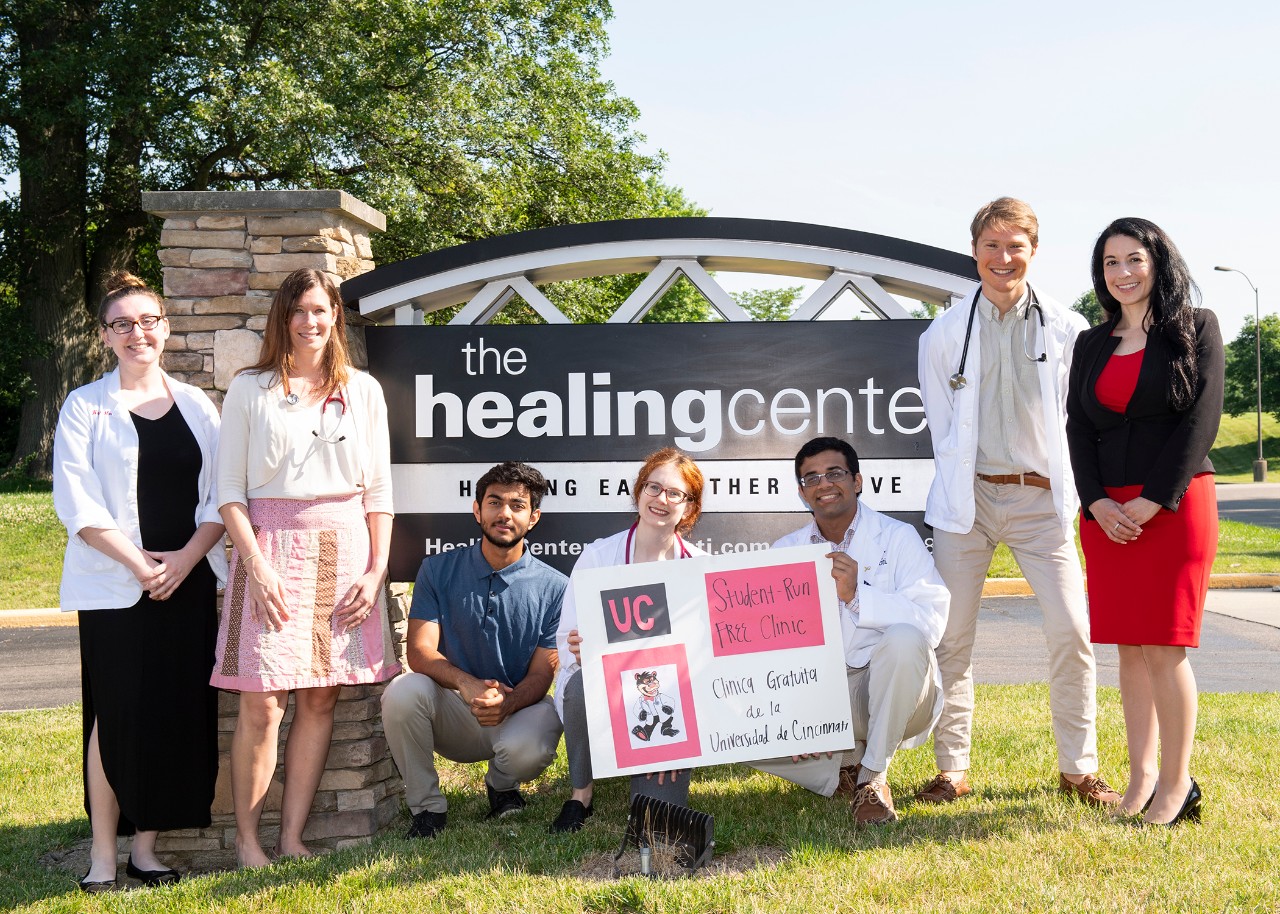 Pharmacy students answered the call for assistance in pulling the clinic together. Keely Morris, a fourth-year pharmacy student, says she met Hensley while taking an inter-professional elective and learned about the clinic's mission. Morris is one of five pharmacy students working with patient assistance programs run by drug manufacturers designed to offer free medications.
The pharmacy students have also identified a network of 20 pharmacies in area and will help patients find ones with the cheapest medications.
"The mission of the clinic really resonated well with me," says Morris. "I know there is a real need. I live in northern Hamilton County and there wasn't a free clinic in the area until now. By starting the clinic we are helping to ease some of the health disparities seen by Hamilton County residents."
Faculty advisors for the clinic include Megan Rich, MD, and Joseph Kiesler, MD, an associate professor and professor, respectively, in the UC Department of Family and Community Medicine, along with Maria Espinola, PsyD, assistant professor in the Department of Psychiatry and Behavioral Neuroscience and Kelly Epplen, PharmD, associate dean in the James L. Winkle College of Pharmacy.
"Not only does the student-run free health clinic showcase UC student initiative and creativity, but does so in a way that promotes an interdisciplinary network," explains Rich. "We have students from the colleges of Medicine, Nursing and Pharmacy coming together to try to solve real world problems."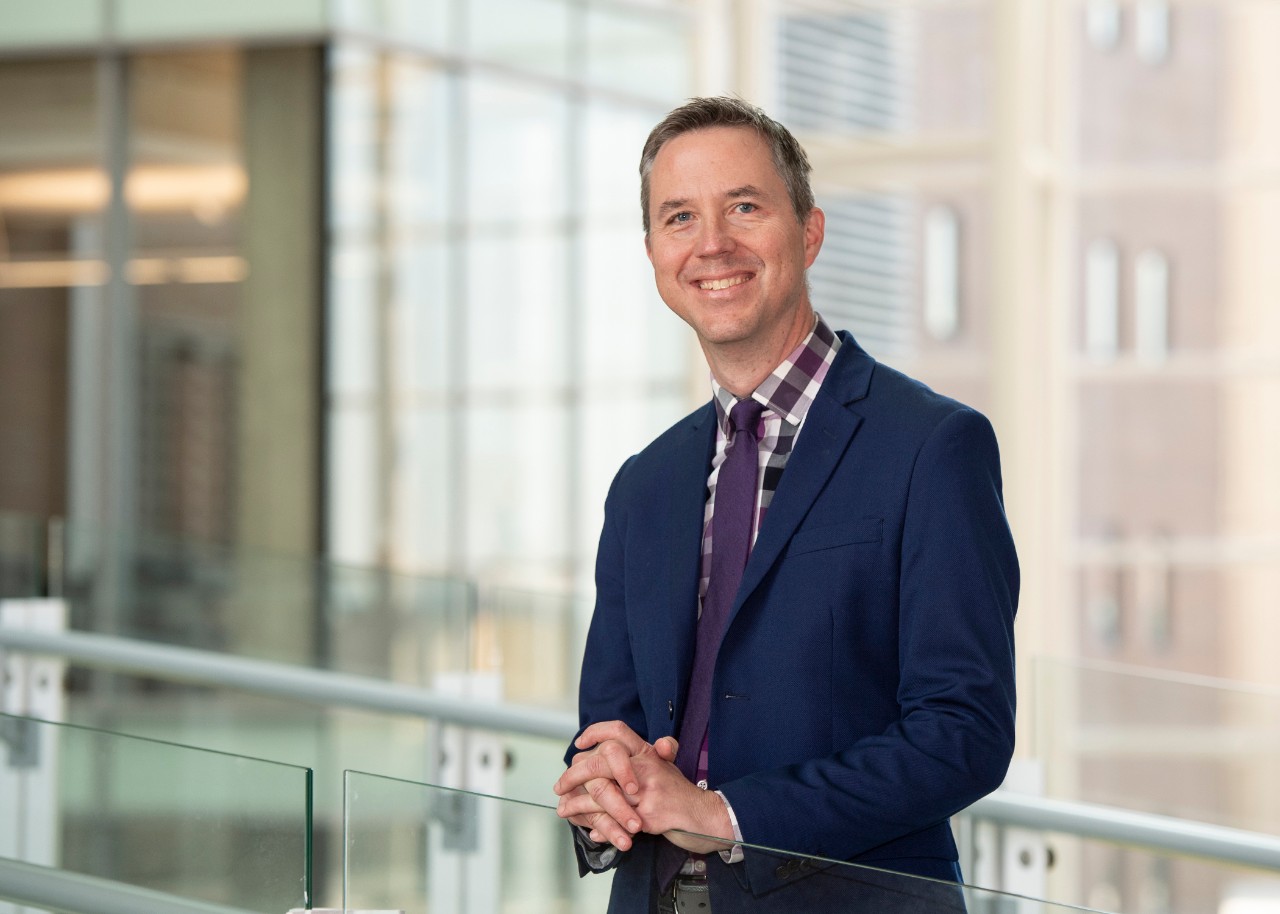 Rich says everyone volunteering at the clinic will be trained in a curriculum designed to promote cultural humility, an ongoing process that will ensure health professionals learn and are sensitive to cultural differences they may encounter with clients.
She says plenty of economic and environmental factors, such as racism, sexism and classism, often impact the health of people more than genetics.
"Our students will learn to care for patients within the context of their lives," says Rich.
"Free clinics are free from the constraints of billing, productivity measures and a provider can spend as much time as a particular patient needs for care that day," says Rich. "It is the kind of working environment that fosters a connection between people. The UC student-run free health clinic not only addresses a very real need in the community, but it is also an avenue for collaboration, learning and growing and for healing within our own institution."
Espinola says the clinic has developed real leadership skills among its student organizers. "Their initiative is incredible. I can't tell you how many obstacles they have had to overcome to keep moving forward. That entire process will help them in the future as they become leaders in our healthcare system. I am so proud of their work."
Monica Roberts, executive director of the Healing Center, says the clinic is a welcomed addition to the center.
"There can be an assumption that poverty only affects those in the inner city, but suburban poverty accounts for almost half of the growth in overall poverty in the last 15 years," says Roberts. "There are many people in the northern suburbs that benefit from some assistance in meeting their basic needs. The student run free health clinic will be a much needed support for those families."
All photos by Colleen Kelley/UC Creative Services
Be the next accomplished Bearcat
Students and faculty at the University of Cincinnati work in innovative and impactful ways. As part of the university's strategic direction Next Lives Here, UC students achieve academic excellence, maintain an innovation agenda and make an impact in urban areas and around the globe. Apply to UC as a MedCat, undergrad or graduate Bearcat and make a difference in the world.
1
WVXU: Tech CEOs talk AI with lawmakers
September 22, 2023
Professor Richard Harknett is a guest speaker on WVXU's Cincinnati Edition on the topic of AI and the need, or lack thereof, for government regulations. Professor Harknett is the head of UC's School of Public and International Affairs and is an often sought out media resource on technology, cybersecurity and governmental affairs.
2
Drugs.com: Lowering blood pressure after clot removal may not be...
September 22, 2023
Drugs.com and HealthDay highlighted University of Cincinnati research recently published in JAMA that found using blood pressure medications to lower the top number of blood pressure readings (systolic blood pressure) may not be safe or effective among people who have an acute ischemic stroke and undergo a successful mechanical clot removal.
3
UC and GE partner to introduce high schoolers to engineering
September 21, 2023
Rising 9th and 10th graders experienced a free, weeklong, immersive engineering camp at the University of Cincinnati as part of GE's Next Engineers program. Students completed hands-on engineering design challenges while being mentored by GE Aerospace volunteers, industry professionals and current College of Engineering and Applied Science (CEAS) students.
Debug
Query for this