UC student entrepreneur innovates space management technology
One UC engineering student leverages his business savvy in the tech world
Matthew Terry has accomplished a lot during his studies at the University of Cincinnati.
Terry (aerospace engineering '20) and a team of fellow UC students launched a startup called Natalus, Inc., a software and hardware company that aimed to streamline space management and give new perspective on data visualization problems.
Natalus showed a promising future in the wake of its success at the StartupUC Student Incubator. In 2018, Natalus received $50,000 in funding from the OCEAN Accelerator. Their achievements led to Terry and Natalus co-founders being named on the Cincinnati Inno 25 under 25 awards.
Natalus had built a lot of momentum. Several major corporations expressed interest in Natalus' unique approach to using LiDaR in stationary positions (as opposed to its most common application, in autonomous vehicles, like drones). The technology uses artificial intelligence and environmental sensors to provide companies with real-time data to manage their space, optimize their operations and save valuable resources.
With their product on the verge of beta testing, Terry, still a full-time student, suddenly found himself at a crossroads. Running a start-up is a 24/7 job, and he was not only an entrepreneur, but also the lead programmer at Natalus.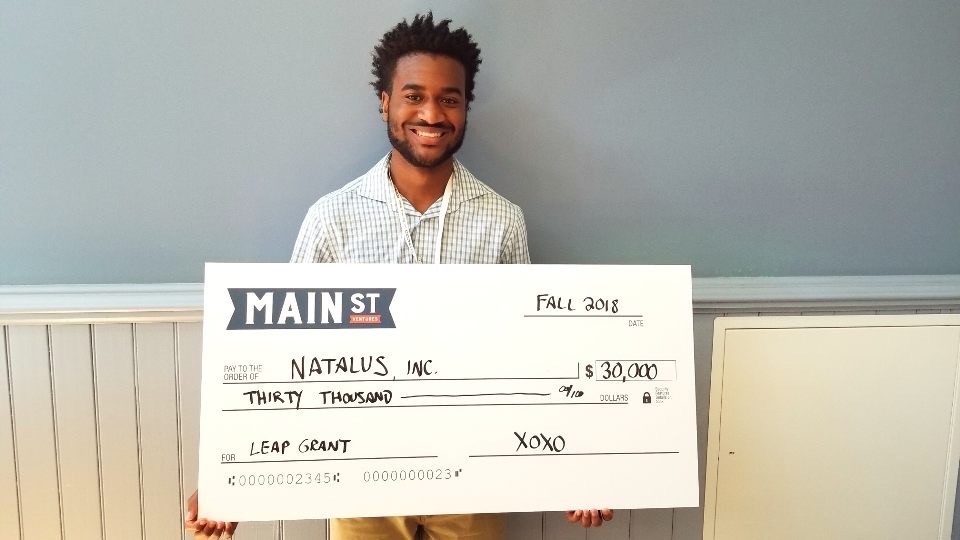 Terry cautions fellow entrepreneurs about the risks of burnout in start-ups.
He was not only challenged by constant demands of his growing business and balancing academic and personal priorities, but also people's reactions — event doubts from family and friends — along the way. 
Terry's experiences in the Edward Prather Summer Bridge program taught him the importance of developing a problem-solving mindset.
Today, he's grateful for the numerous funding and opportunities afforded to him through his experiences at UC and Natalus, including designing his own co-op 2.0 while working at Natalus for several rotations.
Terry is grateful to OCEAN accelerator not just for funding, but also for its central focus on the founders themselves, seeking to mitigate the draining effects of "the lonely journey that often results in the entrepreneur sacrificing everything."
As he attempted to arrange a more comfortable work-life balance, he discovered a welcome outlet in music; he is currently developing a hip-hop album.
Going forward, Terry is focused on finding technological solutions to improve user experience and increase efficiency.
Since May 2019, Terry has been working as an autonomous drone software engineer with Kelly Cohen, professor (and interim department head) of aerospace engineering. Recently, he spoke at the University of Dayton about his research in Cohen's lab.

One of Terry's recent contracts included a fellow UC student's company, DialGuide, a tool to "help junior sales representatives sell like their senior experienced colleagues." DialGuide could postively impact the sales productivity and professional development for representatives, as well as client satisfaction.
Terry continues to expand on his research and business applications of the LiDar technology, and there is no lack of viable applications. Companies around the globe in many suffer the costs of poor space management, and Terry's research could potentially spare the loss of valuable time, money, labor and growth opportunities every minute.
2
Venture Lab, Center for Entrepreneurship merge to boost...
December 1, 2022
The UC Venture Lab and the UC Center for Entrepreneurship will merge into a single unit. The newly integrated team will be led by Kate Harmon, executive director of the Center for Entrepreneurship and the El and Elaine Bourgraf Director of Entrepreneurship.
3
UC research seeks to protect athletes from brain injuries
December 1, 2022
Former football players worry about the effects of concussions suffered during their playing careers and hope research from the University of Cincinnati will help them and future generations avoid the worst consequences of brain injuries. UC's Office of Research hosted a panel discussion in the Flashpoint Series, "Brain Injuries in Sports: How we can help our athletes," which addressed the effects of brain injuries and how research aims to develop solutions to protect athletes.
Debug
Query for this