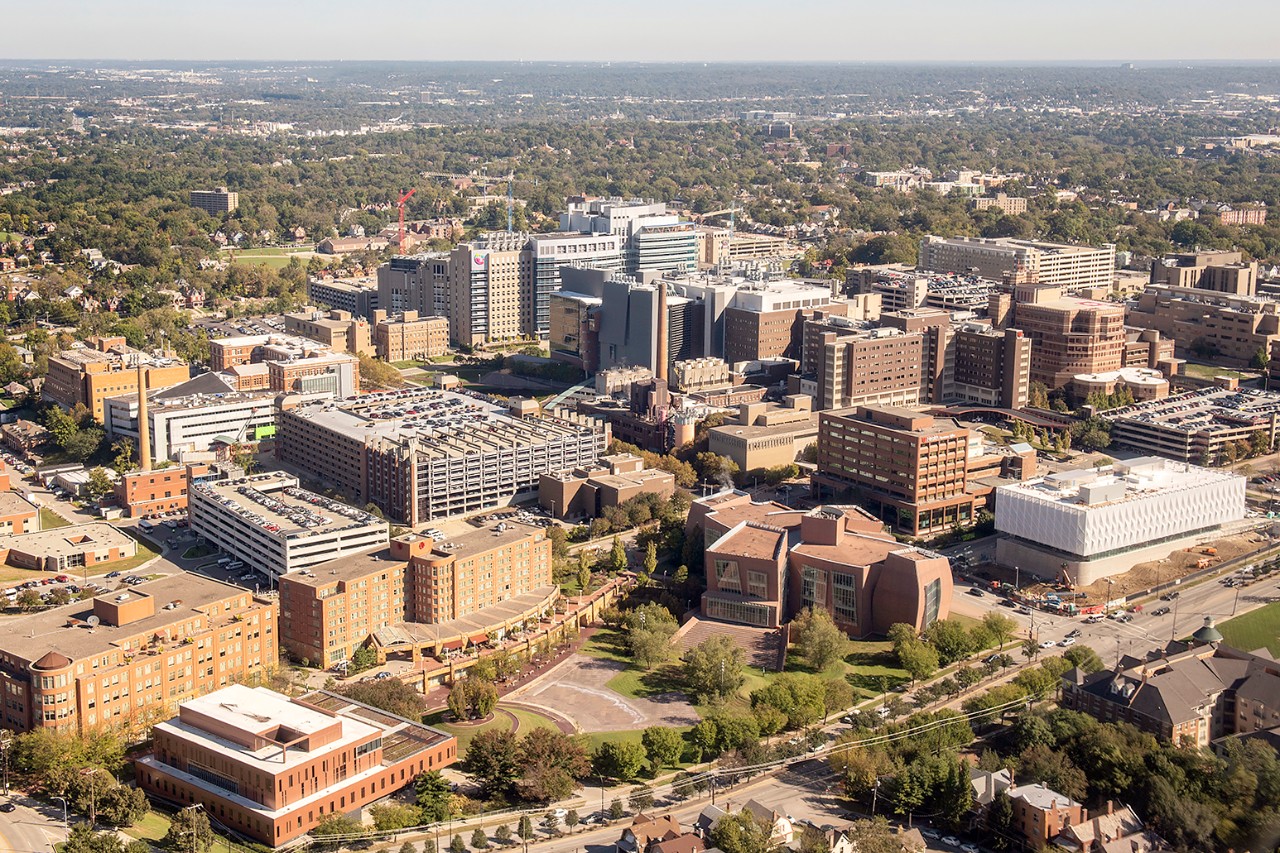 Two existing cancer entities form UC Cancer Center, with focus on NCI designation
In a step to further streamline the ongoing cancer efforts at UC, what was formerly known as the Cincinnati Cancer Center (CCC), made up of the University of Cincinnati, UC Health and Cincinnati Children's Hospital Medical Center, will now be known as the University of Cincinnati Cancer Center.
This operational combination of the CCC and the University of Cincinnati Cancer Institute, which includes all adult cancer patient care activities, will help improve coordination of cancer research activities, community outreach and clinical care at UC and UC Health.
"More than a name change, the unification of our efforts under a cancer organization that is on par with the leading centers in the country reflects the unified tripartite mission of cancer research, education and training and clinical care, eliminates overlap and maximizes collective efforts," says UC President Neville Pinto.
Dr. William Barrett, Charles M. Barrett, MD, Endowed Chair in Radiation Oncology and professor and chair of radiation oncology, and Dr. Syed Ahmad, professor in the Department of Surgery and chief of the Section of Surgical Oncology as well as director of the UC Pancreatic Disease Center, will serve as co-directors of the UC Cancer Center.
Barrett will lead adult oncology clinical patient activities at UC Health; Ahmad will oversee research and academic components as well as lead the university's efforts toward National Cancer Institute (NCI) designation.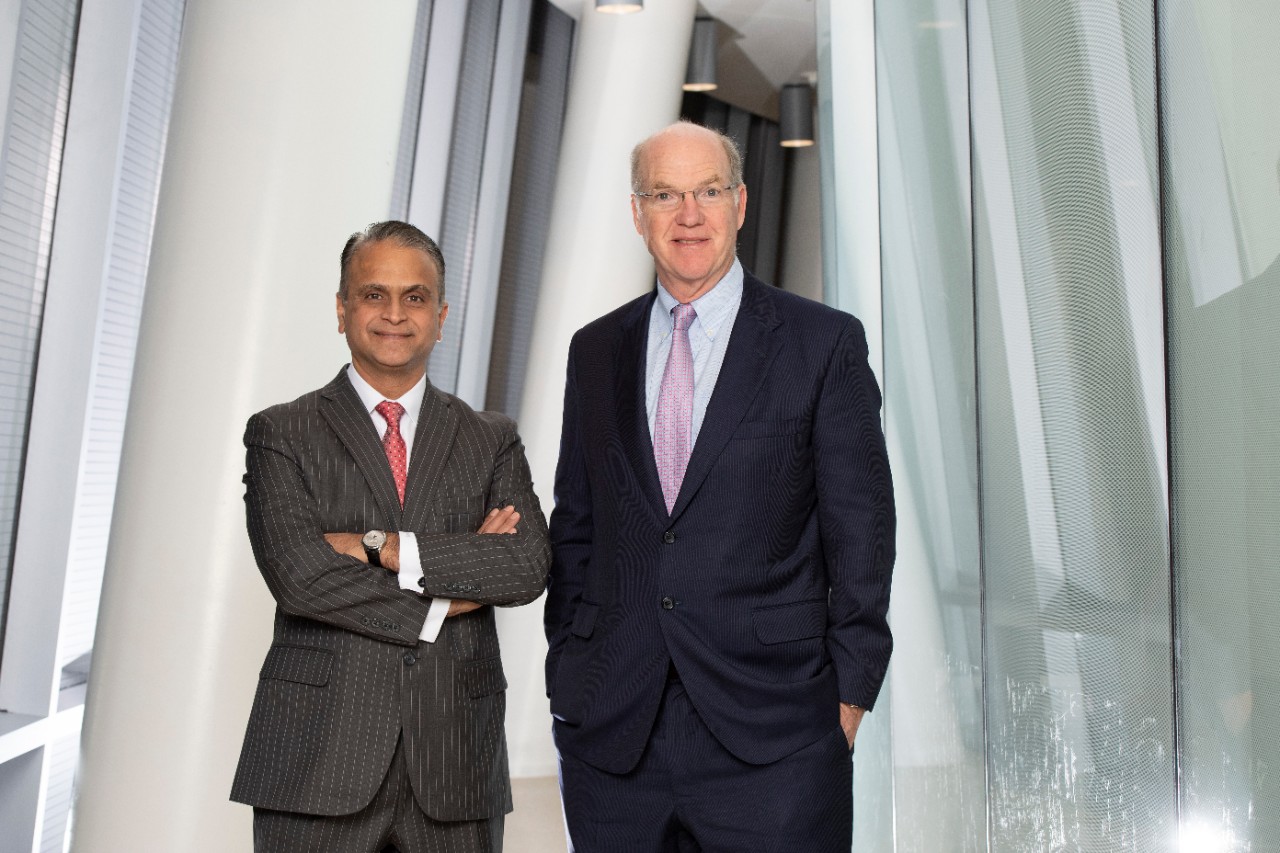 "NCI designation is awarded to academic institutions for their innovativeness and impact of their research in understanding the cause and progression of cancer, ways to diagnose and treat patients with cancer, and prevent and control the arise of cancer in the region, nation and world," says Interim Senior Vice President for Health Affairs and UC College of Medicine Dean Dr. Andrew Filak Jr. "It is recognition of the collective cancer research excellence of the UC faculty at our three institutions and is something we desire for the benefit of everyone in Cincinnati and the Tristate region. Working together with patients, families and the broader regional health care community, we believe this streamlined UC Cancer Center organization and the coordinated leadership of Drs. Barrett and Ahmad will move us in the right direction and place us in the best position to seek NCI designation when we have met all requirements."
Barrett has led the Department of Radiation Oncology since its founding in 2008. He has been the director of the UC Cancer Institute since 2014. Ahmad is an active clinician and translational researcher focusing on novel treatment approaches for pancreatic cancer.
Filak noted that the cancer research portfolio is healthy and growing, and UC scientists continue to conduct groundbreaking research. Clinical research also has grown significantly, especially with investigator-initiated clinical trials growing by nearly 50 percent in the last three years.
NCI designation would be a recognition of cancer research excellence of UC faculty from the university, UC Health and Cincinnati Children's Hospital Medical Center, says President and Chief Executive Officer of UC Health Dr. Richard Lofgren.
"Many of our clinical programs are now recognized on a national level, with patients traveling to Cincinnati from around the country to seek our expertise. This collective excellence has allowed us to recently recruit many talented researchers and clinicians, and we expect this trend to continue," Lofgren says.
Leaders also emphasized that Cincinnati Children's remains a very strong and close partner in these efforts.
"Cincinnati Children's will remain a vital partner in the cancer effort," says President and Chief Executive Officer of Cincinnati Children's Hospital Medical Center Michael Fisher. "Pediatric cancer clinicians and researchers at Cincinnati Children's hold primary and joint academic appointments in the University of Cincinnati College of Medicine. A hallmark of our cancer programs is the high degree of collaboration between researchers and clinicians who focus on pediatric cancer with colleagues whose focus is adult cancer. United through the new UC Cancer Center organization, these University of Cincinnati faculty will focus on solving the problems related to both pediatric and adult cancer, as well as the issues facing survivors after a cancer experience.
"Cancer clinicians and researchers at Cincinnati Children's—as UC faculty—will be important members and thought leaders within the UC Cancer Center, working closely with Dr. Ahmad and the administrative team of the UC Cancer Center on matters and initiatives of importance to NCI designation efforts."
Pediatric oncology, hematology and bone marrow transplant patient care and research remains under the auspices of the internationally pre-eminent Cincinnati Children's Cancer and Blood Diseases Institute and its leadership and institutional reporting structures.
1
WVXU: UC study examines hesitancy to treat childhood anxiety...
February 3, 2023
The University of Cincinnati's Jeffrey Strawn and Jeffrey Mills and Cincinnati Children's Hospital Medical Center's Angela Scott joined WVXU's Cincinnati Edition to discuss a recent study examining hesitancy to treat childhood anxiety with medication.
3
WVXU: After decades of efforts, researchers hope they're closer...
February 2, 2023
It has been more than 40 years since five patients in California developed symptoms of a mysterious disease. The virus that causes AIDS was identified a few years later, and a blood test for HIV became available in 1985. In the 1980s and early 1990s, contracting HIV was practically a death sentence. Nothing seemed to stop the virus from attacking a patient's immune system and progressing into AIDS. And while there are now treatments that can render the virus undetectable in a patient's bloodstream, a cure for HIV has been elusive. WVXU's Cincinnati Edition explored the history of AIDS and the latest on treatments, with one of the featured experts being Carl Fichtenbaum, MD, of the Division of Infectious Diseases at the UC College of Medicine.
Debug
Query for this