Making a scene: Senior Theatre Design student reflects on her time at CCM
Marissa Picciuto graduates this spring with a BFA in Stage Design, Props and Scenic Art
Cincinnati audiences might not know Marissa Picciuto's name, but they've certainly seen her work on stage at the University of Cincinnati's College-Conservatory of Music. She has worked behind the scenes of many productions, including CCM Acting's recent performances of Clybourne Park. This spring, Picciuto graduates with a Bachelor of Fine Arts in Stage Design, Props and Scenic Art with a specialization in props.
Kathryn "Kat" Miller, a technical theatre specialist in props at CCM, is Picciuto's main instructional advisor and has provided support that goes above and beyond the norm.
"She seems to know almost everything there is to know about props construction," Picciuto says. "She is also available around the clock to answer any question I can come up with."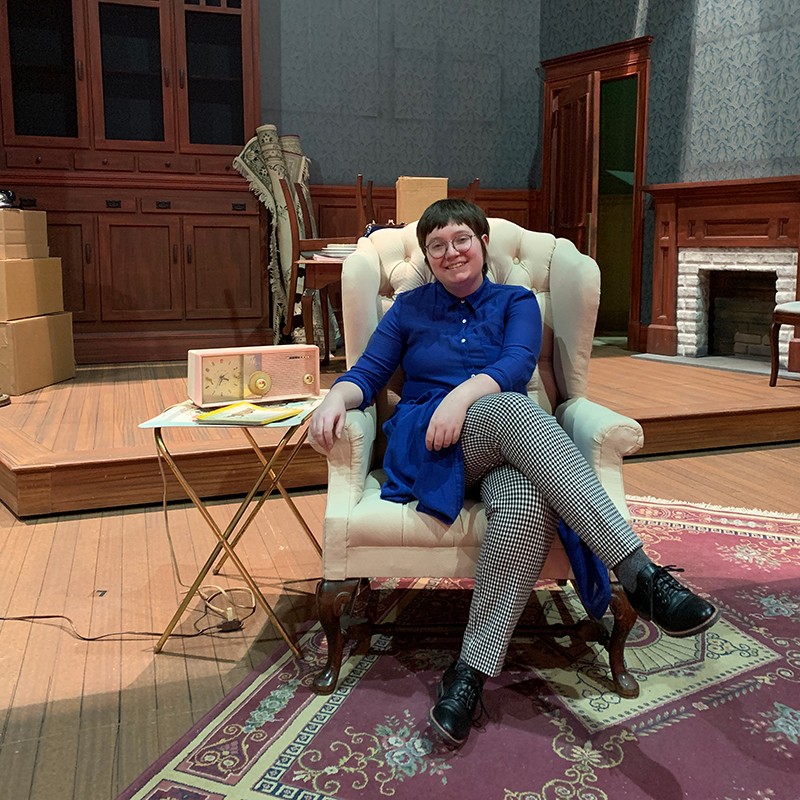 Picciuto describes her top skills as using Photoshop, upholstery and period knowledge. She served as the props master for Clybourne Park and Seussical, as well as assistant props master for Mack and Mabel. As the title of her degree implies, she has worked on more than just props during her time at CCM. She was the scenic designer for Dinner at Eight, as well as the assistant scenic designer for Jesus Christ Superstar, Hamlet, The Government Inspector and Very Dumb Kids. Additionally, Picciuto served as the production designer for Phantom Limbs, a short film directed by CCM Acting student Lucas Prizant.
CCM Associate Professor of Scenic Design Mark Halpin has been instrumental in Picciuto's success with these forays beyond props design.
"After taking my CAD drafting class last fall, I felt that I needed more practice in drafting for scenic design and props specifically. Professor Halpin created a Special Topics class for me to have experience drafting complicated props-based projects. That has ended up being one of the most helpful classes I've taken," Picciuto says.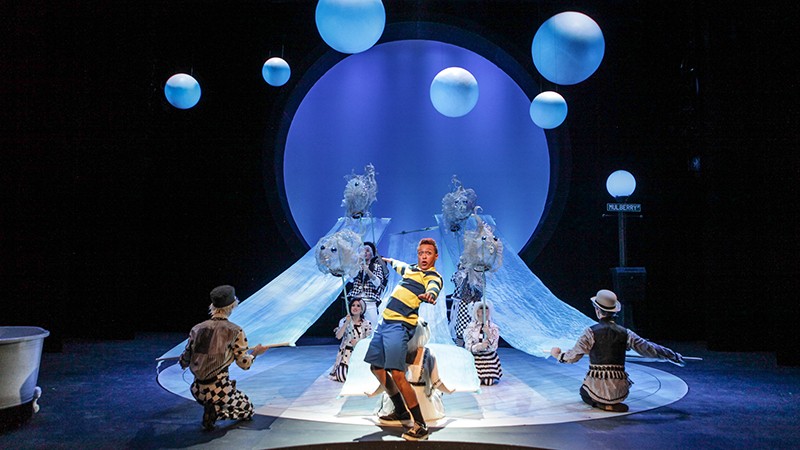 Undergraduate students in CCM's Theatre Design and Production programs participate in crew assignments outside of their major, especially early in the degree program. At CCM, Picciuto has been part of the wig and make-up crew for Mack and Mabel, a member of the costume crew for Cendrillon and production assistant and dog handler for The Curious Incident of the Dog in the Night-Time.
Picciuto also works outside of CCM's halls, almost exclusively doing props work. Last summer, she was the assistant props master at the Williamstown Theatre Festival in Massachusetts. Picciuto worked on four world-premiere plays at the festival, two of which later transferred to major theatres in New York City. Her other credits include props master at the Cape Playhouse on Cape Cod and props work with Willy Wonka at Covington's Carnegie Visual and Performing Arts Center.
One reason that Picciuto has been able to devote such a significant portion of her time to her professional success – with excellent results – is the financial support she receives from CCMpower.
My CCMpower scholarship has allowed me to continue my education here without the burden of financial strain. Being a college artist is expensive, and this scholarship has allowed me focus on finishing my degree without worry.
Marissa Picciuto
"This is absolutely the school for me, and I am extremely grateful for the opportunity to go here with the support of CCMpower."
After her graduation, Picciuto plans to attend another summer theatre festival as a props artist, and then she will move to New York City to work in the biggest theatre market in the country. She is currently interviewing for summer positions and props opportunities in the Big Apple.

Who will you empower NEXT?
In order to recruit and retain top talent, CCM must be able to offer competitive scholarship and grant opportunities to our students. CCMpower raises funds through membership and special events in order to provide the resources that attract the best and brightest students. Learn more about how you can empower the next generation of CCM stars.
Story by CCM graduate student Alexandra Doyle
Feature image at top: CCM Acting students on stage during the college's performances of Clybourne Park. Photo/Mark Lyons