UC Faculty Awards 2020: Lori Krafte
UC law awardee honored as Outstanding Adjunct Professor
When Lori Krafte graduated with her doctorate degree in the philosophy of religion and theology, she quickly sought out positions that would allow her to pursue her dream of teaching.  Although she had gained experience as an adjunct faculty member at prestigious universities, Krafte would soon find the professional landscape in her field to be a bleak one, with tenure-track jobs scarce to nonexistent.  
"I thought, 'Okay, I need to do something else,'" said the enterprising Krafte. "I'd always thought of going to law school since I was a young kid and I thought, 'It's not too late.'"
Krafte would discover a passion for the law, particularly in the area of trademark, copyright and advertising law, but she still had one regret about her choice to change career fields.

"I thought I was giving up the teaching," she said. "I love it when students are just getting interested in something. You can help them make connections and you can see them get excited. I like being part of that process of discovery."
And so when Krafte was asked to begin teaching law courses at the University of Cincinnati College of Law, she didn't hesitate.
"It was perfect because I had everything. I had the career that I want, but I also then got to teach, which is the one thing I missed about my former career. It's really the best of both worlds," she said.

And for Krafte, the best of both worlds makes for a busy day. Not only is she a partner at one of Cincinnati's leading intellectual property firms, but she also maintains a teaching load nearly equivalent to that of a full-time faculty member at the College of Law.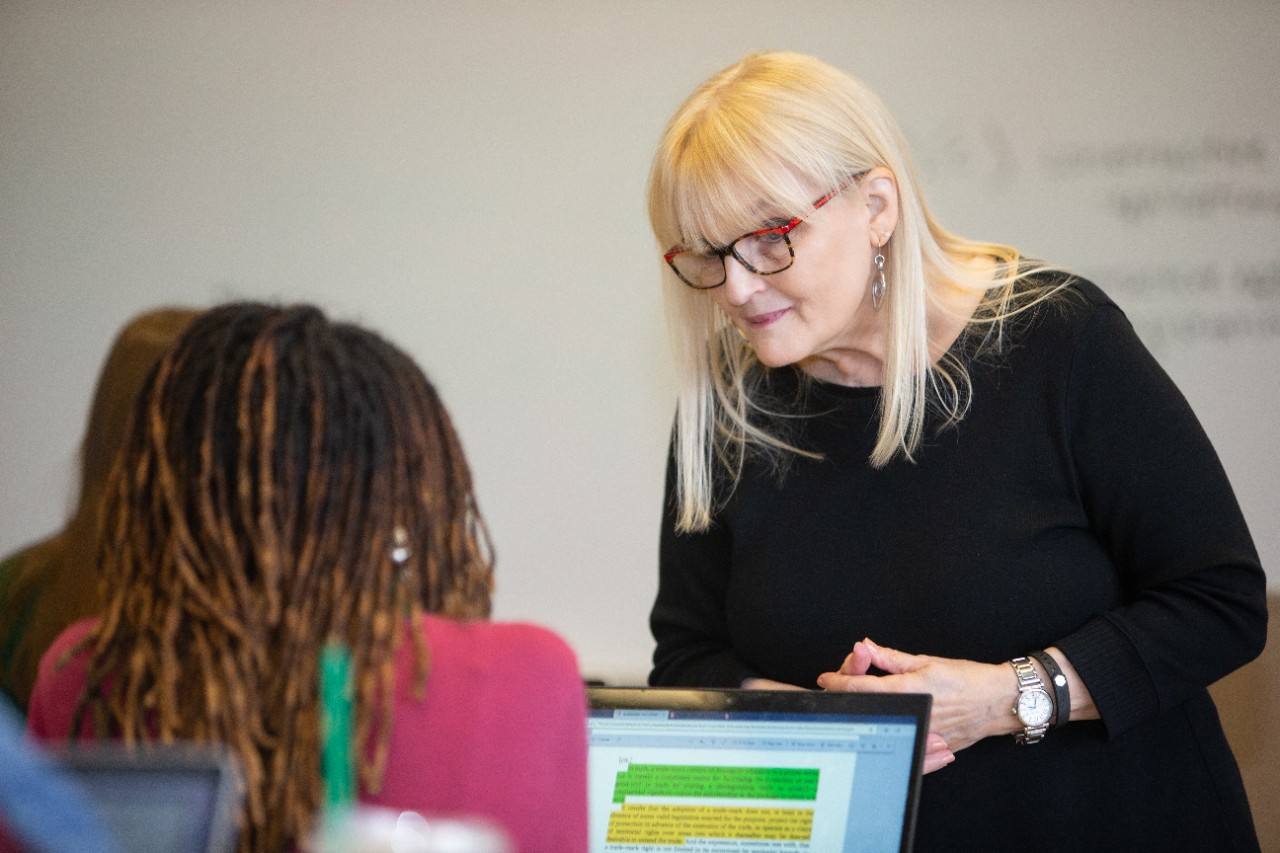 In 2017, she helped launch the college's Patent and Trademark Clinic and serves as its co-director. Students working in the clinic provide trademark registration and other intellectual property services to clients under the supervision of experienced attorneys. Krafte also co-teaches a classroom component.
"Having taken both of Professor Krafte's classes during the clinic's inaugural year, I can unequivocally say they were the best courses I experienced during my law school tenure," said Jorge Tameron, a 2019 UC College of Law graduate. "Seeing how Professor Krafte effectively managed everything that she does gives me hope that one day I too can handle this type of contribution to aspiring lawyers while carrying out a successful career."

Juggling a full-time career while teaching three courses a year is demanding, admits Krafte. But if it's something you want to do, you'll find the time for it, she says. And teaching is what she wants to do.
"It's the most fun thing I do with my law degree," said Krafte with a laugh. "I love my practice and I love my firm. But the teaching is really where my heart is."

Featured image at top: UC College of Law building in spring. Dottie Stover/UC Creative + Brand
UC Faculty Awards
UC is saluting the 16 winners of our 2020 All-University Faculty Awards in a three-part series in UC News weekly through April 22. Beginning April 23, all winners will also be showcased on the Faculty Awards website.
2
Touchdown for sustainability
October 2, 2023
In an ongoing pursuit to maintain an eco-friendlier campus and stadium, UC Sustainability is rallying as much fan support as possible to properly dispose of the mass of bottle and can recyclables too often left behind inside and around Nippert Stadium.
3
Ledger donates digital asset security to the University of...
October 2, 2023
A recent gift from Ledger, a global platform for digital assets, will benefit students and research at the University of Cincinnati. Ledger has donated the use of its Enterprise Platform, a cutting-edge digital asset security solution that will enhance the university's technological capabilities in the cryptoeconomics area. This generous donation supports student learning at the Kautz-Uible Cryptoeconomics Lab at the Digital Futures building.
Debug
Query for this