Cincinnati native says medicine is her passion
Fourth-year student finds community in medical sciences program
Marianne Emmert's path to medicine has come with a couple of stops.
The 21-year-old medical sciences major considered a career in business before testing the waters of nursing. She was drawn to the field after joining other family members in taking care of her ailing grandmother. That experience really resonated with the Cincinnati native.
"We moved closer to my grandmother, and that experience really made me want to pursue a career in health care," says Emmert, now in her fourth year at the University of Cincinnati.
During her second year as a nursing major, Emmert started doing clinical rotations where she encountered patients and found an even stronger calling. "I really enjoyed that. Then I talked to my advisors who told me if I was really passionate about patient care to consider switching to a premed major."
Emmert sent an email to Anil Menon, PhD, associate dean for baccalaureate education and director of the UC medical sciences program. She figured he was pretty busy and thought her inquiry could easily get lost in his hectic schedule.
But within two hours she got a call back and an extensive conversation with Menon about finding her passion in life.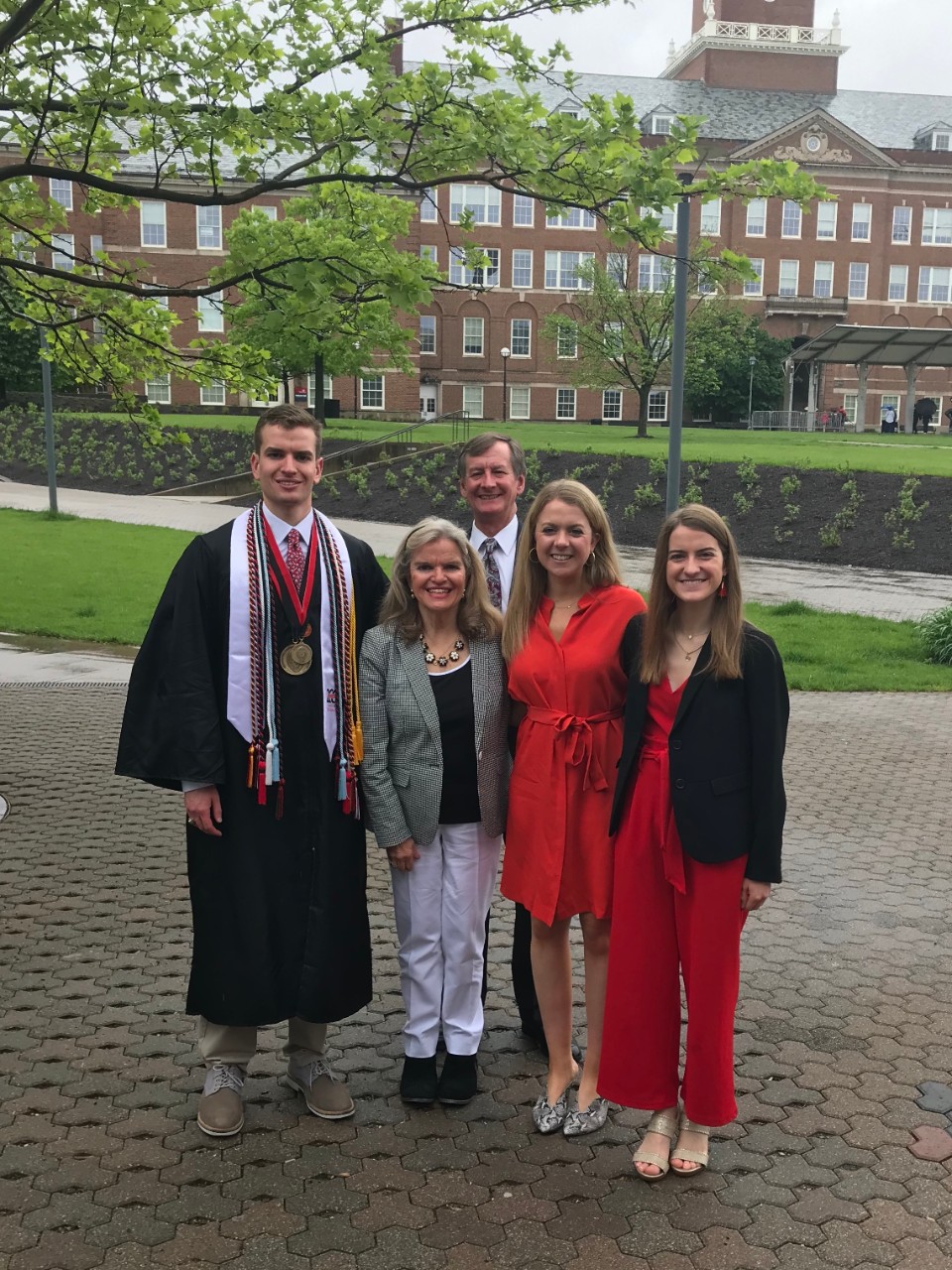 "He helped solidify my decision to enter the medical sciences program and work toward medical school," says Emmert, who will complete a fifth year at UC with the major change.
Started in 2015, the medical sciences program aims to train students for medical school or to obtain advanced degrees in the sciences along with possible careers in allied health sciences, dentistry or in medical laboratories. Menon, a founder of the program and arguably its biggest cheerleader, is known for the sage counsel he has offered students interested in a career in health care or the basic sciences.  
It's okay, if they decide on another field after sampling a medical science course. He just wants them to have a life that's well-lived and impactful.
Menon often turns to the Greek philosopher Aristotle and uses a powerful metaphor when counseling students. Emmert says she won't forget the talk Menon provided about "finding her horse."
In Menon's office are three decorative watercolor paintings showing a rider in Native American apparel with horses. One painting shows a perplexed person who doesn't know which horse is theirs. Another shows a horse wanting to go in one direction while the rider clearly wants to go in the opposite direction.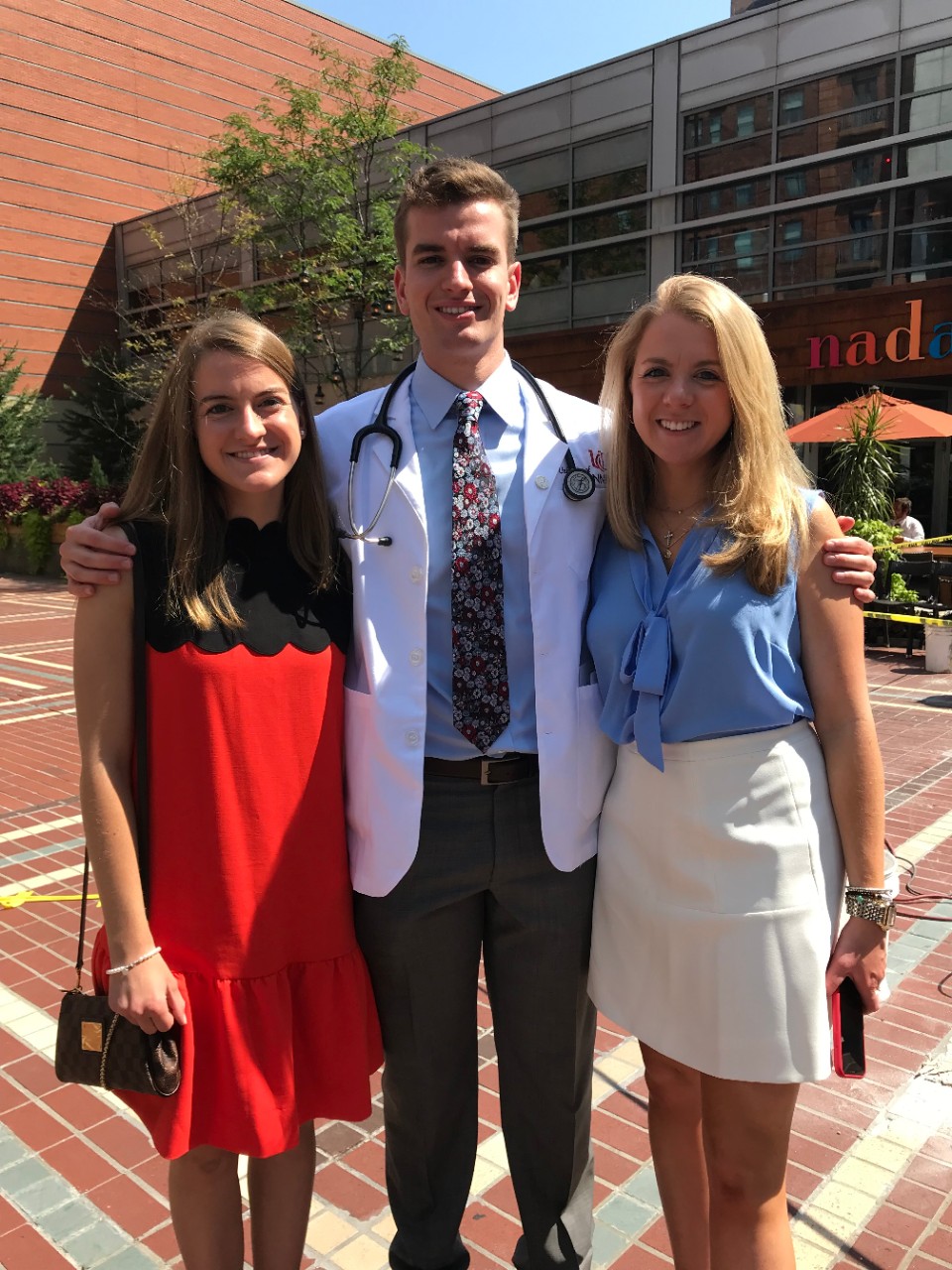 "You know you are passionate about something, but you don't know how to harness it or guide it," explained Menon during a previous discussion. "It's a necessary period of life and is a sign of growth. Perplexity is a part of the growth and development of an individual."
The final painting shows the horse and rider moving in the same direction.
"Aristotle had a very good insight. He said you should not follow your passion but you should guide it," says Menon. "He made the analogy that our passions are like horses, very powerful and strong but sometimes they can run in the wrong direction.
"If you follow your passion there is a chance it will go in the right direction, and there is also a chance it will go in the wrong direction. So if our passions are our horses and we want them to go in the right direction, then we want to guide these horses.
"What guides our horses? Our intellect. What greater place to groom our intellect than in college. Our intellect is like a rider who might not be very strong and certainly not as strong as a horse. A horse provides strength and energy, but the intellect provides guidance and the wisdom and the experience."
No surprise that Emmert has become a big medical sciences enthusiast serving as one of about a dozen "med-sci ambassadors" — current students who speak with newly admitted high school seniors and their parents about the program. In the midst of COVID-19, all the contacts are remote and occur via Zoom, Webex or FaceTime.
Emmert loves the small intimate classes in medical sciences and that courses are taught by College of Medicine faculty — often the same faculty who teach UC medical students.
"I couldn't be happier actually with my choice," says Emmert. "I am really grateful for all the courses and majors that I have had in the past that have led me to this point. I really believe I have found my fit in medical sciences."
Emmert, a Cincinnatus scholar, is also part of the University Honors Program. A graduate of St. Ursula Academy in Cincinnati, Emmert is a student researcher in the laboratory of Roger Cornwall, MD, a pediatric hand surgeon at Cincinnati Children's Hospital Medical Center and a professor in the UC departments of Orthopedic Surgery and Pediatrics.
She assists Cornwall who runs a basic science laboratory investigating the neurological control of postnatal muscle growth, aiming to develop novel physiological treatments for neuromuscular contractures. Under the direct mentorship of Qing Goh, PhD, Emmert investigates the efficacy and long-term effects of an FDA-approved drug, bortezomib, for preventing muscle contractures, or the shortening and hardening of muscles, tendons or other tissue, often leading to deformity and rigidity of joints.  
Emmert was recently inducted into Omicron Delta Kappa. She also finds time for extracurricular activities, such as UC's ROAR Tour Guides, and is a member of Kappa Alpha Theta sorority having served on the organization's philanthropy, scholarship and nomination committees in previous years.
Featured image at top: Marianne Emmert shown on the UC campus. All photos submitted by Marianne Emmert.
Stay a Bearcat
Your academic goals are important to us, and we have caring staff ready to help you reach them. Reach out to schedule a conversation or learn more about your next steps.
1
Why we still need Black History Month
January 26, 2023
While Black History Month is an opportunity for all Americans to consider concepts central to the founding of the nation — democracy, freedom and equality — the University of Cincinnati propels the diversity, equity and equality momentum by honoring Black Americans' extraordinary impact through engaging lectures, open classes, food, galas and off-campus activities.
2
A foundation of faith and philanthropy
January 25, 2023
Jerry Harris, JD '72, is not the fearsome litigator you expect when he opens the door to his home. His hair is shoulder-length; his feet are bare. He has two raucous (yet adorable) dogs on leashes and an adorable grandchild on the couch with his wife of 50-plus years, Carol.
3
Spectrum News: FDA proposes annual COVID boosters
January 25, 2023
The FDA is recommending an annual COVID-19 booster shot for most adults and children. Spectrum News interviewed Carl Fichtenbaum, MD, of the Division of Infectious Diseases at the UC College of Medicine to get his reaction to this recommendation.
Debug
Query for this