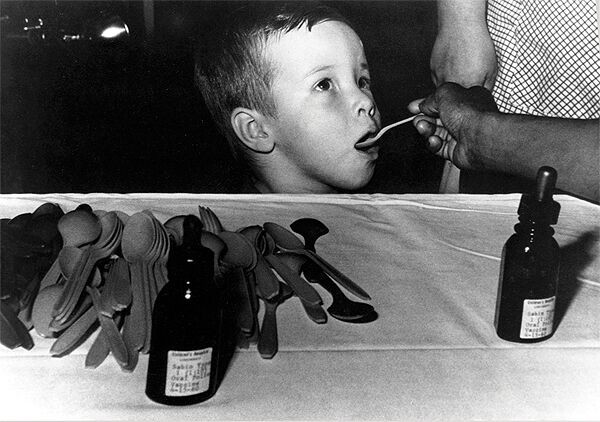 MSN: Who created the polio vaccine?
New generation discovering UC virologist Albert Sabin's work — the polio vaccine
The COVID-19 era is casting light back more than a half century to the time when former University of Cincinnati virologist Albert Sabin developed the live oral polio vaccine. Recent worldwide media coverage, including the latest from MSN, is highlighting the health care hero's work. 
"By 1963, Sabin had created an oral live-virus vaccine for all three types of poliovirus that was approved for use by the U.S. government," states the MSN story. "Sabin's version was cheaper and easier to produce than the Salk vaccine, and it quickly supplanted the Salk vaccine in the U.S."
In 1972, Sabin donated his vaccine strains to the World Health Organization (WHO), which greatly increased the vaccine's availability in low-income countries.
Impact Lives Here
The University of Cincinnati is leading public urban universities into a new era of innovation and impact. Our faculty, staff and students are saving lives, changing outcomes and bending the future in our city's direction. Next Lives Here.

Stay up on all UC's COVID-19 stories, read more #UCtheGood content, or take a UC virtual visit and begin picturing yourself at an institution that inspires incredible stories. 
1
WVXU: Tech CEOs talk AI with lawmakers
September 22, 2023
Professor Richard Harknett is a guest speaker on WVXU's Cincinnati Edition on the topic of AI and the need, or lack thereof, for government regulations. Professor Harknett is the head of UC's School of Public and International Affairs and is an often sought out media resource on technology, cybersecurity and governmental affairs.
3
Drugs.com: Lowering blood pressure after clot removal may not be...
September 22, 2023
Drugs.com and HealthDay highlighted University of Cincinnati research recently published in JAMA that found using blood pressure medications to lower the top number of blood pressure readings (systolic blood pressure) may not be safe or effective among people who have an acute ischemic stroke and undergo a successful mechanical clot removal.
Debug
Query for this