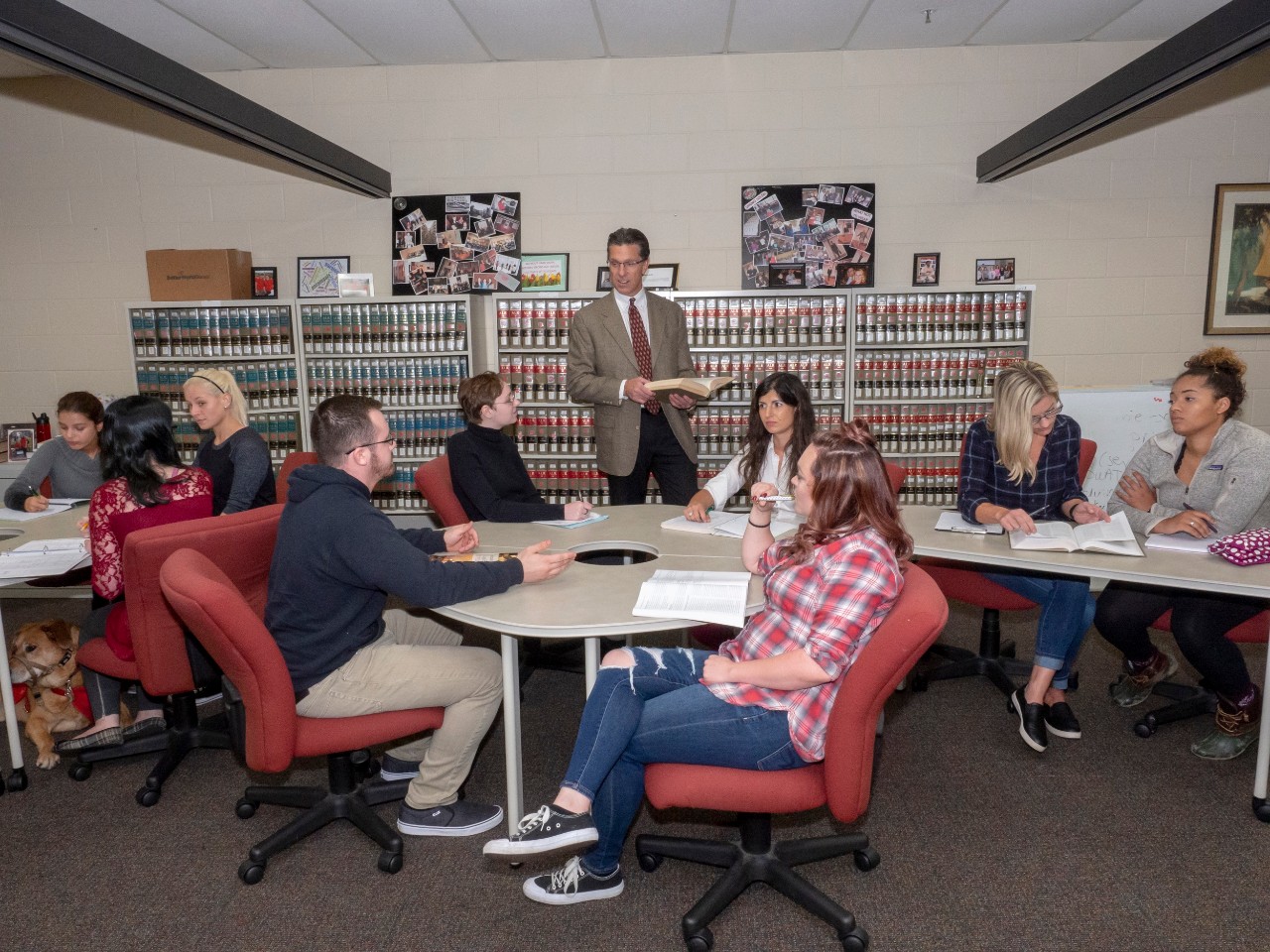 UC Clermont paralegal program offers free legal clinics
Virtual clinics provide needed service for clients, hands-on experience for students
UC Clermont College's paralegal program will offer a series of free virtual legal clinics to local residents this fall. The first clinic, focused on advanced directives such as health care powers of attorney and living wills, will take place Tuesday, Sept. 22 from 6-8 p.m.
The clinics, sponsored by a grant from the Ohio State Bar Foundation, offer clients the opportunity to receive professional legal assistance, with local attorneys providing support alongside UC Clermont paralegal students and faculty members. And for the 18 paralegal students participating, the clinics offer priceless practical experience.
"Our paralegal students will get hands-on experience helping real-world clients," said David Myers, paralegal instructor and clinic director. "This kind of experiential learning provides our students with more marketable skills, increased confidence, improved job prospects and greater professional success. Plus, the UC Clermont Legal Clinic will directly serve the local community and its residents, improving access to justice and giving a hand-up to those who need it most during these challenging times."
UC Clermont paralegal student Paul McKibben, a former journalist, said the virtual nature of the clinics, which was altered from an in-person format because of COVID-19, offers potential benefits to clients as well. Organizers are particularly hoping to reach clients in counties east of Cincinnati, such as Clermont, Brown and Highland, where residents sometimes experience economic and geographic barriers to accessing legal services.
"The remote format might not be as intimidating as walking into a lawyer's oak-panelled office," McKibben said. "And for students, it's an opportunity to take what we are learning in textbooks and actually help people."
After the September event, three additional clinics, each with a different legal focus, are scheduled: Oct. 13 – expungements; Nov. 3, domestic; and Dec. 1, unemployment. All clinics are free of charge to clients. Consultation with the paralegal will be conducted via Microsoft Teams and can be accessed from a computer or mobile device. The program will follow strict ethical requirements to protect client confidentiality. Paralegals may not provide legal services directly to the public, except as permitted by law.
For more information or to RSVP for the Sept. 22 clinic, contact David Myers at myersdj@ucmail.uc.edu or (513) 404-7887.
1
UC co-op student delves into digital complexities of operations...
May 26, 2023
Raised in the Queen City, Joel Engelhardt began college out of state but returned in 2022 to study in the University of Cincinnati's Carl H. Lindner College of Business. At a Cincinnati Innovation District (CID) career fair, Engelhardt met Jesse Lawrence, director of partner success at the UC 1819 Innovation Hub. While serving as a co-op student this spring, Engelhardt had the chance to blend his skills in operations management, research and software development to create customized solutions for strategic partners.
2
UC to be national leader in name, image and likeness...
May 25, 2023
It has been almost two years now since the NCAA instituted its policy regarding name, image and likeness (NIL) for student athletes. Almost immediately following the establishment of NIL rules and policies, University of Cincinnati Athletics dove headfirst by launching IMPACT, a comprehensive NIL development program. UC then went a step further to maximize those opportunities for UC student-athletes by establishing a groundbreaking partnership with Altius Sports Partners as one of six departments that will participate and place full-time Altius personnel as part of a new program.
3
UC student reveals insight into pandemic's effects on nonprofits
May 24, 2023
Analysis conducted by a University of Cincinnati economics and marketing student has provided a better understanding of the COVID-19 pandemic's effects on the nonprofit industry. Annie Hugenberg, Carl H. Lindner College of Business senior and Kautz-Uible Amanda Wait Research Fellow, spent the past semester conducting an in-depth analysis of the economic landscape of Cincinnati's nonprofit sector, culminating with her presentation at the first-ever installment of Better Together — a workshop series for the local nonprofit community made possible by OneSource Center for Nonprofit Excellence, the Leadership Council for Nonprofits, the Cincinnati chapter of the Association for Fundraising Professionals, Interact for Health, and Pro Bono Partnership of Ohio.
Debug
Query for this