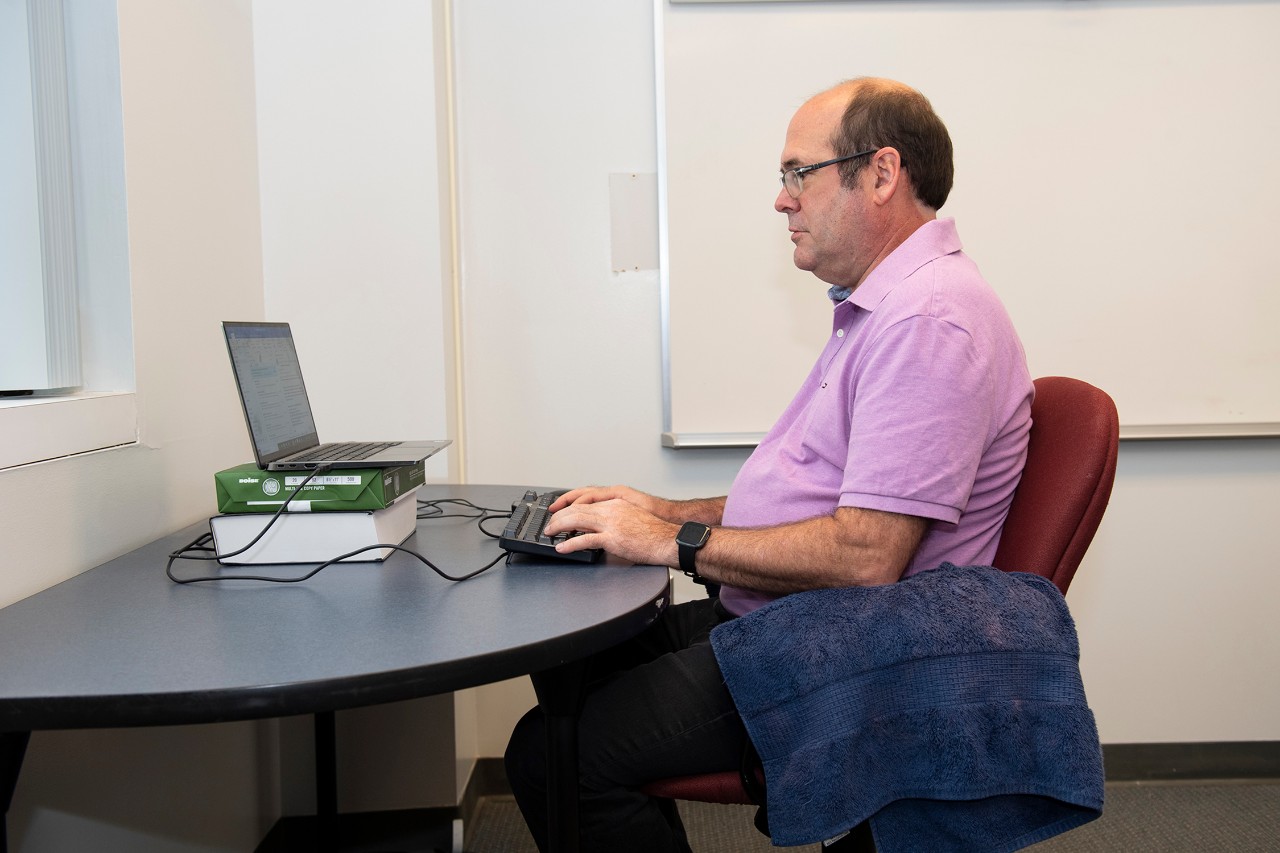 The Wall Street Journal: Does a Dedicated Workspace Make WFH Life Better?
UC ergonomics expert says poor office space posture poses carpal tunnel and other risks
The COVID-19 pandemic has forced employers across the nation to ask workers to operate from home. Often that comes with little guidance in creating an office work space that takes proper ergonomics into account. Kermit Davis, PhD, UC expert in office ergonomics and professor in the College of Medicine, spoke with the Wall Street Journal about how this may be affecting the health of workers.
A recent survey by Davis found that 75 percent of at-home workers reported hunching over laptops, which can add up to 10 pounds of pressure on the neck and upper back for every inch you dip forward.  Also, working for a laptop on the kitchen table can pose some risks for carpal tunnel if you are leaning into the table from a chair.  The survey findings were published in Ergonomics in Design.
The Wall Street Journal interview with Davis is available online.  (Note a subscription may be required though a copy is also available emailing cedric.ricks@uc.edu)
Read a UC story about research from Dr. Davis.
Featured photo of Kermit Davis, PhD, taken by Colleen Kelley/ UC Creative + Brand.
2
Fox19: UC hosts international aerospace conference on AI
June 2, 2023
UC College of Engineering and Applied Science Professor Kelly Cohen talks to Fox19 about how artificial intelligence is becoming more ubiquitous as it becomes more trustworthy. UC is hosting an international conference on artificial intelligence.
3
WVXU: Companies are losing ground on DEI efforts
June 2, 2023
Littisha Bates is a featured guest on WVXU's Cincinnati Edition to discuss the topic of diversity, equity and inclusion (DEI) in the workplace. Bates is UC's associate dean for inclusive excellence and community partnerships.
Debug
Query for this