Graduate student is making drones safer to fly
Zach Wells was named Engineer of the Month
James "Zach" Wells has been selected as the Graduate Student Engineer of the Month by the University of Cincinnati College of Engineering and Applied Science. Wells earned his bachelor's in mechanical engineering from the University of Cincinnati in 2018 and he is working toward his master's degree and Ph.D at UC. Wells shares more about his UC experience.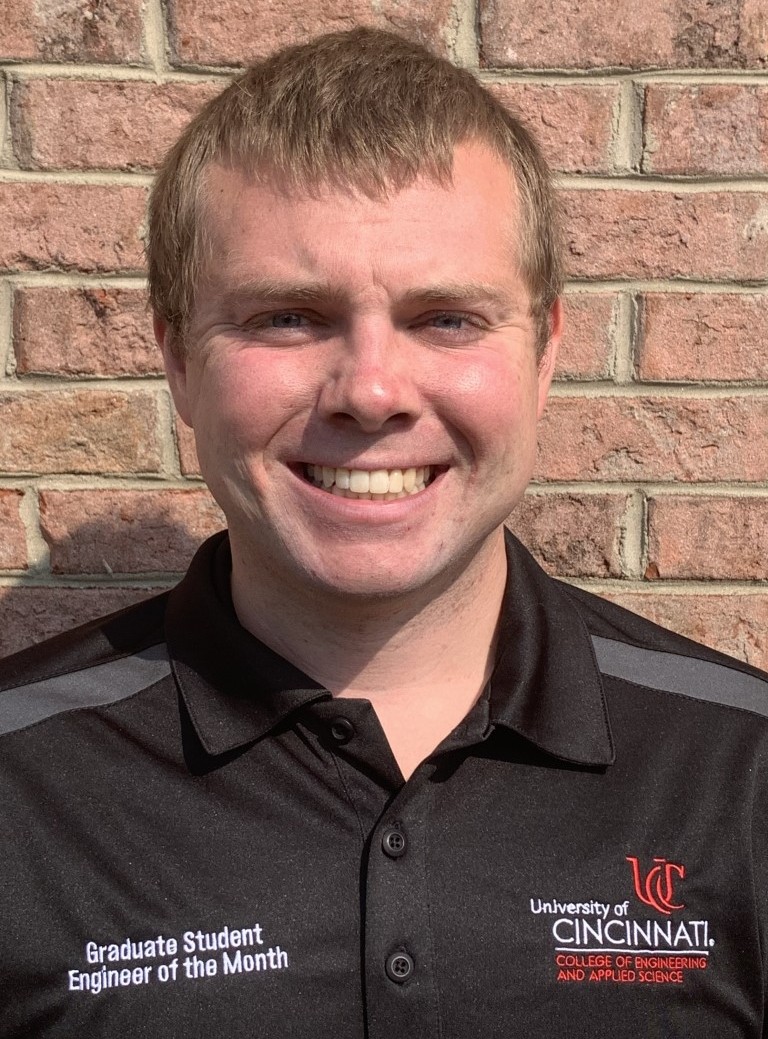 One of the main reasons for choosing undergrad at UC was the co-op program. It was a great experience and allowed me to practice what I had learned in class in industry. 
I chose to stay at UC for my master's because of the great experience I had in undergrad and the opportunities provided by Dr. Manish Kumar. Before I had even finished my senior year in 2018, I had already been accepted into the Cooperative Distributed Systems (CDS) lab directed by Dr. Kumar and was assigned to work on a project in association with the U.S. Department of Homeland Security to work on drones for emergency response.   
The DHS project really got me involved in the lab and was a great starting point for my journey. The highlight of the project was when we went to Disaster City in College Station, Texas, and I had the opportunity to pilot our drone and showcase our capabilities in front of members of the DHS as well as other sponsoring groups of the project.
What are some of the highlights of your research work?
My research focus while at UC has been on robotics and control systems. More specifically, I work with Unmanned Aerial Vehicles (UAVs). Two of my most significant works include co-developing a brand-new system of quadcopter and developing an algorithm to predict UAVs' future positions while in flight.  
The new quad-copter design consists of sliding arms which can change lengths and modify the attitude angles of the vehicle. A paper on this work is being published in iROS 2020. 

The algorithm is of both academic significance as well as personal significance. The idea is related to work with the Ohio Federal Research Network and Air Force Research Lab on a UAV traffic management system. This project was a turning point for me and really pushed me to get outside of my comfort zone. One of the project goals is to enable safe integration of commercial UAVs into the National Air Space. This is my first published work as the first author and it's also a core component of my thesis I am currently working on.    
Why did you choose your major and field of study? 
I have always wanted to be an engineer since a young age. Going into middle school I was introduced to the FIRST LEGO League Program and continued into the FIRST Robotics Competition in high school. These two programs inspired me to work on robotics. Now, as a graduate student, I volunteer with FIRST LEGO League as a robot design judge. It's my goal to inspire as many kids as possible to pursue engineering after high school. Another hobby I have is flying drones. Combining these two together brings me to where I am today.  
What are your future plans? 
After completing my master's and Ph.D., my goal is to work for either the private or public sector. I want to work on UAVs that will help save lives either in disaster scenarios or by keeping members of the military out of harm's way.  
UC has helped me prepare for my future by providing the resources I need to learn, as well as unique experiences within the lab work I currently do, and the co-op program I participated in during my undergrad. My experience at UC has been a great one, I feel prepared for the future, and I am thankful for all the great professors I have had.   
What keeps you motivated?
My motivation to get up every morning is my desire to learn and help people. My desire to learn stems from a desire to be challenged. I love the feeling of accomplishment when I am able to learn a new skill and then turn around and use it to solve a challenge. Building on that, I love to help spread knowledge and experiences I have gained. I have a passion for engineering, and I know that through it, I will be able to help many people.   
Via his dedication, sincerity, hard work and enthusiasm for learning new concepts and contributing to research projects, Mr. Wells has proved himself to be an invaluable team member.
Manish Kumar, mechanical engineering professor and director of the Cooperative Distributed Systems Lab and advisor to Zach Wells