New Builders Competition serves as a primer to construction industry
UC hosts regional competition each February for students interested in construction management
The University of Cincinnati Construction Competition Club has an active team of students who compete in — and frequently win — more than a dozen regional and national construction competitions each year. Those competitions are mostly reserved for students who are in the second half of their undergraduate program, but UC offers a unique competition geared toward first- and second-year students. 
The New Builders Competition was launched in 2013 when then-student Ryan Clemens '14 created a construction management competition for students who have completed five semesters or fewer to gain an early start learning about the industry.
"He said that he enjoyed the competitions because they help pull things together from all of the classes, but he wished that he had been able to get involved earlier in a program for younger students," said Mandy Albrecht, faculty advisor for the Construction Student Association and assistant dean of academics for the College of Engineering and Applied Science.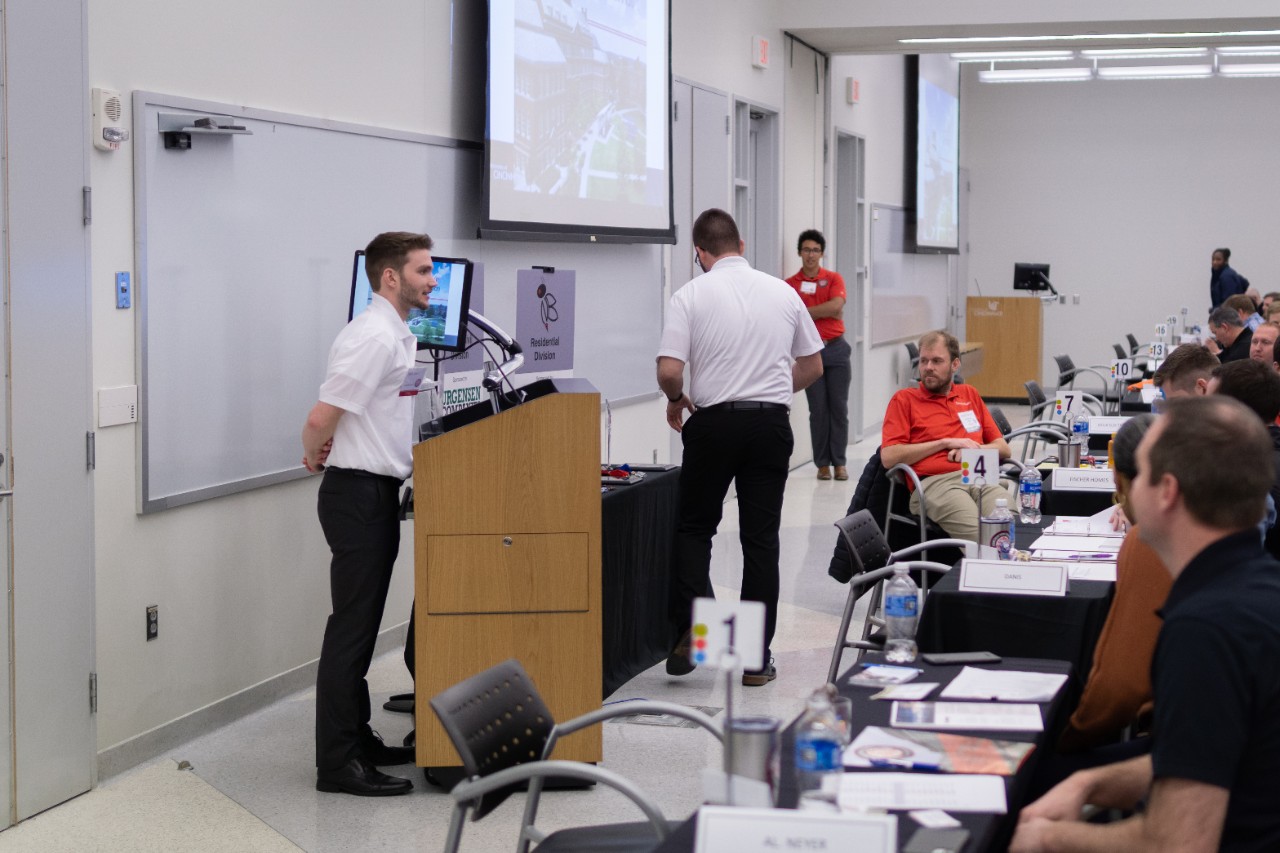 Held in February, the annual New Builders Competition invites students from UC and other schools in the region to compete by creating a proposal as if they were the construction company bidding for a job in one of three categories: commercial, residential and heavy civil. The student teams each have more experienced students acting as mentors and have less than a month to research and put together their proposal. 

"The program is tailored for this level of student," Albrecht said. "It's a crash course in estimating and scheduling."
The competition is typically held in conjunction with Construction Connections, a UC networking event for students and employers at UC in February. On the day of that event, the New Builders Competition teams present to the judges, who are also the sponsors, and include Fischer Homes in the residential category, Danis Construction in the commercial category and Jurgensen Construction in the heavy civil track. The upcoming 2021 event will be held virtually due to the pandemic. 
Matt Speck, a construction management student who will graduate in 2022, participated in New Builders as a first-year student, went on to compete in several national construction competitions and served as organizer and a team mentor for the 2020 New Builders program. 
"It helps freshman and sophomore students get their foot in the door before getting involved with bigger competitions," Speck said. 
It's also great experience for students to have—and it's a great resume builder—before applying for co-op jobs, he added.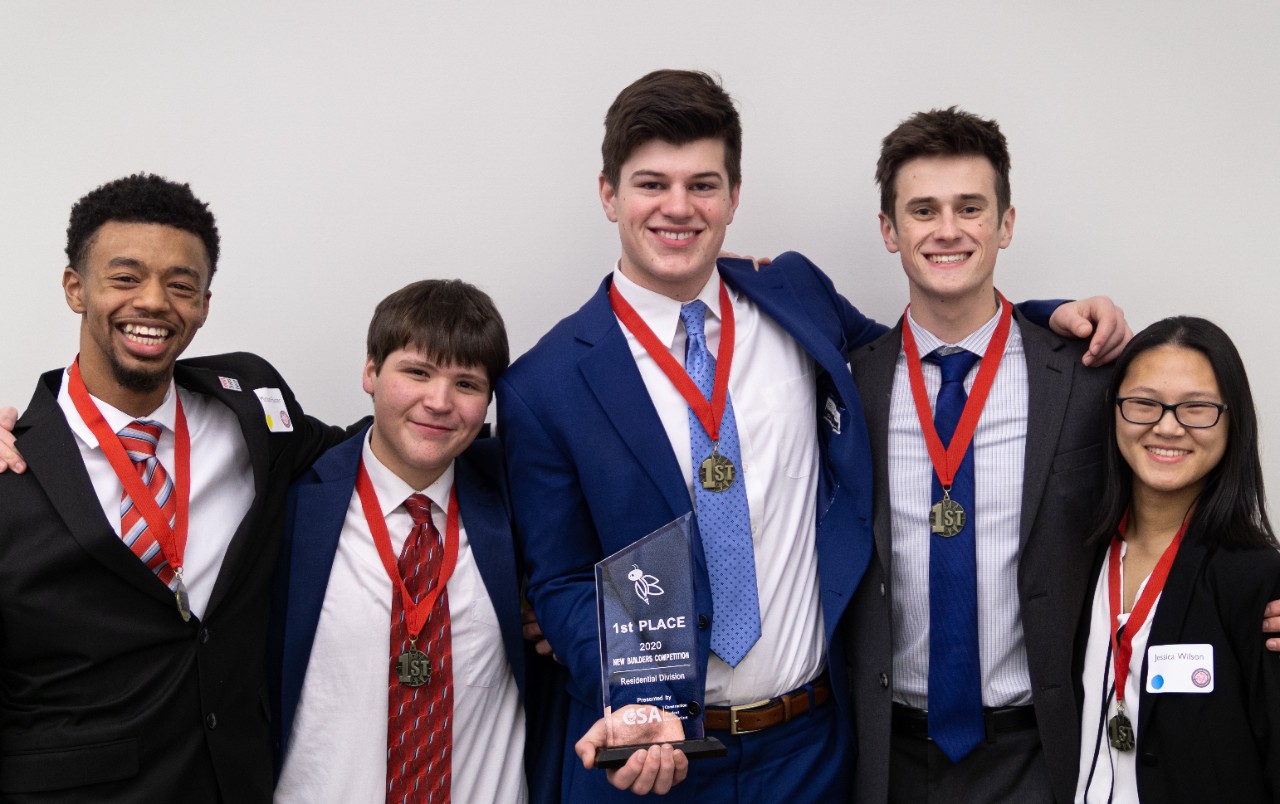 In the 2019-2020 school year, Michael Hunter was a first-year exploratory student who planned to transfer into the construction management program when he learned about New Builders. He was initially hesitant to join because he wasn't yet in the construction management major, but he was assured the competition was designed for new students and was encouraged to apply by a mentor who is active in UC's Construction Student Association. Hunter did have some prior construction industry knowledge through the high school he attended, Woodward Career Technical High School in Cincinnati Public Schools, which offers a "building technologies" course of study.
Hunter, now a second-year construction management student, ended up with the role of project engineer for his team's residential construction proposal. They had to plan an entire residential community on a plot of land, tackling everything from plotting out roads to designing the houses to scheduling and estimating the project. His team of five won first place in their category at the February 2020 event. 
"It was a great experience, but it was also tough because we were all new to this program," Hunter said. "We had to do a lot of outside research and learn how to use all the software involved in planning the entire site."
The competition offered a first glimpse into the management perspective of the construction industry, Hunter said, and he hopes to compete in future industry competitions.   
1
Construction management alumna honored for impact in her field
December 5, 2023
Gloria Samuel entered the construction industry more than 20 years ago as a University of Cincinnati co-op student and never looked back. Since then, she has earned both undergraduate and graduate degrees at UC and has taken great pride in giving back to the college by sharing her education and experiences with others as an adjunct faculty and serving on numerous community boards and committees. Currently, she is the Senior Vice President and Director of Construction Program and Project Management for Fifth Third Bank.
3
In Memoriam: Dion Dionysiou, PhD
December 4, 2023
Dionysios (Dion) Dionysiou, PhD, professor of environmental engineering in the University of Cincinnati College of Engineering and Applied Science, died unexpectedly Nov. 20. He was 57 years old. He was a world-renowned researcher, who was frequently lauded for his work developing technologies and strategies to identify, monitor, and treat water pollutants and toxins.
Debug
Query for this