Public radio internships give often unheard students a voice
UC students are among first class of interns to join local radio program
Four University of Cincinnati students have joined the inaugural class of interns participating in Cincinnati Public Radio's Democracy & Me program.
The interns are working collaboratively and mostly remotely, due to the pandemic, producing youth-centered content for the Democracy & Me e-newsletter and website (www.democracyandme.org), the "Democracy & Z" podcast and YouTube channel, a new Instagram account and other media platforms, with some crossover to NPR-member station, 91.7 WVXU.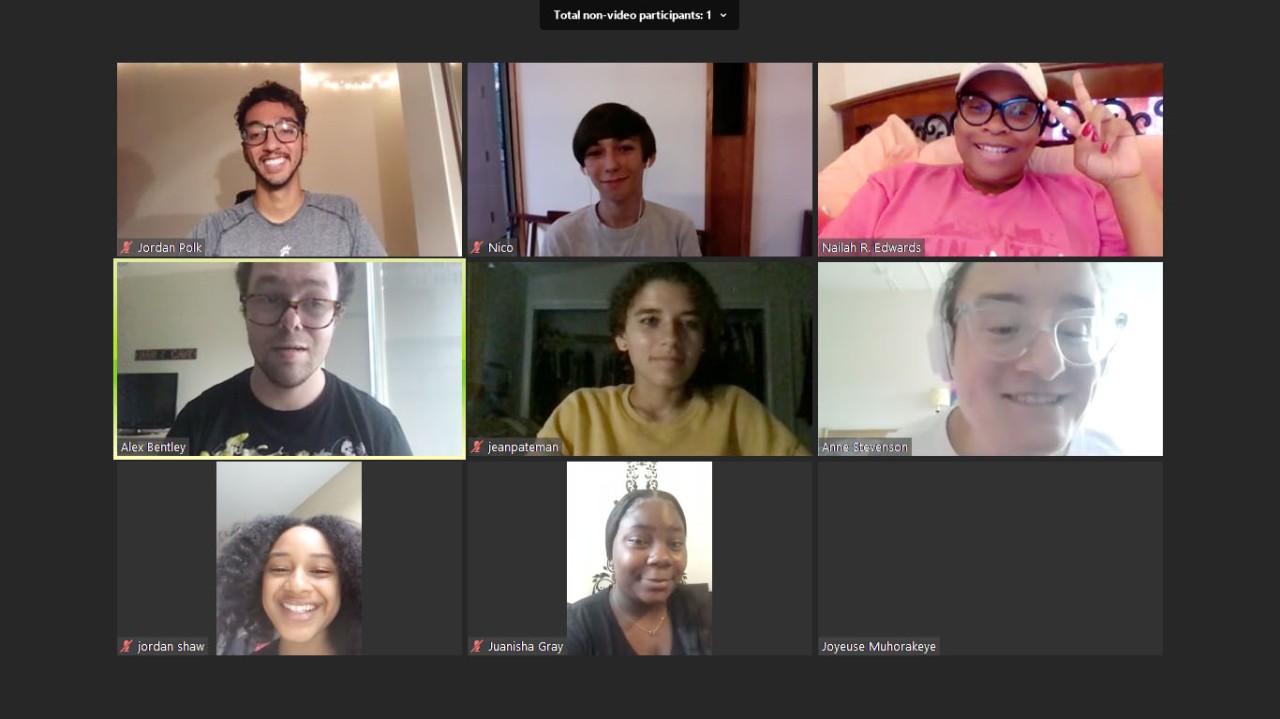 "I hope one day that I, and my work, evolve to the point of being able to change the world, and I am thrilled that Cincinnati Public Radio is the next step in my journey," says Jordan Polk, a UC senior and communications major.
The three other UC students participating are Nailah Edwards, a journalism major, and Alex Bentley and Elizabeth "Anne" Stevenson, both part of UC's Transition and Access Program (TAP), a four-year college certificate program for students with diverse intellectual and developmental abilities.
"My experience so far has been very informative about the world. I hope I can learn a lot out of [this internship] by becoming a leader in information about society," says Stevenson who recently hosted a public radio podcast, "Our Future on Fire," about climate change and natural disasters.
If we are to make progress those voices need to be front and center and that's exactly what [Cincinnati Public Radio] is doing with these internships
Bob Hyland UC associate professor educator of English
The class of 10 interns also includes six high school students from Cincinnati-area public schools. The part-time, paid internships are supported by the Dater Foundation and geared toward historically underrepresented youth.
"Black, indigenous, other students of color and historically marginalized groups generally have  been blocked out of participation in our democratic institutions. … If we are to make progress those voices need to be front and center and that's exactly what [Cincinnati public radio] is doing with these internships," says Bob Hyland, a UC associate professor educator of English who connected with Cincinnati Public Radio's educational outreach coordinator Julie Coppens to initiate the internship collaboration.
"I was very lucky to connect with Bob and the great people at TAP during this turbulent summer, when it became clear to all of us at Cincinnati Public Radio that we had to do a better job listening to young people," Coppens says. "Together we were able to identify some remarkable students who could not only benefit from this opportunity, but also inform and challenge us as a news organization in these extraordinary times."
Coppens says the students receive instruction and career guidance from Cincinnati Public Radio staff members across several departments and coaching from media leaders in the wider community. The collegiate interns also act as mentors to the high school students.
"In case you haven't heard, this is a really hard time to be a teenager," Coppens says. "Getting some encouragement and a positive example from an 'older sib' with shared interests makes a huge difference — and I think you can already see that in the students' work."

Intern Nico Luginbill, a Walnut Hills High School sophomore student, says, "I think what's so great about college students working with us as interns is that they provide a sort of intermediate level of authority and serve as both friends and mentors. They have the experience to provide older-adult-quality assistance and advice in projects, but there's no generational gap."
Adds UC's Hyland: "We have an amazing undergraduate student body at UC who are emerging leaders, and time and again they are as eager to serve and mentor as they are to learn." 
Several interns can be heard in recent episodes of "Democracy & Z" podcasts, sharing insights on the animated TV series "Avatar: The Last Airbender," the film career and global impact of late actor Chadwick Boseman, climate change and the COVID-19 pandemic; other interns are developing digital storytelling around the 2020 census and the election.
There are plans to continue the Democracy & Me internship program in the spring semester; students of all backgrounds, abilities and identities are encouraged to apply. Look for details around Nov. 1 at www.democracyandme.org.
Feature photo at top of first class of interns. Photo provided/Cincinnati Public Radio/Coppens 
 Impact Lives Here
The University of Cincinnati is leading public urban universities into a new era of innovation and impact. Our faculty, staff and students are saving lives, changing outcomes and bending the future in our city's direction. Next Lives Here.