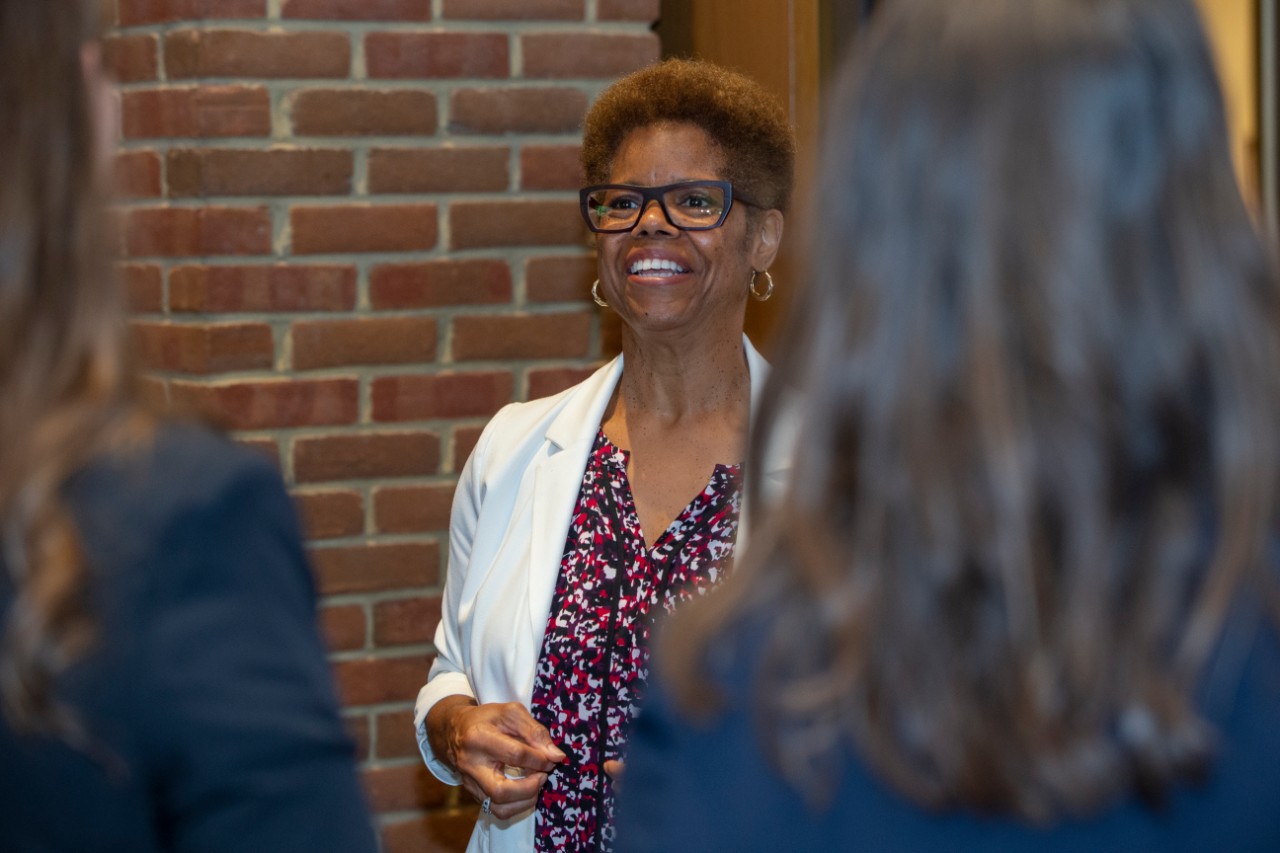 A Message from Dean Williams
Dear Alumni and Friends,
In just one year, we have witnessed unprecedented division across the nation, revived calls for racial justice, and a once-in-a-century pandemic. To say we have been tested is an understatement; yet we remain resolute in our mission.
Our dedication to educating and inspiring leaders who pursue justice and advance the role of law in society could not be more relevant. Bipartisanship appears to be extinct.  The coronavirus lays bare deep disparities throughout society. The list of Black people killed in acts of state and private violence keeps growing.  In this environment, we have redoubled our efforts to provide a legal education that welcomes and fosters respectful and robust discourse on a wide range of ideas, demands high standards of civility, and provides the tools to understand and address the pressing issues of the day.
All while adhering to the CDC guidelines.
With the spread of the novel coronavirus in March 2020, our academic model changed almost overnight.  Thanks to the stellar efforts of our library, professors moved courses mid-semester from classrooms to WebEx and our administrators ensured that the student experience remained our focus.  Graduating students had to "mark the moment" virtually, instead of celebrating at our traditional Hooding Ceremony.  During the summer, several professors gave incoming One Ls a glimpse of what to expect in "Covid and the Law," in which they explored the implications of the pandemic for health law, as well as constitutional, contract, and property law.  Having met with great success, we may make similar "pre-L" experiences available to future incoming students.
We started the academic year with 19 professors trained in the latest online learning, which many report will improve their in-person teaching when we finally return to the classroom.  Students had opportunities to attend classes in-person that we also streamed live to their classmates elsewhere, to ensure that no one had to choose between their health, or that of a loved one, and getting their education.   Signature events such as Constitution Day and the Schwartz Lecture on Torts also moved to the virtual world—as did alumni gatherings, allowing Bearcats across the nation and globe to participate.
Amidst all this change, the College continued to make strides, for example:
Launching the Nathaniel R. Jones Center for Race, Gender, and Social Justice, we honored the late Sixth Circuit jurist's commitment to his adopted alma mater and promised to continue his legacy of answering the call for justice.  At this writing, we have raised over $1 million to advance the Center's important work.
Our Ohio Innocence Project added two more exonerations to its list of accomplishments, bringing the total of freed persons to 30.
With community partners, we established new post-graduate fellowship opportunities at Fifth Third Bank and Cincinnati Children's Hospital Medical Center.
We also expanded the pipeline to law school by creating new 3+3 programs with Mount St. Joseph and Thomas More Universities.
Finally, as was true for too many Americans, our community experienced losses:  Professor Emeritus John Murphy, educator, innovator and mentor, and William Butler, civil and human rights champion and benefactor of the Urban Morgan Institute, died the same week in June.  These two legal giants have left a lasting imprint on the College.   
Even with 187 years of legal education under our belt, we could not have foreseen the past academic year.  But our history and tradition have equipped us with the perseverance and creativity to surmount a year marked by upheaval.  Our ability to thrive under these circumstances gives me great hope for our future.
Warmly,
Verna
Verna L. Williams
Dean and Nippert Professor of Law
2
With UC, you see the world
September 19, 2023
Study abroad is back to 75% of pre-COVID levels at the University of Cincinnati, and a wide variety of international study options is available to students in any program. Where do you see yourself in the world?
Debug
Query for this