UC and Botswana school partner to teach children coding through games
UC Blue Ash professor teaches fourth graders coding online
Though international travel is still restricted, University of Cincinnati Assistant Professor of Computer Science Mohamed Elwakil volunteers in a way that makes a real-world impact halfway across the globe.
He has been teaching a coding class online every Tuesday morning this semester for fourth graders at a new school in the southeast African country of Botswana.
The administrators of The Dow Academy see an outsized impact from his efforts, which launched their extracurricular "TDA Tech Series." Volunteers from their community and around the world teach practical life skills, and they hope to broaden their students' horizons.
The UC International office sees the impact, too. Elwakil's class is keeping alive a new partnership while the pandemic has paused several initiatives planned last winter between the school and UC's School of Education and School of Design. The partnership exemplifies UC's Next Lives Here vision and global outlook.
Even the fourth graders recognize the butterfly effect that a fun class where they build video games will have on their lives. A determined future doctor and several students who want to pursue careers to help their parents financially wrote very self-aware, creative letters to apply for the online class.
The Dow Academy is a private primary and secondary school in the village of Mochudi, not far from the capital city of Botswana, Gaborone, near the border with South Africa.
Together with her daughter Cheshe Dow, Dr. Unity Dow, a member of Botswana's parliament and the country's former Minister of International Affairs and Cooperation, took over the school in their home village last fall. It officially opened as The Dow Academy in January of 2020, with Unity's daughters Cheshe and Natasha as CEO and COO and her son-in-law Doru Aldea as CIO.
A human rights activist, judge and author, Unity Dow was a visiting professor in UC's College of Law in 2009. She has maintained close ties with UC and has helped the university explore partnerships in Sub-Saharan Africa. Cheshe Dow is an alum of UC Law.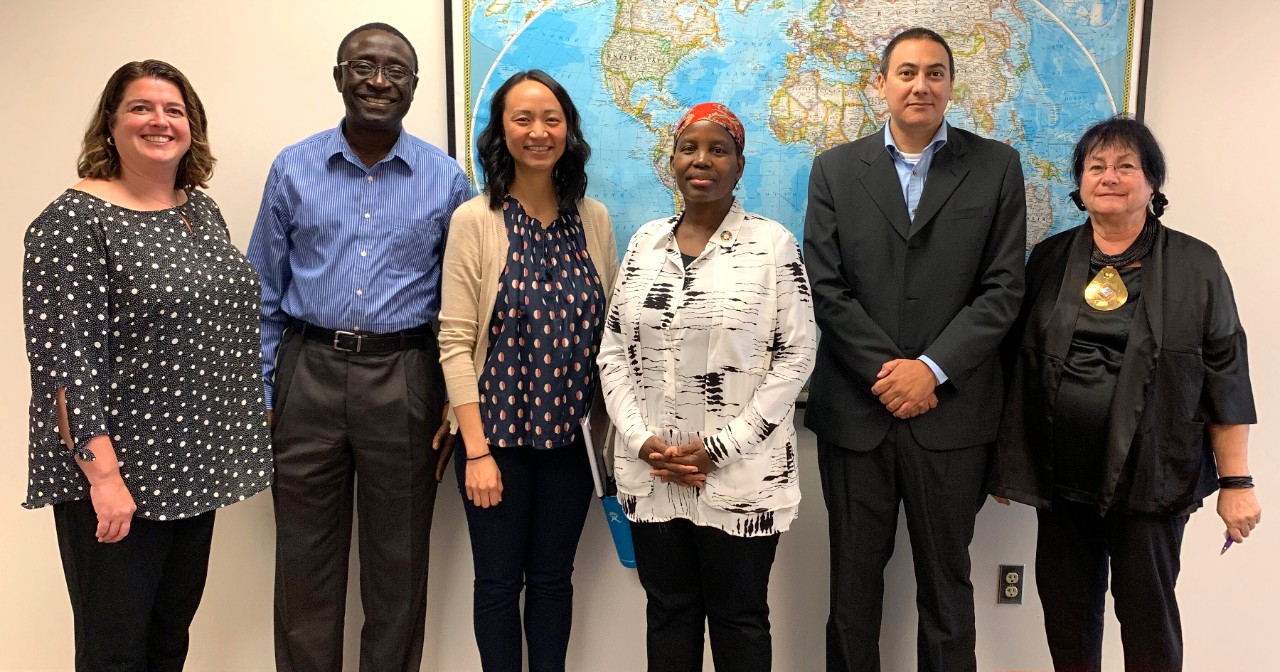 In January, a delegation from UC International and the College of Education, Criminal Justice, and Human Services, with the School of Information Technology (CECH) visited the school during a trip to southern Africa. They drew up plans for several collaborations involving UC student teachers and their Cincinnati Public Schools mentors, reciprocal professional development opportunities for staff of The Dow Academy, online classes for the academy's high school students and partnership between the Arlitt Child Development Center and Dow's new preschool, as well as design projects in DAAP for new academy buildings. Natasha Dow and Aldea visited UC in February to follow up, but the pandemic immediately put all plans on hold.
This summer, looking for a project that could move forward entirely online, Aldea and Ana Vamadeva, director of international strategic partnerships for Sub-Saharan Africa in the UC International office, focused on the idea of an extracurricular technology class.
Vamadeva contacted Elwakil about teaching a programming class for one of the primary school grades. Vamadeva and Elwakil are both faculty members in the UC Blue Ash Math, Physics & Computer Science Department. Elwakil also serves in the strategy group of faculty and community advisors that assists Vamadeva with developing partnerships in the Sub-Saharan region.
"I liked the idea, because this is something that I always wanted to do as part of community service, teaching programming to small kids," said Elwakil. "It's worth my service. Service to the community and also service to the field or the discipline. And a service to the university.
"This was my first time doing it, so I wasn't sure whether it was going to work well or not."
Elwakil and Aldea decided on the fourth grade as the place to start. Elwakil was worried about the technological challenges and about teaching such young children online, since he has seen his own kindergarten-aged daughter adapt to distance learning this year. "Kids at that age, they need your physical presence with them."
But a little experimentation in the first class solved any technological issues. IT technician Thabang Modikele and sixth-grade teacher Jameson Nshindano rove the classroom. They helped the students gain basic familiarity with their computers and learn to follow along with remote instruction. The students work in pairs, alternately coding and observing (from a COVID-safe distance), a common technique for teaching programming.
The class is using a drag-and-drop platform called Scratch, developed by the Massachusetts Institute of Technology. It is free and has very minimal technical requirements. More important, it lets the children jump right into creating games and other programs while they learn fundamentals of coding.
"It uses something called block programming. So instead of writing code, you drag and drop code," said Elwakil, explaining the program's visual approach to assembling programs using building blocks that correspond to basic programming components.
For one assignment, he had the students work on a video game where a lion stalks a zebra that is coded to follow the cursor. The lion and zebra repeatedly move in predictable ways; if the lion touches the zebra, the zebra screams and the game ends.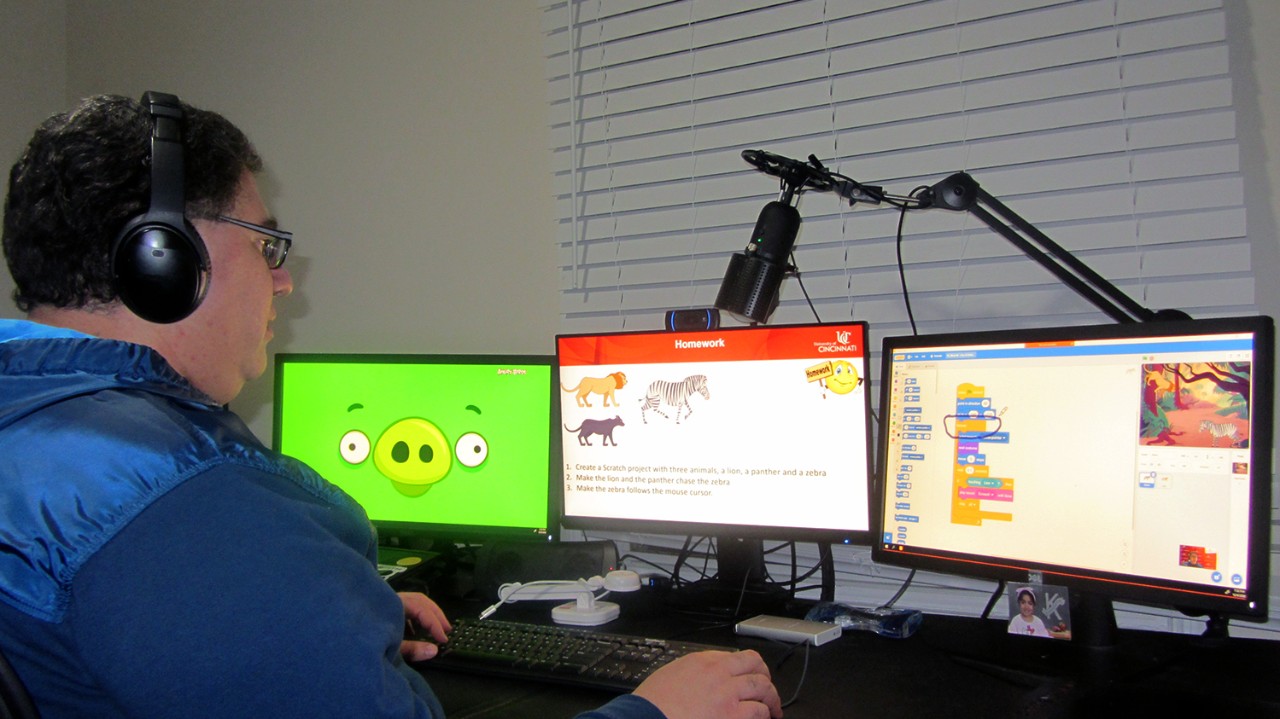 "Now this 'forever'—that corresponds to a very important programming concept called loops," Elwakil explained, demonstrating the Scratch block that repeats a section of code. "In programs, sometimes we need to repeat things, and that happens using loops. I don't use the word 'loop,' but there is a block that we can use to repeat things, and this is easier for the kids to understand."
Elwakil asked the students to add an additional predator to the game, and he was impressed with the creative approaches they took.
"They are learning, and they're enjoying it at the same time. I like their excitement. My understanding is that most of them are new to computers, so there is that added. I remember my excitement when I got my first computer. I think I wasn't their age, maybe a year or two older. So when we have that class—the class is scheduled for 8 a.m. on Tuesday—it's usually a good start for the day for me, because their excitement, their engagement is very refreshing."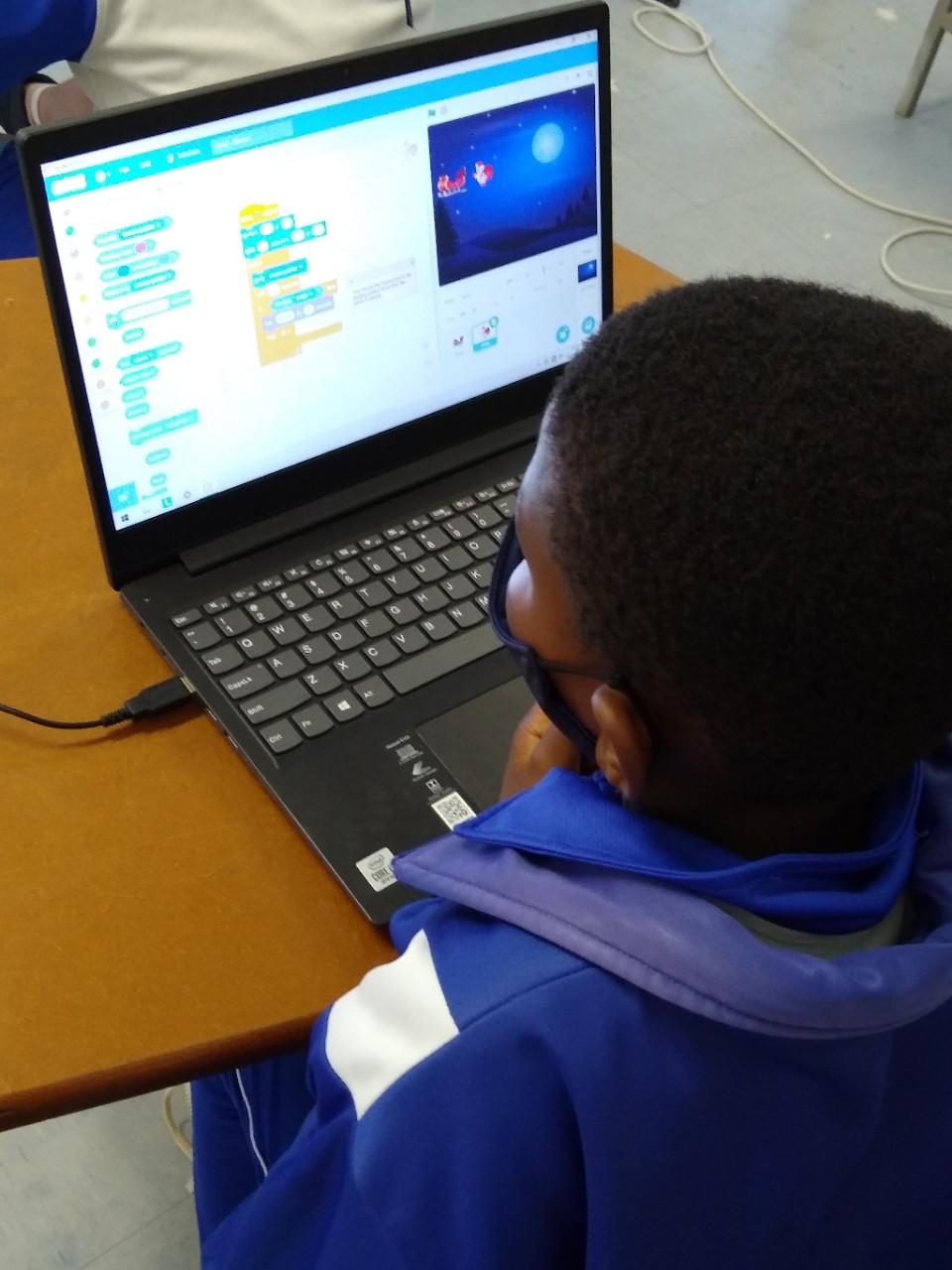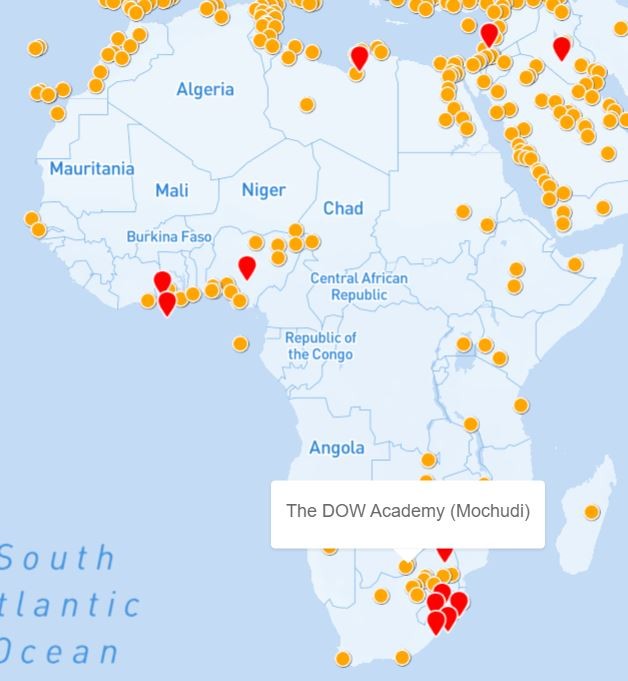 This Tuesday, the class participated in the Hour of Code, an annual global programming event sponsored by the nonprofit code.org.
Their class was one of only two groups from Botswana among the millions of people of all ages who took part in the week-long event, which is designed to demystify computer programming and to demonstrate that everyone can learn how to code.
The students worked on completing another game, where they programmed a fallen Santa to chase his sleigh and jump back in it on Christmas Eve.
The fourth graders graduate this month, and the school is in the process of developing a program for them in the fifth grade that will let them use their skills in a real-life application. Elwakil will teach his coding class again in the spring for the upcoming fourth graders.
Of this first virtual collaboration, UC's Vamadeva said, "We are thrilled that Mohamed has volunteered to kickstart the coding initiative and very much appreciate his time and service. We are hoping to build on this initiative and continue to grow and expand our relationship with The Dow Academy."
The coding class has been a learning experience all around, and The Dow Academy has built on it. Since Elwakil's class began, the school has added another programming class for fifth graders, a video production class for sixth graders and a laptop refurbishing program for seventh graders.
"For our high school next year, we're looking at video game design. We're trying to teach them how to build a desktop. Even just this morning, I met with a car mechanic. We want our students to learn how to work on a car and troubleshoot it and understand the pieces and learn the theory and the science behind how a car works," Aldea said by videoconference in November, emphasizing the school's plan to show students multiple pathways beyond high school.
"When we bought the school last November, we thought we'd buy bricks and chairs and tables," Cheshe Dow said. "And then in March, we had to go back to the drawing board. But we still wanted to teach kids something different.
"As difficult as this year has been, the people who have decided to do something, who are committed to the vision of education—they continue to do it. The model may have changed significantly. But if that commitment and that passion and that activity is there, people will always find a way."
She said that The Dow Academy is very grateful to Elwakil and to UC, because "the first program is always, always the hardest. … Honestly, it has opened up so many possibilities in people's heads, and that's really the big win for us in 2020."
While the school's administrators are focusing on technology and vocational skills, they are open to any skills that people are passionate about passing along, since outside of the country's test-based curriculum, they are free to teach any subject.  
"So frankly, even if you're a squid fisher, it doesn't matter, to start," Dow said, "It does not matter. Our kids need a window into something other than their everyday. And if you want to spend five weeks, two months, then come on over."
She stopped herself and laughed. "Don't come on over! Don't cross the border right now! But anyway, come on over.
"If you feel like you can be part of the change, we've got a way to help make it happen."
Make a difference. Create what's Next.
If you are interested in teaching a course virtually for the Dow Academy, contact Doru Aldea at Dow. You need not be a faculty member.
Or contact Jenni Sutmoller in the UC International Office, who will oversee the Dow partnership when Vamadeva moves to UC Clermont College's Math, Computers, Geology & Physics Department as interim department head in January.
Featured image: Students in Elwakil's Dow Academy class work on coding with their partners.