UC survey covers two centuries of botany
Biologists track change in Cincinnati's flora since 1834
Biologists from the University of Cincinnati are duplicating two exhaustive botanical surveys conducted centuries apart to see how southwest Ohio's plant diversity has changed.
Cincinnati botanist Thomas G. Lea conducted a plant survey in Cincinnati in 1834 while cataloguing specimens for the Academy of Natural Sciences. Lea identified some 714 species before he died in 1844. His work was published posthumously in 1849.

A century later, famed UC botanist E. Lucy Braun retraced Lea's path, conducting a second plant survey in Cincinnati that found more than 1,400 species for her 1934 study published in the journal The American Midland Naturalist. She leaned on Lea's meticulous notes to return to the places he visited, many of which had been developed for homes, roads, commerce or industry over the decades.
"The rich collecting grounds of 1840 are the factory sites of today. Habitats briefly described in words and amply demonstrated in specimens are utterly destroyed and with them, their characteristic flora," Braun lamented.
Now two biologists in UC's College of Arts and Sciences, Denis Conover and Eric Tepe, are taking up the gauntlet left by Braun and Lea. They are conducting a new survey in Cincinnati, which they hope will illuminate how the city's plant communities have changed or persevered over the last 200 years.
"We're trying to document conditions and the plants we have now," said Conover, a professor of biological sciences. "And 100 years from now, things might be very different, with climate change and further human development. It will be good for future generations to have a record to compare."
Tepe serves as curator of UC's botanical collection, known as the Margaret H. Fulford Herbarium. He has deep respect for Braun, a nationally regarded botanist who was a trailblazer among women scientists. 
"In a sense you're following in the footsteps of a giant," Tepe said. "She had a broad picture perspective of the flora of the area. It's a little intimidating — but thrilling."
Tepe said the project is giving him a better appreciation for the city he calls home.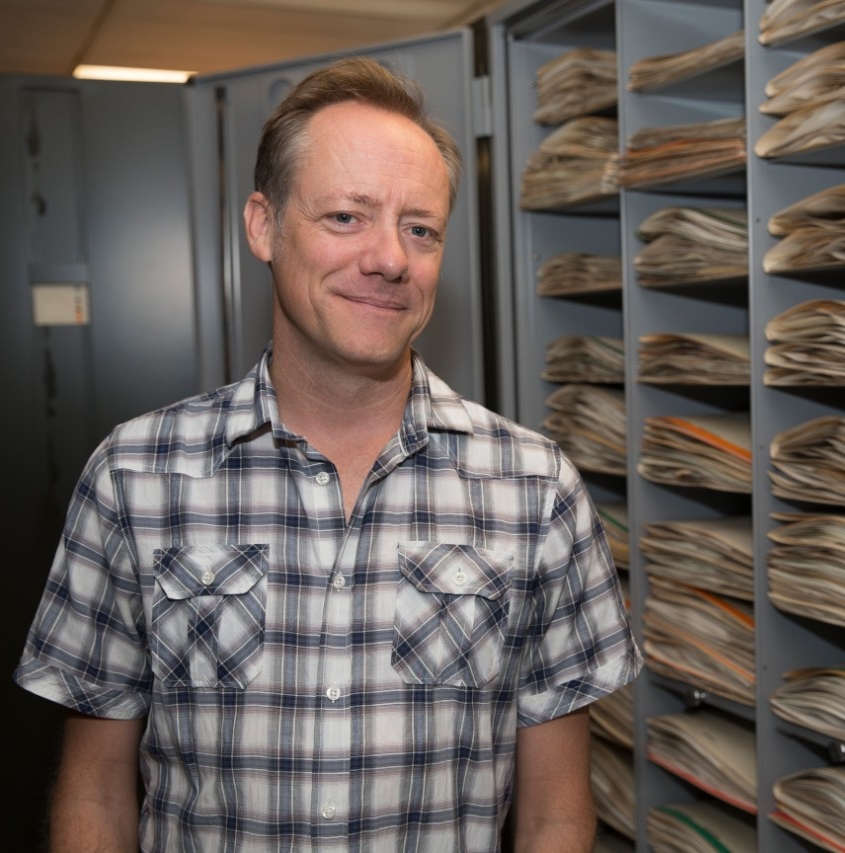 "It's given me a new perspective on how dramatically things have changed in this area," he said. "When you look at places like Northside and South Cumminsville, they were so different in Lea's time with bogs and a diversity of wetland habitats. Through these historical collections, you get an appreciation for a time in the past and just how much humans have altered the habitat."
UC is collaborating with Spring Grove Cemetery and Arboretum, one of several areas Braun and Lea surveyed.
David Gressley, the cemetery's taxonomist and director of horticulture, said Spring Grove is home to some natural habitats that have stood undisturbed for the past 200 years.
"If we can find everything that was in the original study, that would be quite miraculous," Gressley said. "I'm sure there are plants that were extirpated. We're also finding nonnative plants that were introduced for ornamental purposes and have escaped cultivation into the wild."
Outside of cataclysmic events like the asteroids that took out the dinosaurs, we've produced the biggest change the planet has ever seen. And we're not done yet.
David Gressley, Spring Grove Cemetery & Arboretum taxonomist
Conover said the survey is already revealing many nonnative, invasive species that were not present 100 years ago during Braun's study.
No doubt, the biggest change the survey will observe is the impact of human development in Cincinnati over the past 200 years, taxonomist Gressley said.
"Outside of cataclysmic events like the asteroids that took out the dinosaurs, we've produced the biggest change the planet has ever seen," Gressley said. "And we're not done yet."
The cemetery is working on an updated master plan, which includes about 150 acres of preserved woodlands, including 12 in the heart of the property. Spring Grove is adjacent to two Cincinnati wooded areas, Parker Woods and LaBoiteaux Woods, providing a corridor of important greenspace and wildlife habitat in the Northside neighborhood of the city, he said.
"There are parts of the cemetery that are not developable because of the topography that would be kept intact," Gressley said.
Recent UC biology graduate Samantha Al Bayer, a botanist at Spring Grove, is helping to catalog the specimens she and Conover find to include in UC's herbarium. This typically involves taking a small cutting of a plant's leaves, stems and flowers for preservation on acid-free paper with copious notes about the specimen and the location where it was observed.
The new UC survey has fewer places to visit compared to the previous studies.
"If you go back to Thomas Lea, he had all sorts of beautiful natural areas to study plants. Almost all of those areas have been developed. Many were gone even by the time of Lucy Braun's paper," Conover said.
But there are still some local places largely untouched by people over the years. And even places like Cincinnati's Mill Creek, which has a long history of pollution in the city's former industrial center, have surprising botanical riches, Conover said.
On a fall outing at Spring Grove, Al Bayer and Conover led a hike through mature forest in a large, undeveloped section of the cemetery that is closed to the public. Conover pointed out unusual specimens like osage orange, a tree with pumpkin-orange roots that drops big, green fruit.

"During the Pleistocene Epoch, this plant had a much wider range because the fruits were eaten by mastodons," Conover said.
"By the time pioneers came to North America, the range of this plant had shrunk to a small part of Oklahoma, Arkansas, Louisiana and Texas. But when pioneers started settling the Midwest, they imported seeds to plant along their fields. They grow sharp thorns so they would use them as living barbed wire fences, which gave them the name 'hedge apple.'"
Conover said the most dramatic difference in the surveys so far is the influx of nonnative, invasive species they have found.
"See these tubers? This is from a nonnative, invasive species called lesser celandine or fig buttercup," Conover said. "It grows little yellow flowers. They're all over the place."
Even Braun expressed concern about invasive species in her 1934 paper, in which she noted that 20% of the species she observed were classified as introduced compared to just 6% of the plants Lea identified 100 years earlier.
Conover has studied botany for most of his adult life after beginning his academic career working with freshwater clams. As a student at the University of Dayton, he began working in plant physiology, plant ecology and ecological restoration with UD professor Donald Geiger. Over the years, Conover conducted dozens of botanical surveys in natural areas of southwest Ohio and southeastern Indiana.

His research at nearby places like Cincinnati's Bender Mountain Nature Preserve has helped control nonnative and invasive species such as Amur honeysuckle, wintercreeper, English ivy, porcelain berry, privet and winged euonymus to encourage the return of native species.
"It takes a lot of patience. For some of these species, you need a dissecting microscope and proper books so you can figure out what it is," he said.
UC biologist Tepe has described many plants new to science during his own international fieldwork. He said Conover is extremely adept at identification, which makes the task of surveying plants infinitely easier.
"Denis has an extraordinary knowledge of the local flora. He is much like Lucy Braun in that he has a holistic understanding of Cincinnati flora," Tepe said.
"Most botanists recognize plants by their flowers or fruits," he said. "But if it's just a green, leafy shrub, it's often invisible even to many botanists. But Denis recognizes it right away."
Conover said even he can be fooled. To identify some grasses and sedges, which have many species that look similar, Conover turned to expert Rick Gardner, chief botanist for the Ohio Department of Natural Resources for verification.
The project, which is expected to continue over the next year, has already yielded some surprises. On one outing, Conover noticed an inconspicuous green shrub. A closer look revealed it as a native species called lanceleaf buckthorn.
"I looked at Lea's herbarium list and saw that he observed that species not too far from there nearly 200 years ago. And then I noticed that Lucy Braun, too, had an herbarium specimen she collected near Milford along the Little Miami River," Conover said.
"It's little things like this that are intriguing about the project."
Featured image at top: UC biologist Denis Conover studies Oriental bittersweet, one of many nonnative, invasive species he has documented so far during UC's plant survey of Cincinnati. Photo/Lisa Ventre/UC Creative + Brand
Impact Lives Here
The University of Cincinnati is leading public urban universities into a new era of innovation and impact. Our faculty, staff and students are saving lives, changing outcomes and bending the future in our city's direction. Next Lives Here.

Stay up on all UC's COVID-19 stories, read more #UCtheGood content, or take a UC virtual visit and begin picturing yourself at an institution that inspires incredible stories.