COVID-19 Conversations Podcast: Participation in vaccine trial
UC dean for clinical research discusses his decision to participate, need for diversity in science
In November 2020, less than a year after SARS-CoV-2, the virus that causes COVID-19, was identified, the world received optimistic news about several vaccines that showed efficacy in fighting the disease. The world is now watching in excitement as the first COVID-19 vaccines are being administered in the United Kingdom and the U.S.
Researchers and scientists often receive accolades and awards when research is successful, but although the attention is well-deserved, the essential role of research participants, without whom none of the successes would be possible, should also be recognized and celebrated.
In the podcast series COVID-19 Conversations, hosts talk to three COVID-19 vaccine trial participants, including Brett Kissela, MD, senior associate dean for clinical research at the UC College of Medicine and chief of research services at UC Health.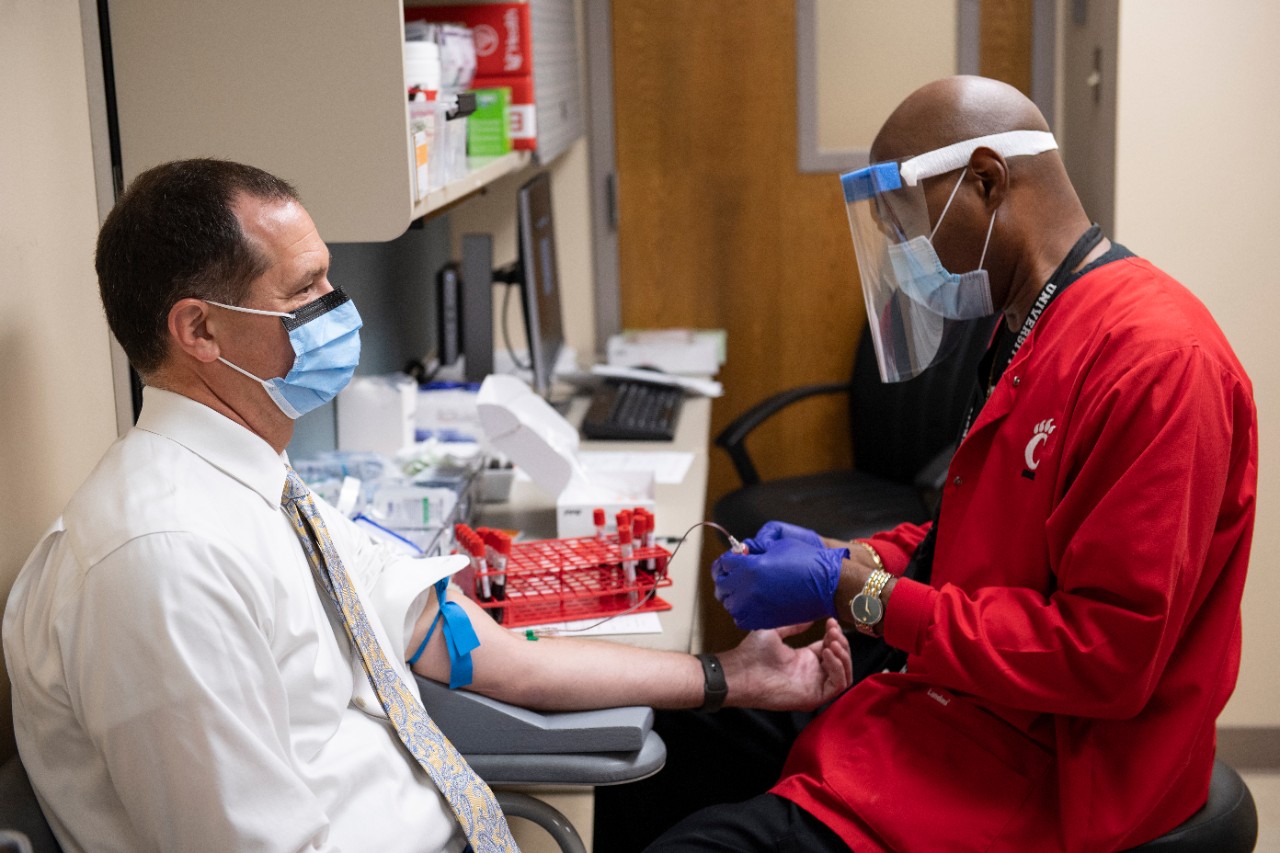 In September, Kissela became a participant in the Moderna trial at the university.
In this podcast of the African Alliance, based in South Africa, Kissela discusses why he chose to particpate, his experiences, hopes and fears as well as what he wants others, globally, to know about the research process.  
Featured photo of Brett Kissela participating in the Moderna vaccine trial by Colleen Kelley. 
Impact Lives Here
The University of Cincinnati is leading public urban universities into a new era of innovation and impact. Our faculty, staff and students are saving lives, changing outcomes and bending the future in our city's direction. Next Lives Here.

Stay up on all UC's COVID-19 stories, or take a UC virtual visit and begin picturing yourself at an institution that inspires incredible stories.
1
WVXU: Tech CEOs talk AI with lawmakers
September 22, 2023
Professor Richard Harknett is a guest speaker on WVXU's Cincinnati Edition on the topic of AI and the need, or lack thereof, for government regulations. Professor Harknett is the head of UC's School of Public and International Affairs and is an often sought out media resource on technology, cybersecurity and governmental affairs.
3
Drugs.com: Lowering blood pressure after clot removal may not be...
September 22, 2023
Drugs.com and HealthDay highlighted University of Cincinnati research recently published in JAMA that found using blood pressure medications to lower the top number of blood pressure readings (systolic blood pressure) may not be safe or effective among people who have an acute ischemic stroke and undergo a successful mechanical clot removal.
Debug
Query for this